Product Description
  
1
Name: sand casting iron farm tractor  agricultural machinery spare parts assembly half coupling
Material: Casting Iron
Packing: Stand Export Packing
Min order: 1000pcs
Customized production is available as your drawings or sample. 
Process
Sand Casting
Material
Grey Iron , Ductile Iron, Carbon Steel 
Weight
0.1Kg~20Kg
Testing instrument 
composition testing
Spectrometer, Metallographic microscope
Performance testing
Hardness tester, Tensile testing machine
Size Measuring 
Vernier Caliper, Depth Caliper, feeler gauge,Thread Gauge , Height Gauge
Roughness
Ra1.6~Ra6.3
Machining Equipment
CNC Center , CNC Machines, Turning, Drilling, Milling, Boring machine,Grinding Machines,
Wire EDM,Laser Cutting&Welding, Plasma Cutting &Welding, EDM etc.
Quality control
Sampling inspection of raw materials and semi-finished products, 100% Inspection of finished products  
Surface Treatment
Sand Blast , Painting,  Powder Coating, Galvanized ,  Hot Galvanized
Production Capacity
60000T / Years
Lead Time
Normally 30 – 45 Days.
Payment Terms
T/T , L/C 
Material Standard
ASTM , AISI , DIN , BS, JIS, GB,
Certification
ISO9001:2008, IATF16949:2016
2
 Products Quality Control
Quality control involve the inspection and control of incoming materials, production processes, and finished products.
The quality control process includes,
1 First of all, the incoming raw materials with random sampling are analyzed by metallographic microscope to ensure that the chemical composition meets the production requirements
2 Then In the production process, there are QC staffs timely sampling ensure that the products are free of defects in the manufacturing process, and to coordinate and handle any abnormal quality issues may be occurred.
3 The final step of production process is magnetic particle flaw detector of the metal parts to detect it's hidden crack or other defects.
4 All the finished metal parts is sampled in proportion and sent to the laboratory for various mechanical performance tests and size measurement, and the surface quality is manually 100%  inspected.
The relevant testing equipment pictures are as following:
3
Quality Management System Control:
We strictly carry out system management accordance with iso9001 and ts16949 quality standards. And 5S lean production management is implemented on the production site.
The production management site as following:
3
Our Advantages:
Brand
Our parent company, HiHangZhou Group, is a world-renowned high-end machinery manufacturing enterprise with 40 domestic subsidiaries and branches and 8 foreign manufacturing plants. Has long-term experience and good reputation in cooperation with world-renowned enterprises.
Technology
We have a complete production process and equipment research and development capabilities for ferrous metals forming. More than 25 years of production experience in forging equipment and casting equipment manufacturers, make us more thoroughly get  all the performance of each equipment. One-third of our company's employees are technician and R&D personnel, ensuring that high-quality products are produced with high efficiency.
Service
We can provide custom and standard manufacturing services with multiple manufacturing process integrations. The quality and delivery of products can be fully guaranteed, and the ability to communicate quickly and effectively.
Culture
The unique corporate culture can give full play to the potential of individuals and  provide a strong vitality for the sustainable development of the company.
Social responsibility
Our company strictly implements low-carbon environmental protection, energy-saving and emission-reduction production, and is a benchmark enterprise in local region.
4
Company Culture 
Our Vision
To become 1 of the leading companies
Our Mission
To become a platform for employees to realize their dream
To become 1 of the transforming and upgrading pacemaker of Chinese enterprises
To set the national brands with pride
Our Belief
Strive to build the company into an ideal platform for entrepreneurs to realize their self-worth and contribute to the society
Values
Improvement is innovation, everyone can innovate
innovation inspired and failures tolerated
5
FAQ
1.
Q:  Are you a trading company or a manufacturer?
A:  Obviously we are a manufacturer of forging products, casting products and also have a high level of machining capabilities.
2.
Q:  What series products do your have?
A:  We are mainly engaged in forming processing of ferrous metals, including processing by casting , forging and machining. As you know, such machinery parts can be observed in various industries of equipment manufacturing.
3
Q:  Do you provide samples? is it free?
A:  Yes, we commonly provide samples according to the traditional practice, but we also need customers to provide a freight pay-by-account number to show mutual CHINAMFG of cooperation.
4
Q:  What is your minimum order quantity?
A:  Yes, we require all international orders to have an minimum order quantity. The quantity is up to the exact products feature or property such as the material, weight, construction etc.
5
Q:  What is the lead time?
A:  Generally our forging products and casting products need to make new dies or molds, the time of making new dies or molds and samples within 30-45 days, and the large batch production time within 30-45 days. it's also according to the parts structural complexity and quantity.
6
Q: What kinds of payment methods do you accept?
A: You can make the payment by T/T or L/C. 30% deposit in advance, 70% balance against the copy of B/L.
Certifications
 
How do you Properly Install and Secure a Half Coupling to Ensure a Leak-Free Connection?
Properly installing and securing a half coupling is essential to ensure a leak-free and reliable connection in piping and plumbing systems. Follow these steps to achieve a secure joint:
Cut and Prepare the Pipe: Start by cutting the larger pipe to the desired length, ensuring a clean and even edge. Use a deburring tool or file to remove any sharp edges or burrs that could interfere with the coupling's sealing surface.
Check Threads and Fit: For threaded half couplings, inspect the internal threads of the coupling and the external threads of the pipe. Make sure they are clean and free from debris or damage. Ensure that the threads match and fit properly, as any misalignment can lead to leaks.
Apply Thread Sealant: Before attaching the half coupling, apply a suitable thread sealant, such as Teflon tape or pipe dope, to the male threads of the pipe. The sealant helps prevent leaks by filling any gaps or imperfections in the threads.
Attach the Half Coupling: Thread the half coupling onto the pipe's male threads carefully. Use a wrench to ensure a snug fit, but avoid over-tightening, as it may damage the threads or cause stress on the joint.
For Socket Weld or Butt Weld Couplings: For socket weld half couplings, insert the smaller pipe into the coupling's socket and align it properly. For butt weld half couplings, weld the coupling to the larger pipe's end with proper welding techniques and safety measures. Follow industry standards for welding procedures and ensure a smooth and consistent weld for a leak-free joint.
Check for Leaks: After installation, perform a leak test to ensure the joint is secure. Apply a pressure test or use a suitable leak-detection method to verify the connection's integrity. If any leaks are detected, disassemble the joint, inspect for issues, and reassemble following the proper steps.
Consider Thermal Expansion: In applications with temperature variations, consider the thermal expansion and contraction of the pipes. Provide sufficient flexibility in the system to accommodate these changes and prevent stress on the joints, which could lead to leaks over time.
Follow Manufacturer's Instructions: Always follow the manufacturer's instructions and recommendations for the specific type and material of the half coupling being used. Different couplings may have unique installation requirements and torque specifications.
Proper installation and securing of a half coupling are crucial for maintaining the integrity of the piping or plumbing system and ensuring a leak-free connection. Following these steps and adhering to industry standards will help achieve a reliable and durable joint.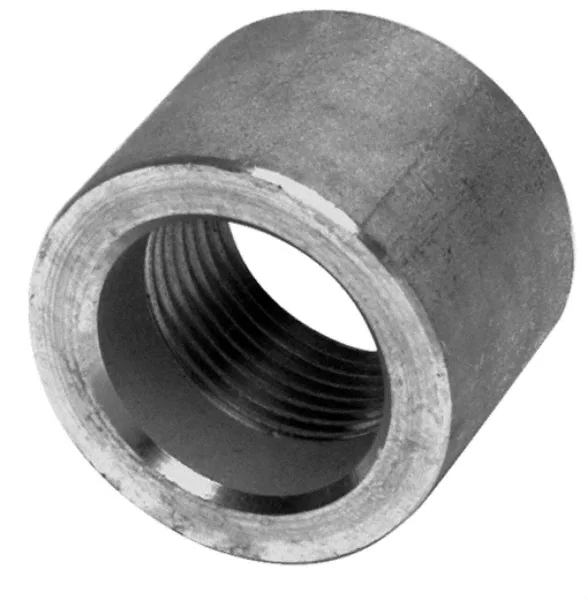 What are the Differences Between Half Couplings and Full Couplings in Pipe Fittings?
In pipe fittings, both half couplings and full couplings serve the purpose of joining two pipes together, but they differ in their design and applications. Here are the key differences between half couplings and full couplings:
Design: The main difference lies in their design. A half coupling has one end with internal threads or a socket, allowing it to be connected to a threaded pipe or inserted into the end of a pipe without threading. The other end of the half coupling is an open end, ready to be welded or threaded to another pipe. On the other hand, a full coupling has both ends with female threads, enabling it to connect two threaded pipes directly without the need for welding.
Function: Half couplings are commonly used to create a joint between a pipe and a component such as a valve, pump, or pressure gauge. The open end of the half coupling facilitates easy attachment to the component, while the threaded or socketed end connects to the pipe. On the other hand, full couplings are used when a direct, rigid connection between two pipes is needed, providing a continuous flow path without any interruptions.
Application: Half couplings are frequently used in situations where frequent disassembly or maintenance may be required. For example, in systems with valves that need periodic inspection or replacement, a half coupling allows for easy removal without disturbing the entire pipeline. Full couplings, on the other hand, are more suitable for applications where a permanent, leak-proof connection is needed, such as in pressurized systems or critical process pipelines.
Length: Full couplings are typically longer than half couplings because they need to accommodate two threaded ends, while half couplings have one threaded or socketed end and an open end, making them shorter in length.
Installation: The installation process differs for half and full couplings. Half couplings are welded or threaded onto one pipe end and then connected to another pipe or component using welding or threading, respectively. Full couplings, on the other hand, directly join two pipes with threaded ends, requiring no additional welding or threading.
Flexibility: Half couplings offer more flexibility due to their ability to connect to different types of components or pipes with varying end connections. Full couplings are less flexible in this regard, as they can only join two threaded pipes together.
Overall, the choice between half couplings and full couplings depends on the specific requirements of the piping system, including the need for temporary connections, the type of components being attached, the nature of the fluid being transported, and the desired level of joint permanence and flexibility.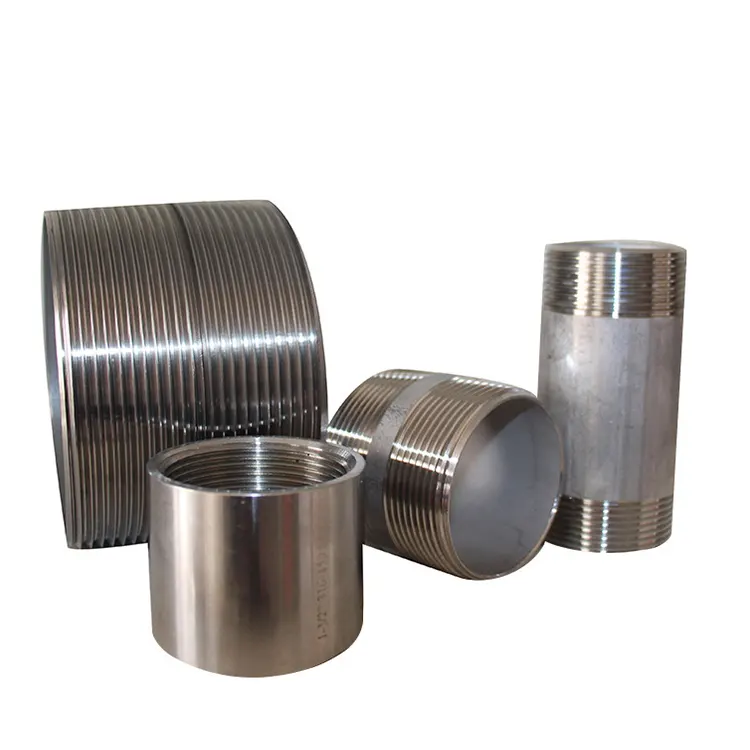 Can a Half Coupling be Used to Join Pipes of Different Diameters?
Yes, a half coupling can be used to join pipes of different diameters in piping and plumbing systems. Half couplings are specifically designed to connect two pipes of different sizes, making them ideal for creating transitions or connections between pipes with varying diameters. The larger end of the half coupling is welded or screwed onto the larger diameter pipe, providing a stable base for the connection. The smaller pipe, which has a different diameter, is then threaded or inserted into the smaller end of the half coupling.
The ability to join pipes of different diameters is one of the main advantages of using half couplings. This feature allows for efficient and smooth transitions between pipe sizes, which is crucial in maintaining proper fluid flow, reducing pressure losses, and preventing turbulence within the system.
Here are some common scenarios where half couplings are used to join pipes of different diameters:
Reducing Pipe Size: When a pipeline needs to change from a larger diameter to a smaller diameter, a half coupling can be employed to create a smooth transition. For example, if a process requires a reduction in flow rate, a smaller pipe can be connected to the main pipeline using a half coupling.
Connecting Equipment or Valves: In many industrial applications, equipment, valves, or instruments are connected to the main pipeline using half couplings. Often, these components have different pipe sizes than the main pipeline, and a half coupling provides a secure and leak-proof joint.
Repair and Maintenance: During repair or maintenance operations, a damaged section of the pipeline can be cut out, and a new pipe of a different diameter can be connected using a half coupling. This allows for quick repairs without having to replace the entire pipeline.
When using a half coupling to join pipes of different diameters, it is essential to ensure that the threads and dimensions of the coupling match the pipes being connected. Proper sealing techniques, such as using thread sealant or Teflon tape, should also be applied to prevent leaks and ensure a reliable connection.
In conclusion, half couplings are versatile pipe fittings that enable the joining of pipes with different diameters. Their ability to facilitate smooth transitions and secure connections makes them invaluable in various industrial, commercial, and residential applications.



editor by CX 2023-10-09