Product Description
A105n NPT Screw Threaded Forged Steel Half Coupling
Product Parameters
Product Name

  Pipe coupling

Size

1/8″-4″ 

Standard

ANSI B16.11

Pressure

2000lbs, 3000lbs,6000lbs, 9000lbs

Type

full coupling or half coupling

    End
  Threaded or socket welded

Process

Forged

Surface

 CNC machined, anti-rust oil, HDG(hot dip galv.)

Material

Carbon steel: A105, A350 LF2,etc.

Pipeline steel: ASTM 694 f42, f52, f60, f65,f70 and etc.

  Stainless steel: A182F304/304L, A182 F316/316L, A182F321,  A182F310S, A182F347H, A182F316Ti,  317/317L,  904L,  1.4301, 1.4307, 1.4401, 1.4571, 1.4541, 254Mo and etc.
 Duplex stainless steel: ASTM A182 F51, F53,F55, UNS31803, SAF2205, UNS32205,  UNS32750 , UNS32760, 1.4462,1.4410,1.4501 and etc.
  Nickel alloy: inconel600, inconel625, inconel690, incoloy800, incoloy 825, incoloy 800H,C22, C-276, Monel400, Alloy20 etc.

Cr-Mo alloy steel: A182 f11,f22,f5,f9,f91, 10CrMo9-10, 16Mo3 etc.

Application

Petrochemical industry;aviation and aerospace industry;pharmaceutical industry,gas exhaust; power plant;ship building;  water treatment, etc.

Advantages

ready stock,faster delivery time;available in all sizes,customized;high quality
Detailed Photos
End can be socket weld or thread
Marking
Various marking can be curved, or painting by laser on your request. We accept to mark your LOGO
Inspection
1. Dimension measurements, all within standard tolerance.
2. Accept Third party inspection
3. Supply MTC, EN15714 3.1/3.2 certificate
Packaging & Shipping
1. Packed by carton first, then Packed by plywood case as per ISPM15
2. we will put packing list on each package
3. we will put shipping markings on each package. Markings words are on your request.
4. All  wood package materials are fumigation free
Interested in other products
                Tee                               Coupling                                   Nipple                                 weldolet                       Flange
Our Advantages
Why Choose us
CZIT GROUP(3 factories, 300+workers, 200 +customers, 19+ years experience):
7*24 service time
5000tons production capacity each month, fast delivery. Standard flange and fittings have lots of stock
trace shippment each week
Professional QC QA team, more than 5 people. Inspect all goods before delivery
REFUND MONEY IF REJECTION BECAUSE OF QUALITY
FAQ
FAQ
Q: Can you supply Form e, Cer
ti
ficate of origin? 
A: Yes, we can supply. 
Q: Can you supply invoice and CO with chamber of commerce? 
A: Yes, we can supply. 
Q: Can you accept L/C deferred 30, 60, 90days? 
A: We can. 
Q: Can you accept O/A payment? 
A: We can. 
Q: Can you supply samples? 
A: Yes, some samples are free.
Q: Can you supply the products which comply with NACE? 
A: Yes, we can.
Q: Can you visit your factory
A: Yes, sure. Welcome.
Q: Can you inspect the goods before delivery
A: Yes, sure. Welcome to our factory inspect the goods. Also accept third party inspection, such as SGS, TUV, BV etc.
Q: Can you supply MTC , EN15714 3.1/3.2 certificate?
A: Yes, sure. we can
Q: Do you have ISO
A: Yes, we have
Q: Can you accept OEM?
A: Yes, we can
Q: Can you accept marking our LOGO?
A: Yes, we can
Q: What is your MOQ?
A: 1pcs for standard fittings and flanges. 
Q: Can you support to design our piping system?
A: Yes, we would like to your partner and our engineer will help.
Q: Can you offer data sheet and drawing?
A: Yes, we can
Q: Can you ship by carrier or airline?
A: Yes, we can. And we also can ship by train
Q: Can you combine your order with other supplier?  Then ship together?
A: Yes, we can. We would like help you ship together to save your time and money
Q: Can you shorten delivery time?
A: If very very urgent, please confirm with sales. We would like arrange extra-working time for you.
Q: Can you marking on package as per IPPC?
A: Yes, we can
Q: Can you mark "MADE IN CHINA" on products and packing?
A: Yes, we can
Q: Can you supply semi-finished products? 
A: Yes, we can
Q: We need some test sample pieces for each heat number, Can you supply?
A: Yes, we can
Q: Can you supply heat treatment report?
A: Yes, we can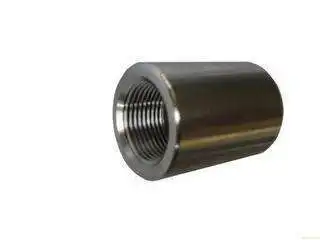 Are there Specific Safety Considerations when Using Half Couplings in High-Pressure Systems?
Yes, there are specific safety considerations to keep in mind when using half couplings in high-pressure systems. High-pressure applications pose unique challenges, and it is crucial to follow safety protocols to prevent potential hazards and ensure the integrity of the piping or plumbing system. Here are the key safety considerations:
Pressure Ratings: Ensure that the half couplings used in high-pressure systems are rated for the intended pressure levels. Half couplings have specific pressure ratings based on their design and material. Exceeding these ratings can lead to coupling failure and catastrophic leaks.
Material Selection: Choose half couplings made from suitable materials capable of withstanding the pressures and conditions of the system. High-pressure applications often require stronger and more durable materials, such as stainless steel or high-grade alloys.
Proper Installation: Accurate and proper installation is critical in high-pressure systems. Follow the manufacturer's guidelines and industry best practices during installation to ensure a secure and leak-free connection. Improper installation can lead to coupling failure under pressure.
Weld Quality: For socket weld and butt weld half couplings, the quality of the weld is paramount in high-pressure systems. Only qualified welders should perform the welding, and the welds must be thoroughly inspected to ensure they meet the necessary standards for strength and integrity.
Inspections and Testing: Regularly inspect the half couplings and the entire system for signs of wear, damage, or leaks. Implement non-destructive testing methods to assess the integrity of the couplings and welds. Pressure testing the system periodically can help identify potential weaknesses and ensure its reliability.
Temperature Considerations: High-pressure systems can generate significant heat, and temperature fluctuations can impact the integrity of the couplings. Ensure that the chosen materials can handle the temperature variations experienced in the system without compromising their strength and performance.
Stress Analysis: Conduct stress analysis of the piping system to identify potential stress points and ensure that the half couplings can handle the applied stresses. Proper support and anchoring of the system can reduce the stress on the couplings and prevent failures.
Training and Safety Protocols: Ensure that personnel working with high-pressure systems are well-trained and aware of the safety protocols. They should understand the potential risks associated with the system and know how to respond to emergencies or leaks effectively.
Emergency Shutdown Procedures: Establish clear and effective emergency shutdown procedures in case of unforeseen incidents. This can help minimize damage and risks to personnel in the event of a coupling failure or system breach.
By taking these safety considerations into account, operators can mitigate the risks associated with using half couplings in high-pressure systems. Proper planning, material selection, installation, and maintenance are key to ensuring the safe and reliable operation of the system under high pressure.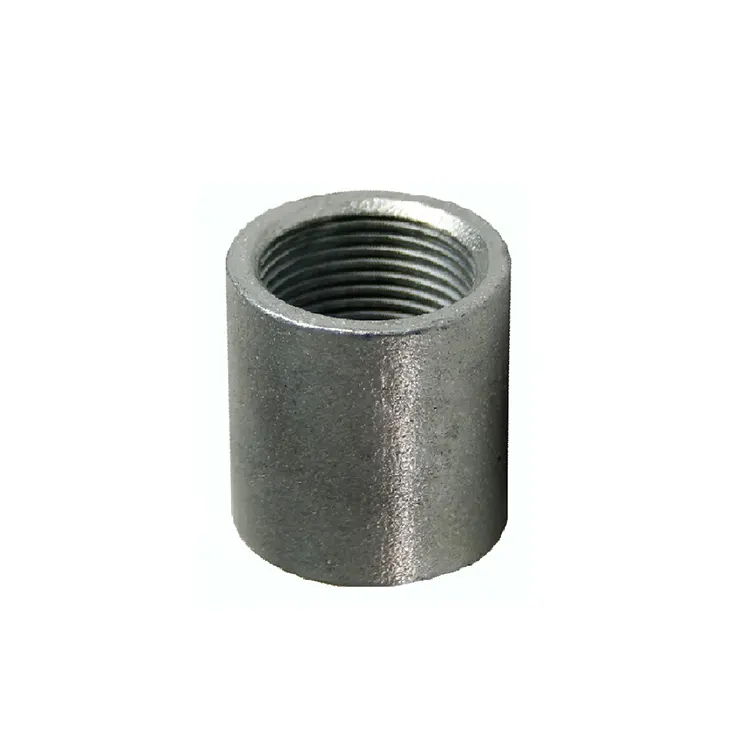 Are there Industry Standards or Certifications for Half Couplings?
Yes, there are industry standards and certifications for half couplings to ensure their quality, performance, and safety. These standards are established by various organizations to provide guidelines for manufacturers, distributors, and users of half couplings. Compliance with these standards helps maintain consistency, reliability, and compatibility within the industry. Some of the prominent standards and certifications related to half couplings include:
ASME B16.11: The American Society of Mechanical Engineers (ASME) sets the ASME B16.11 standard for forged fittings, including socket weld and threaded half couplings. This standard covers the requirements for materials, dimensions, ratings, testing, and marking of forged fittings used in high-pressure applications.
ASTM A105 / ASTM A182: ASTM International establishes standards for materials used in various industries. ASTM A105 covers forged carbon steel piping components, including couplings, for ambient and higher-temperature service. ASTM A182 includes specifications for forged or rolled alloy-steel pipe flanges, forged fittings, and valves and is commonly referenced for high-temperature or corrosive applications involving half couplings made from alloy steels.
API 5CT / API 5L: The American Petroleum Institute (API) develops standards for the oil and gas industry. API 5CT specifies requirements for casing and tubing, and API 5L covers seamless and welded steel line pipe. In oil and gas applications, half couplings used for connecting casing and tubing components are expected to meet the API standards.
ISO 9001: The International Organization for Standardization (ISO) sets the ISO 9001 standard for quality management systems. Manufacturers of half couplings can obtain ISO 9001 certification to demonstrate their commitment to consistent quality and continuous improvement in their processes and products.
UL Listing: Underwriters Laboratories (UL) offers product testing and certification services. Half couplings used in fire protection systems or other safety-critical applications may undergo testing and receive UL listing to ensure compliance with fire safety and performance standards.
Pressure Equipment Directive (PED): In the European Union, the Pressure Equipment Directive sets requirements for the design, manufacture, and conformity assessment of pressure equipment, including half couplings used in pressurized systems. Compliance with PED is mandatory for certain pressure equipment intended for use in the EU market.
It is essential for users and buyers of half couplings to verify that the products they purchase meet the relevant industry standards and certifications. Ensuring compliance with these standards helps assure the performance, safety, and reliability of half couplings in various applications and industries.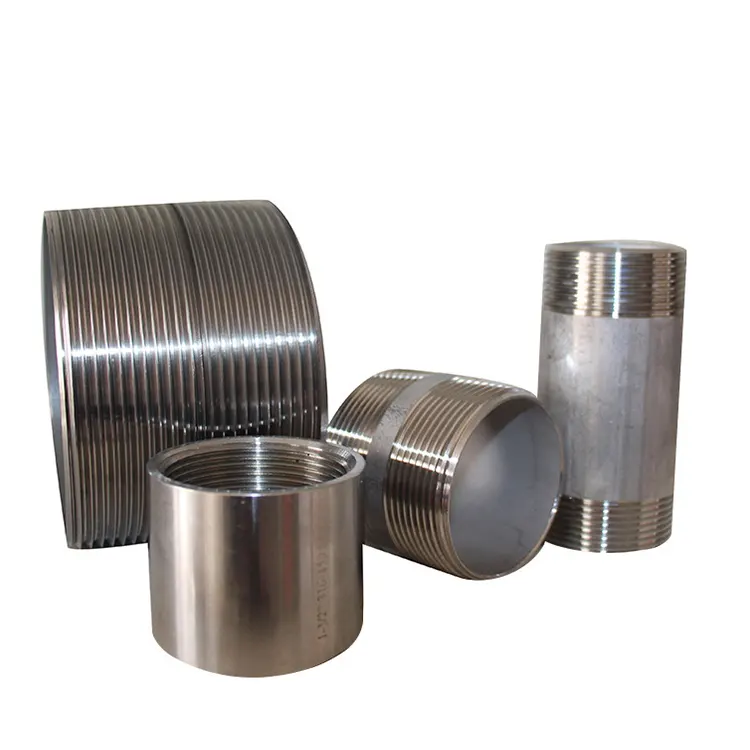 Can a Half Coupling be Used to Join Pipes of Different Diameters?
Yes, a half coupling can be used to join pipes of different diameters in piping and plumbing systems. Half couplings are specifically designed to connect two pipes of different sizes, making them ideal for creating transitions or connections between pipes with varying diameters. The larger end of the half coupling is welded or screwed onto the larger diameter pipe, providing a stable base for the connection. The smaller pipe, which has a different diameter, is then threaded or inserted into the smaller end of the half coupling.
The ability to join pipes of different diameters is one of the main advantages of using half couplings. This feature allows for efficient and smooth transitions between pipe sizes, which is crucial in maintaining proper fluid flow, reducing pressure losses, and preventing turbulence within the system.
Here are some common scenarios where half couplings are used to join pipes of different diameters:
Reducing Pipe Size: When a pipeline needs to change from a larger diameter to a smaller diameter, a half coupling can be employed to create a smooth transition. For example, if a process requires a reduction in flow rate, a smaller pipe can be connected to the main pipeline using a half coupling.
Connecting Equipment or Valves: In many industrial applications, equipment, valves, or instruments are connected to the main pipeline using half couplings. Often, these components have different pipe sizes than the main pipeline, and a half coupling provides a secure and leak-proof joint.
Repair and Maintenance: During repair or maintenance operations, a damaged section of the pipeline can be cut out, and a new pipe of a different diameter can be connected using a half coupling. This allows for quick repairs without having to replace the entire pipeline.
When using a half coupling to join pipes of different diameters, it is essential to ensure that the threads and dimensions of the coupling match the pipes being connected. Proper sealing techniques, such as using thread sealant or Teflon tape, should also be applied to prevent leaks and ensure a reliable connection.
In conclusion, half couplings are versatile pipe fittings that enable the joining of pipes with different diameters. Their ability to facilitate smooth transitions and secure connections makes them invaluable in various industrial, commercial, and residential applications.



editor by CX 2023-09-28