Product Description
Product Description
Specification
| | |
| --- | --- |
| Product Name | forged pipe fitting(elbow, tee, coupling, cap, plug, union, nipple, insert, bushing , weldolet, threadolet, sockolet, etc.) |
| Size | 1/8″-4″  |
| Standard | ANSI B16.11, MSS SP 97, MSS SP 95, MSS SP 83, BS3799, ASTM A733, etc. |
| Pressure | 2000lbs, 3000lbs,6000lbs, 9000lbs |
| End | Thread(NPT/BSP), socket welded, butt weld  |
| Advantages | ready stock,faster delivery time;available in all sizes,customized;high quality |
|  Wall thickness | sch20, sch10s, sch30,sch40,std, sch40s, sch80s,sch80, xs, sch100,sch120,sch140,sch160,xxs ,customized , etc. |
| Surface | CNC machined, anti-rust oil, HDG(hot dip galv.) |
| Application | Petrochemical industry;aviation and aerospace industry;pharmaceutical industry,gas exhaust; power plant;ship building;  water treatment, etc. |
| Packages | Plywood Cases or Plywood Pallets or Boxes |
| Technology | Forged |
| Certificate | ISO9001,API,CE,UL/FM |
Certifications
Company Profile
HangZhou CZPT Casting and Forging Co., Ltd. is 1 of the biggest manufacturers and exporters of pipeline products in China. We specialize in pipeline products, casting and forging (with or without machining): Malleable iron pipe fittings, ductile iron grooved fitting and coupling, 125# cast iron pipe fitting, steel butt-welding pipe fitting, steel flange, forged steel pipe fittings, stainless steel threaded pipe fitting, steel pipe nipple & merchant coupling, steel pipe, brass pipe nipple and bronze fitting, cast iron soil pipe and fitting, resilient seat non-rising stem wedge gate valves, check valve, butterfly valve, brass valve and bib-cock, scaffolding couplers / clamps, scaffolding frame & props, scaffolding accessories, pipe clamp fitting, concrete lifting anchors, lifting insert, socket & fixing insert, concrete hardware accessories, expansion shell, pipe coupling & hose clamps, radiator, cast iron manhole cover, auto parts, CZPT parts, investment (lost wax casting) casting parts, die casting parts, and kinds of casting and forging machinery parts according samples or drawing from customers. All our factories are certified to the international ISO-9001 quality system standard and all products are carefully tested to meet the strict quality requirements and industry standards prior to each shipment. Parts of our products have been tested, listed, approved by some predominant labs and bodies. In order to enhance our accountability for environment, the environmental management system to ISO14001 has been assessed and registered by BVQI (France). Any information, samples and drawings which you can provide will facilitate us to make the correct supply to meet your special requirements.

 
FAQ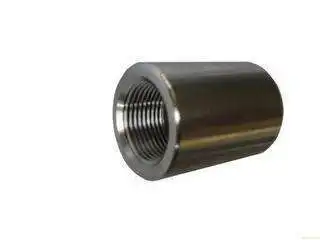 Are there Specific Safety Considerations when Using Half Couplings in High-Pressure Systems?
Yes, there are specific safety considerations to keep in mind when using half couplings in high-pressure systems. High-pressure applications pose unique challenges, and it is crucial to follow safety protocols to prevent potential hazards and ensure the integrity of the piping or plumbing system. Here are the key safety considerations:
Pressure Ratings: Ensure that the half couplings used in high-pressure systems are rated for the intended pressure levels. Half couplings have specific pressure ratings based on their design and material. Exceeding these ratings can lead to coupling failure and catastrophic leaks.
Material Selection: Choose half couplings made from suitable materials capable of withstanding the pressures and conditions of the system. High-pressure applications often require stronger and more durable materials, such as stainless steel or high-grade alloys.
Proper Installation: Accurate and proper installation is critical in high-pressure systems. Follow the manufacturer's guidelines and industry best practices during installation to ensure a secure and leak-free connection. Improper installation can lead to coupling failure under pressure.
Weld Quality: For socket weld and butt weld half couplings, the quality of the weld is paramount in high-pressure systems. Only qualified welders should perform the welding, and the welds must be thoroughly inspected to ensure they meet the necessary standards for strength and integrity.
Inspections and Testing: Regularly inspect the half couplings and the entire system for signs of wear, damage, or leaks. Implement non-destructive testing methods to assess the integrity of the couplings and welds. Pressure testing the system periodically can help identify potential weaknesses and ensure its reliability.
Temperature Considerations: High-pressure systems can generate significant heat, and temperature fluctuations can impact the integrity of the couplings. Ensure that the chosen materials can handle the temperature variations experienced in the system without compromising their strength and performance.
Stress Analysis: Conduct stress analysis of the piping system to identify potential stress points and ensure that the half couplings can handle the applied stresses. Proper support and anchoring of the system can reduce the stress on the couplings and prevent failures.
Training and Safety Protocols: Ensure that personnel working with high-pressure systems are well-trained and aware of the safety protocols. They should understand the potential risks associated with the system and know how to respond to emergencies or leaks effectively.
Emergency Shutdown Procedures: Establish clear and effective emergency shutdown procedures in case of unforeseen incidents. This can help minimize damage and risks to personnel in the event of a coupling failure or system breach.
By taking these safety considerations into account, operators can mitigate the risks associated with using half couplings in high-pressure systems. Proper planning, material selection, installation, and maintenance are key to ensuring the safe and reliable operation of the system under high pressure.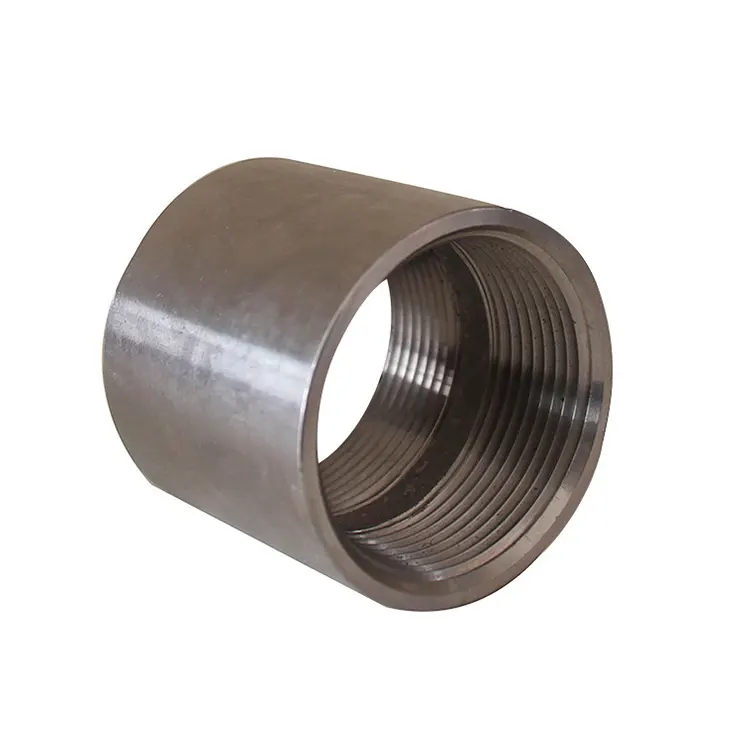 How do you Select the Right Half Coupling Material Based on the Fluid or Gas being Conveyed?
Choosing the appropriate material for half couplings is essential to ensure their compatibility with the fluid or gas being conveyed. The selection process involves considering several factors related to the nature of the conveyed substance and the specific operating conditions. Here's a step-by-step guide on how to select the right half coupling material:
Identify the Conveyed Fluid or Gas: Determine the type of fluid or gas that will flow through the piping system. Different materials may be required depending on whether the conveyed substance is water, oil, gas, chemicals, steam, or any other medium.
Consider the Chemical Compatibility: Evaluate the chemical properties of the conveyed substance. Some fluids or gases can be corrosive or reactive with certain materials. Look for half coupling materials that are chemically resistant to the specific medium to prevent degradation or premature failure.
Assess the Temperature and Pressure: Take into account the operating temperature and pressure of the system. High-temperature fluids or gases may require materials with excellent heat resistance, while high-pressure applications demand strong and durable coupling materials that can withstand the stress.
Check for Abrasion or Erosion: In systems where the conveyed substance contains solid particles or abrasive materials, consider half coupling materials with good wear resistance to prevent premature wear and damage to the coupling surface.
Verify Material Standards: Ensure that the selected half coupling material complies with relevant industry standards such as ASTM, ASME, API, or ISO. These standards define the material's properties and performance criteria, providing a reliable benchmark for quality and suitability.
Consider Environmental Conditions: Evaluate the environmental factors that can affect the coupling's performance, such as humidity, UV exposure, or exposure to harsh chemicals. Choose materials with appropriate coatings or properties to withstand the specific environmental conditions.
Factor in Cost and Availability: Balancing performance requirements with cost considerations is essential. Select a half coupling material that meets the necessary performance criteria while fitting within the project's budget. Additionally, ensure that the chosen material is readily available for procurement.
Common materials used for half couplings include carbon steel, stainless steel, alloy steel, brass, bronze, and various plastics such as PVC, CPVC, and PTFE. Each material has its advantages and limitations, making the selection process critical for a successful and reliable piping system.
By carefully considering the conveyed fluid or gas, chemical compatibility, temperature, pressure, abrasion resistance, and other relevant factors, you can make an informed decision and select the right half coupling material that will ensure a safe and efficient operation of the piping system.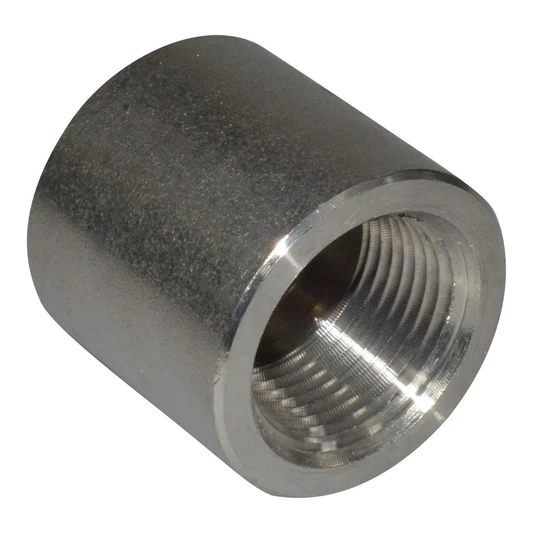 What is a Half Coupling and How is it Used in Piping and Plumbing Systems?
A half coupling is a type of pipe fitting used in piping and plumbing systems to connect two pipes of different sizes. It is a short, threaded piece with one end designed to be welded or screwed onto a larger pipe, and the other end allows for the attachment of a smaller pipe. The half coupling has internal threads on one end and a plain or beveled surface on the other end.
Half couplings are typically made from materials such as stainless steel, carbon steel, brass, or other suitable alloys, depending on the application and the medium being transported through the pipes.
In piping systems, half couplings are used for various purposes:
Reducing Pipe Size: One common use of half couplings is to reduce the pipe size at a specific point in the system. For example, when a large pipe needs to be connected to a smaller pipe, a half coupling can be employed to create a smooth transition.
Connection Points: Half couplings are often used at connection points where equipment, valves, or instruments are attached to the pipeline. They provide a secure and leak-proof joint.
Repair and Maintenance: In the event of a pipe section damage, a half coupling can be used to cut out the damaged portion and replace it with a new pipe, facilitating quick repairs without the need to replace the entire pipeline.
The installation of a half coupling involves a few simple steps:
Cutting and Preparing the Pipe: The larger pipe, to which the half coupling will be attached, is cut to the desired length, and the edge is cleaned and beveled to ensure a proper welding or threading joint.
Attaching the Half Coupling: The half coupling is then welded or screwed onto the larger pipe end. For welding, proper welding techniques and safety measures must be followed to achieve a strong, reliable joint.
Connecting the Smaller Pipe: The smaller pipe is threaded or inserted into the other end of the half coupling. The connection is tightened to ensure a secure fit, and sealing materials like Teflon tape or thread sealant may be used to prevent leaks.
In plumbing systems, half couplings serve similar functions, connecting different pipes or fixtures of various sizes. The installation process may vary slightly, depending on the type of plumbing materials and the specific application.
In summary, half couplings are essential components in piping and plumbing systems, enabling the connection of pipes with different diameters and facilitating repairs or adding connection points with ease and efficiency.



editor by CX 2023-08-10