Product Description
Specification
| | |
| --- | --- |
| Product name | Stainless Steel Repair Coupling for Pipe fittings |
| Material | Stainless steel, cast iron |
| Size | 1.0″-6.6″ |
| Application | Pipeline of Water, Oil, Gas, Ship Building |
| Sealing sleeve | EPDM, NBR, MVQ, FPM/FKM |
| Packing | Carton , pallets |
Features :
* used for both pipe connection and pipe leakage repair
* allow angular deflection
* anti corrosive
* easy installation and dismantle
| | |
| --- | --- |
| Lug | SS304/316 |
| Bolts | SS304/316 |
| Gasket | EPDM / NBR |
| Shell | SS304/316 |
| Grip teeth | SS304/316 |
| Application | HDPE Pipe Connection / Leakage Repairing |
Packing & Delivery
Plastic film,Wooden case,Pallet, Bags and cartons or as clients' requirements inner
How do you Properly Install and Secure a Half Coupling to Ensure a Leak-Free Connection?
Properly installing and securing a half coupling is essential to ensure a leak-free and reliable connection in piping and plumbing systems. Follow these steps to achieve a secure joint:
Cut and Prepare the Pipe: Start by cutting the larger pipe to the desired length, ensuring a clean and even edge. Use a deburring tool or file to remove any sharp edges or burrs that could interfere with the coupling's sealing surface.
Check Threads and Fit: For threaded half couplings, inspect the internal threads of the coupling and the external threads of the pipe. Make sure they are clean and free from debris or damage. Ensure that the threads match and fit properly, as any misalignment can lead to leaks.
Apply Thread Sealant: Before attaching the half coupling, apply a suitable thread sealant, such as Teflon tape or pipe dope, to the male threads of the pipe. The sealant helps prevent leaks by filling any gaps or imperfections in the threads.
Attach the Half Coupling: Thread the half coupling onto the pipe's male threads carefully. Use a wrench to ensure a snug fit, but avoid over-tightening, as it may damage the threads or cause stress on the joint.
For Socket Weld or Butt Weld Couplings: For socket weld half couplings, insert the smaller pipe into the coupling's socket and align it properly. For butt weld half couplings, weld the coupling to the larger pipe's end with proper welding techniques and safety measures. Follow industry standards for welding procedures and ensure a smooth and consistent weld for a leak-free joint.
Check for Leaks: After installation, perform a leak test to ensure the joint is secure. Apply a pressure test or use a suitable leak-detection method to verify the connection's integrity. If any leaks are detected, disassemble the joint, inspect for issues, and reassemble following the proper steps.
Consider Thermal Expansion: In applications with temperature variations, consider the thermal expansion and contraction of the pipes. Provide sufficient flexibility in the system to accommodate these changes and prevent stress on the joints, which could lead to leaks over time.
Follow Manufacturer's Instructions: Always follow the manufacturer's instructions and recommendations for the specific type and material of the half coupling being used. Different couplings may have unique installation requirements and torque specifications.
Proper installation and securing of a half coupling are crucial for maintaining the integrity of the piping or plumbing system and ensuring a leak-free connection. Following these steps and adhering to industry standards will help achieve a reliable and durable joint.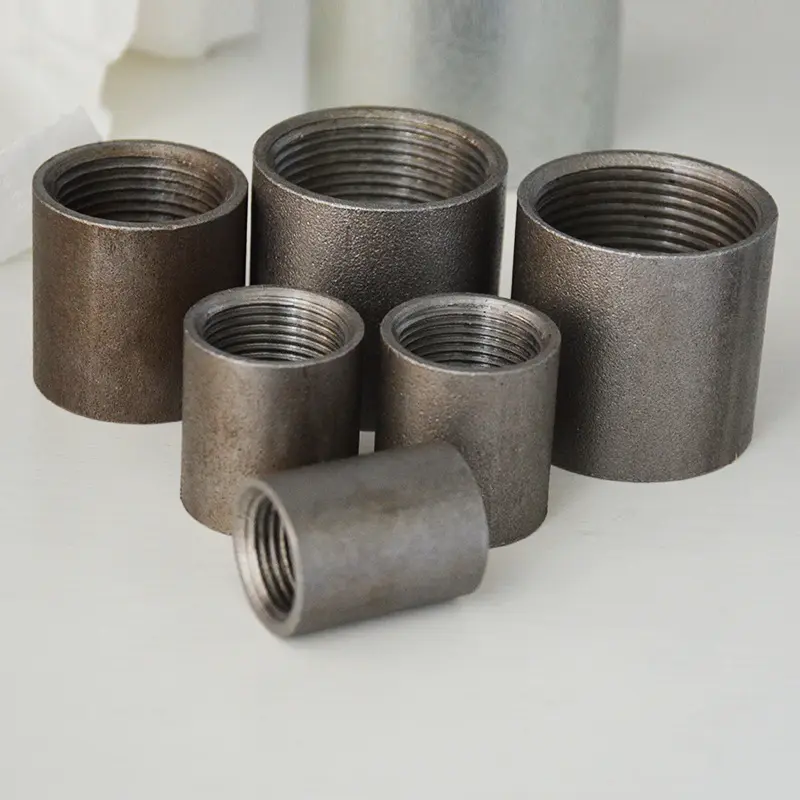 What are some Real-World Examples of Half Coupling Usage in Different Industries?
Half couplings are widely used in various industries to create reliable connections between pipes and components. Here are some real-world examples of half coupling usage in different industries:
Oil and Gas Industry: In the oil and gas sector, half couplings are commonly used in pipelines for crude oil, natural gas, and refined products transportation. They are also employed in offshore platforms, refineries, and petrochemical plants to connect pipes and fittings in high-pressure and corrosive environments.
Chemical Processing: The chemical industry utilizes half couplings to connect pipes carrying various chemicals and corrosive substances. The coupling's resistance to corrosion is vital to ensure the integrity of the piping system in these applications.
Power Generation: In power plants, half couplings are employed in steam and water pipelines, allowing efficient transfer of heat and fluids in boilers and condensers. They are also used in cooling water systems and various auxiliary processes.
Food and Beverage: In food processing facilities, stainless steel half couplings are widely used due to their hygienic properties. They help connect pipes in systems for handling water, beverages, dairy products, and other food items, ensuring sanitation and preventing contamination.
Marine Industry: Half couplings are used in shipbuilding and offshore structures to create connections in piping systems for various applications, including cooling, ballast, and fuel transfer.
Water and Wastewater Treatment: In municipal water supply and wastewater treatment plants, half couplings are employed to connect pipes and fittings in water distribution and treatment systems, as well as in sewer networks.
Agriculture: In agricultural settings, half couplings are used to connect pipes for irrigation systems, water supply, and chemical distribution in farming operations.
Manufacturing: The manufacturing industry utilizes half couplings in various fluid and gas transfer systems for machinery and equipment, as well as in compressed air lines.
Construction: In construction projects, half couplings are used to connect pipes for plumbing, HVAC systems, and other applications in buildings and infrastructure projects.
Fire Protection: In fire sprinkler systems, half couplings are employed to connect pipes carrying water or other fire suppressant agents, ensuring effective fire protection in commercial, industrial, and residential buildings.
These examples demonstrate the versatility and significance of half couplings in different industries, where they play a crucial role in creating leak-free and reliable connections in piping systems. The choice of the half coupling material, size, and specifications may vary depending on the specific application and the environmental conditions in which it operates.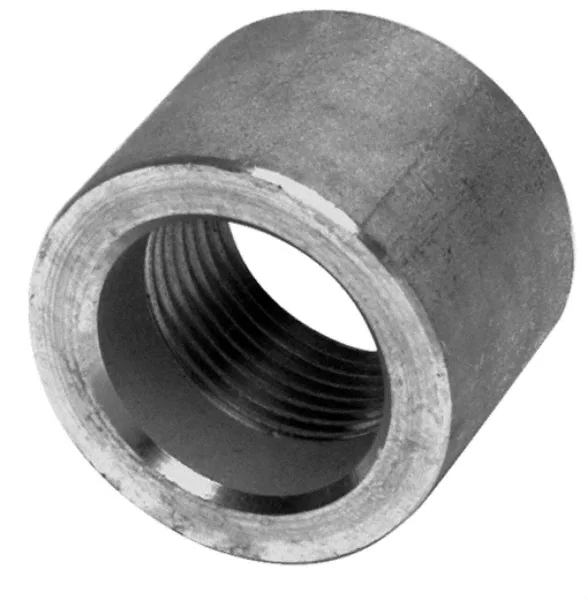 How does a Half Coupling Facilitate Pipe Connections and Disconnections?
A half coupling plays a crucial role in facilitating pipe connections and disconnections in piping and plumbing systems. It is a type of pipe fitting used to join two pipes of different sizes. Let's explore how a half coupling enables these connections and disconnections:
Connection Process: When two pipes of different sizes need to be connected, a half coupling is used to create a secure joint. The larger end of the half coupling is welded or screwed onto the larger pipe, providing a stable base for the connection. The internal threads on the larger end of the coupling allow for easy attachment of the smaller pipe. The smaller pipe is threaded or inserted into the smaller end of the half coupling, and the connection is tightened to ensure a snug fit. The use of thread sealant or Teflon tape helps prevent leaks at the joint.
Transitioning Pipe Sizes: One of the primary uses of a half coupling is to transition between pipes of different sizes. For example, when a pipeline needs to change from a larger diameter to a smaller diameter, a half coupling is employed to create a smooth and efficient transition. This allows for the proper flow of fluids or gases without causing abrupt changes that could lead to pressure losses or turbulence.
Repair and Maintenance: Half couplings are also useful during repair and maintenance operations. In case a section of the pipe is damaged or needs replacement, the damaged portion can be cut out, and a new pipe can be attached using a half coupling. This facilitates quicker and more cost-effective repairs, as it eliminates the need to replace the entire pipeline.
Connection Points: Half couplings are often used at connection points where other components, such as valves, instruments, or equipment, need to be attached to the pipeline. By providing a secure and leak-proof joint, half couplings ensure the integrity of the overall system.
Temporary Connections: In some situations, temporary pipe connections may be required. Half couplings are versatile enough to allow for temporary connections that can be easily disassembled when needed. This flexibility is beneficial in scenarios where pipelines need to be altered or reconfigured temporarily for maintenance or testing purposes.
In summary, a half coupling is a crucial pipe fitting that enables efficient and reliable connections between pipes of different sizes. Its versatility, ease of installation, and ability to transition between pipe sizes make it an essential component in various industrial, commercial, and residential applications. Moreover, its role in facilitating quick repairs and temporary connections further enhances its significance in piping and plumbing systems.



editor by CX 2023-08-17