Product Description
Specification
| | |
| --- | --- |
| Product name | Stainless Steel Repair Coupling for Pipe fittings |
| Material | Stainless steel, cast iron |
| Size | 1.0″-6.6″ |
| Application | Pipeline of Water, Oil, Gas, Ship Building |
| Sealing sleeve | EPDM, NBR, MVQ, FPM/FKM |
| Packing | Carton , pallets |
Features :
* used for both pipe connection and pipe leakage repair
* allow angular deflection
* anti corrosive
* easy installation and dismantle
| | |
| --- | --- |
| Lug | SS304/316 |
| Bolts | SS304/316 |
| Gasket | EPDM / NBR |
| Shell | SS304/316 |
| Grip teeth | SS304/316 |
| Application | HDPE Pipe Connection / Leakage Repairing |
Packing & Delivery
Plastic film,Wooden case,Pallet, Bags and cartons or as clients' requirements inner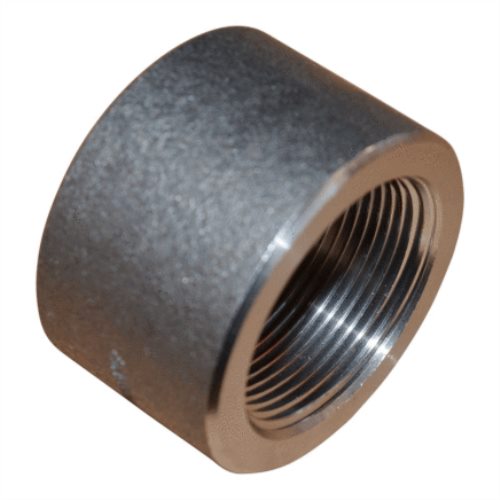 Can a Half Coupling be Used for Both Temporary and Permanent Pipe Connections?
Yes, a half coupling can be used for both temporary and permanent pipe connections, depending on the specific requirements of the application and the type of half coupling used.
Temporary Pipe Connections: Threaded half couplings are commonly used for temporary pipe connections. They allow for easy assembly and disassembly of the pipes without the need for welding. Threaded couplings offer quick installation and are ideal for situations where frequent changes or maintenance are necessary. For example, during construction or testing phases, temporary pipe connections may be required before the final system configuration is established.
Permanent Pipe Connections: Socket weld and butt weld half couplings are primarily used for permanent pipe connections. Once these couplings are welded to the pipes, the joint becomes integral, robust, and permanent. Socket weld couplings are commonly used in smaller diameter pipes, while butt weld couplings are more prevalent in larger diameter pipes and high-pressure applications. These types of couplings are well-suited for applications where a secure and leak-proof connection is essential for the long-term operation of the system.
It is essential to choose the appropriate type of half coupling based on the specific needs of the application. Consider factors such as the system's operating conditions, pressure requirements, maintenance frequency, and future changes or expansions. Temporary connections using threaded half couplings provide flexibility and ease of maintenance but may not be suitable for high-pressure or critical systems. On the other hand, permanent connections using socket weld or butt weld half couplings offer maximum strength and reliability, but they require careful planning and welding expertise.
In some cases, half couplings may be used temporarily during system assembly or testing and later replaced with socket weld or butt weld couplings for permanent operation. This allows for easier adjustments during the initial setup while ensuring a durable connection in the long run.
Ultimately, the choice between temporary and permanent pipe connections using half couplings depends on the specific requirements of the project and the balance between flexibility and long-term reliability.
Are there Special Half Couplings Designed for Specific Types of Pipes (e.g., Stainless Steel, PVC)?
Yes, there are special half couplings designed to be compatible with specific types of pipes, such as stainless steel, PVC, and other materials. The choice of half coupling material should be based on the properties of the pipe and the requirements of the application. Here are some examples of special half couplings designed for specific types of pipes:
Stainless Steel Half Couplings: These couplings are specifically designed to be used with stainless steel pipes. Stainless steel is known for its corrosion resistance and is commonly used in applications where the conveyed fluid or gas may be corrosive or require high hygiene standards. Stainless steel half couplings provide a reliable and durable connection in such environments, making them suitable for industries like food processing, pharmaceuticals, chemical processing, and marine applications.
PVC Half Couplings: PVC pipes are widely used for water supply, drainage, and irrigation systems due to their lightweight, corrosion resistance, and affordability. Special half couplings for PVC pipes are typically made of PVC material or other compatible plastics. These couplings ensure a secure and leak-free connection in PVC pipe systems, especially in residential and agricultural applications.
CPVC Half Couplings: CPVC (Chlorinated Polyvinyl Chloride) pipes are used in applications where higher temperature and pressure resistance are required compared to standard PVC pipes. CPVC half couplings are designed to be compatible with CPVC pipes, providing a reliable joint for hot water supply, industrial piping, and other high-temperature applications.
Copper Half Couplings: Copper pipes are commonly used for water supply lines and in refrigeration systems. Half couplings made from copper or brass are suitable for connecting copper pipes, ensuring a tight and durable connection in residential and commercial plumbing systems.
Galvanized Steel Half Couplings: Galvanized steel pipes are coated with a layer of zinc to enhance their corrosion resistance. Half couplings made from galvanized steel are used with galvanized pipes in outdoor applications or in areas prone to corrosion, such as in sprinkler systems and outdoor water distribution.
Alloy Steel Half Couplings: In high-pressure and high-temperature applications, where the properties of carbon steel are not sufficient, alloy steel half couplings are used. These couplings are designed to handle the demanding conditions of industries such as oil and gas, petrochemicals, and power generation.
It is essential to select the right half coupling material that matches the properties and requirements of the specific type of pipe in the system. Using a compatible half coupling ensures a reliable and leak-free connection, reduces the risk of corrosion or degradation, and contributes to the overall efficiency and longevity of the piping system.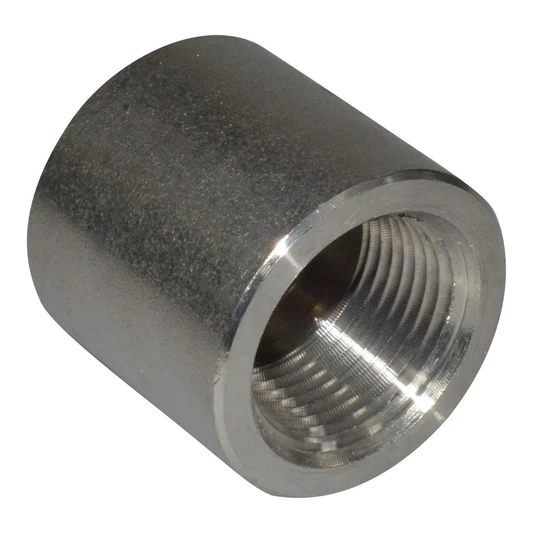 What is a Half Coupling and How is it Used in Piping and Plumbing Systems?
A half coupling is a type of pipe fitting used in piping and plumbing systems to connect two pipes of different sizes. It is a short, threaded piece with one end designed to be welded or screwed onto a larger pipe, and the other end allows for the attachment of a smaller pipe. The half coupling has internal threads on one end and a plain or beveled surface on the other end.
Half couplings are typically made from materials such as stainless steel, carbon steel, brass, or other suitable alloys, depending on the application and the medium being transported through the pipes.
In piping systems, half couplings are used for various purposes:
Reducing Pipe Size: One common use of half couplings is to reduce the pipe size at a specific point in the system. For example, when a large pipe needs to be connected to a smaller pipe, a half coupling can be employed to create a smooth transition.
Connection Points: Half couplings are often used at connection points where equipment, valves, or instruments are attached to the pipeline. They provide a secure and leak-proof joint.
Repair and Maintenance: In the event of a pipe section damage, a half coupling can be used to cut out the damaged portion and replace it with a new pipe, facilitating quick repairs without the need to replace the entire pipeline.
The installation of a half coupling involves a few simple steps:
Cutting and Preparing the Pipe: The larger pipe, to which the half coupling will be attached, is cut to the desired length, and the edge is cleaned and beveled to ensure a proper welding or threading joint.
Attaching the Half Coupling: The half coupling is then welded or screwed onto the larger pipe end. For welding, proper welding techniques and safety measures must be followed to achieve a strong, reliable joint.
Connecting the Smaller Pipe: The smaller pipe is threaded or inserted into the other end of the half coupling. The connection is tightened to ensure a secure fit, and sealing materials like Teflon tape or thread sealant may be used to prevent leaks.
In plumbing systems, half couplings serve similar functions, connecting different pipes or fixtures of various sizes. The installation process may vary slightly, depending on the type of plumbing materials and the specific application.
In summary, half couplings are essential components in piping and plumbing systems, enabling the connection of pipes with different diameters and facilitating repairs or adding connection points with ease and efficiency.



editor by CX 2023-08-16