Product Description
  316 Stainless Steel Frmale Half Couplings NPT HangZhou FLUIDO
Product Description
 316 Stainless Steel Frmale Half Couplings NPT 
Type: Close Nipple, Short Nipple, Shoulder nipple, Long Nipple, Running Nipple, Barrel Nipple etc
Type of pipe: Welded or Seamless pipe
Size: 1/8″ to 8″
Length: 3/4″-24″; 19mm-500mm; Or as per customer's request
Thickness: SCH40, SCH80, SCH160; CLASS A, CLASS B, CLASS C
Material: Carbon steel; Stainless steel: 304/304L/316/316L/321
Standard:
American Standard: ASTM A733 / PIPE: ASTM A53 / ASTM A106 / THREADS: ANSI B1.20.1
British Standard: BS EN15711 / PIPE: BS1387 / THREADS: ISO 7/1
DIN Standard: DIN2982 / PIPE: DIN2440 / THREADS: DIN2999
Surface treatment: Black, Hot galvanized, Electro galvanized
Packing: Packed in cartons, then on pallet
Min Order Quantity: According to customer's requirement
Delivery Time: 25 days after order confirmed
Payment: By T/T or L/C
Applications range:1) Petroleum, chemical industry, water conversancy, electric power, Natural gas, Coal gas, Water power and other pipeline projects.
2) Industrial pipeline system on shipping, mine, oil field, textile, powder plant etc 
3) Pipeline system on subway station, railway station, airport, seaport, bridge etc
Packaging & Shipping

1.Packing Details : carton+plywood pallets/cases+container.
2.Standard exporting cartons and plywood pallets/cases.
3. According to the customer's requirement.
4.Delivery Details : 15-30 days after confirming order.
Company Profile
HangZhou CHINAMFG Industrial Co., Ltd.is 1 of the biggest manufacturers and exporters of pipeline products in China. We specialize in pipeline products, casting and forging (with or without machining): Malleable iron pipe fittings, ductile iron grooved fitting and coupling, 125# cast iron pipe fitting, steel butt-welding pipe fitting, steel flange, forged steel pipe fittings, stainless steel threaded pipe fitting, steel pipe nipple & merchant coupling, steel pipe, brass pipe nipple and bronze fitting, cast iron soil pipe and fitting, resilient seat non-rising stem wedge gate valves, check valve, butterfly valve, brass valve and bib-cock, scaffolding couplers / clamps, scaffolding frame & props, scaffolding accessories, pipe clamp fitting, concrete lifting anchors, lifting insert, socket & fixing insert, concrete hardware accessories, expansion shell, pipe coupling & hose clamps, radiator, cast iron manhole cover, auto parts, CHINAMFG parts, investment (lost wax casting) casting parts, die casting parts, and kinds of casting and forging machinery parts according samples or drawing from customers. All our factories are certified to the international ISO-9001 quality system standard and all products are carefully tested to meet the strict quality requirements and industry standards prior to each shipment. Parts of our products have been tested, listed, approved by some predominant labs and bodies. In order to enhance our accountability for environment, the environmental management system to ISO14001 has been assessed and registered by BVQI (France). Any information, samples and drawings which you can provide will facilitate us to make the correct supply to meet your special requirements.
Certificates

 316 Stainless Steel Frmale Half Couplings NPT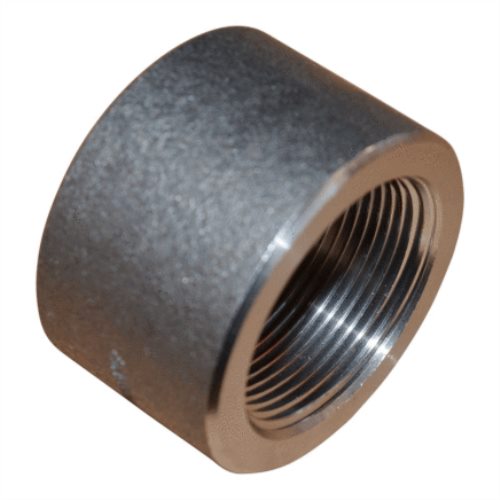 Can a Half Coupling be Used for Both Temporary and Permanent Pipe Connections?
Yes, a half coupling can be used for both temporary and permanent pipe connections, depending on the specific requirements of the application and the type of half coupling used.
Temporary Pipe Connections: Threaded half couplings are commonly used for temporary pipe connections. They allow for easy assembly and disassembly of the pipes without the need for welding. Threaded couplings offer quick installation and are ideal for situations where frequent changes or maintenance are necessary. For example, during construction or testing phases, temporary pipe connections may be required before the final system configuration is established.
Permanent Pipe Connections: Socket weld and butt weld half couplings are primarily used for permanent pipe connections. Once these couplings are welded to the pipes, the joint becomes integral, robust, and permanent. Socket weld couplings are commonly used in smaller diameter pipes, while butt weld couplings are more prevalent in larger diameter pipes and high-pressure applications. These types of couplings are well-suited for applications where a secure and leak-proof connection is essential for the long-term operation of the system.
It is essential to choose the appropriate type of half coupling based on the specific needs of the application. Consider factors such as the system's operating conditions, pressure requirements, maintenance frequency, and future changes or expansions. Temporary connections using threaded half couplings provide flexibility and ease of maintenance but may not be suitable for high-pressure or critical systems. On the other hand, permanent connections using socket weld or butt weld half couplings offer maximum strength and reliability, but they require careful planning and welding expertise.
In some cases, half couplings may be used temporarily during system assembly or testing and later replaced with socket weld or butt weld couplings for permanent operation. This allows for easier adjustments during the initial setup while ensuring a durable connection in the long run.
Ultimately, the choice between temporary and permanent pipe connections using half couplings depends on the specific requirements of the project and the balance between flexibility and long-term reliability.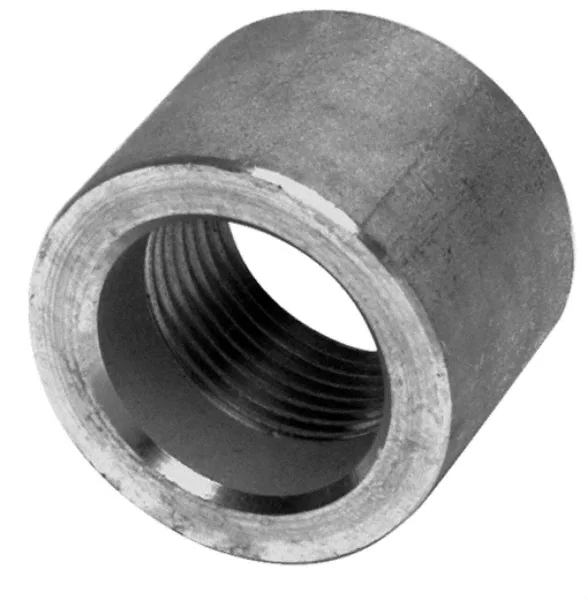 What are the Differences Between Half Couplings and Full Couplings in Pipe Fittings?
In pipe fittings, both half couplings and full couplings serve the purpose of joining two pipes together, but they differ in their design and applications. Here are the key differences between half couplings and full couplings:
Design: The main difference lies in their design. A half coupling has one end with internal threads or a socket, allowing it to be connected to a threaded pipe or inserted into the end of a pipe without threading. The other end of the half coupling is an open end, ready to be welded or threaded to another pipe. On the other hand, a full coupling has both ends with female threads, enabling it to connect two threaded pipes directly without the need for welding.
Function: Half couplings are commonly used to create a joint between a pipe and a component such as a valve, pump, or pressure gauge. The open end of the half coupling facilitates easy attachment to the component, while the threaded or socketed end connects to the pipe. On the other hand, full couplings are used when a direct, rigid connection between two pipes is needed, providing a continuous flow path without any interruptions.
Application: Half couplings are frequently used in situations where frequent disassembly or maintenance may be required. For example, in systems with valves that need periodic inspection or replacement, a half coupling allows for easy removal without disturbing the entire pipeline. Full couplings, on the other hand, are more suitable for applications where a permanent, leak-proof connection is needed, such as in pressurized systems or critical process pipelines.
Length: Full couplings are typically longer than half couplings because they need to accommodate two threaded ends, while half couplings have one threaded or socketed end and an open end, making them shorter in length.
Installation: The installation process differs for half and full couplings. Half couplings are welded or threaded onto one pipe end and then connected to another pipe or component using welding or threading, respectively. Full couplings, on the other hand, directly join two pipes with threaded ends, requiring no additional welding or threading.
Flexibility: Half couplings offer more flexibility due to their ability to connect to different types of components or pipes with varying end connections. Full couplings are less flexible in this regard, as they can only join two threaded pipes together.
Overall, the choice between half couplings and full couplings depends on the specific requirements of the piping system, including the need for temporary connections, the type of components being attached, the nature of the fluid being transported, and the desired level of joint permanence and flexibility.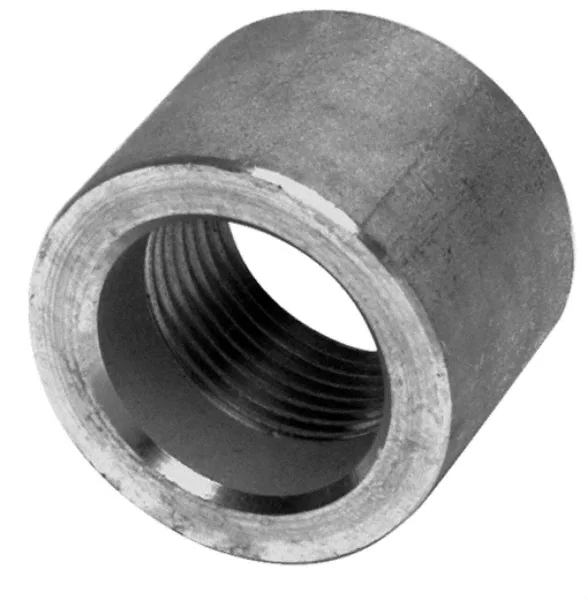 How does a Half Coupling Facilitate Pipe Connections and Disconnections?
A half coupling plays a crucial role in facilitating pipe connections and disconnections in piping and plumbing systems. It is a type of pipe fitting used to join two pipes of different sizes. Let's explore how a half coupling enables these connections and disconnections:
Connection Process: When two pipes of different sizes need to be connected, a half coupling is used to create a secure joint. The larger end of the half coupling is welded or screwed onto the larger pipe, providing a stable base for the connection. The internal threads on the larger end of the coupling allow for easy attachment of the smaller pipe. The smaller pipe is threaded or inserted into the smaller end of the half coupling, and the connection is tightened to ensure a snug fit. The use of thread sealant or Teflon tape helps prevent leaks at the joint.
Transitioning Pipe Sizes: One of the primary uses of a half coupling is to transition between pipes of different sizes. For example, when a pipeline needs to change from a larger diameter to a smaller diameter, a half coupling is employed to create a smooth and efficient transition. This allows for the proper flow of fluids or gases without causing abrupt changes that could lead to pressure losses or turbulence.
Repair and Maintenance: Half couplings are also useful during repair and maintenance operations. In case a section of the pipe is damaged or needs replacement, the damaged portion can be cut out, and a new pipe can be attached using a half coupling. This facilitates quicker and more cost-effective repairs, as it eliminates the need to replace the entire pipeline.
Connection Points: Half couplings are often used at connection points where other components, such as valves, instruments, or equipment, need to be attached to the pipeline. By providing a secure and leak-proof joint, half couplings ensure the integrity of the overall system.
Temporary Connections: In some situations, temporary pipe connections may be required. Half couplings are versatile enough to allow for temporary connections that can be easily disassembled when needed. This flexibility is beneficial in scenarios where pipelines need to be altered or reconfigured temporarily for maintenance or testing purposes.
In summary, a half coupling is a crucial pipe fitting that enables efficient and reliable connections between pipes of different sizes. Its versatility, ease of installation, and ability to transition between pipe sizes make it an essential component in various industrial, commercial, and residential applications. Moreover, its role in facilitating quick repairs and temporary connections further enhances its significance in piping and plumbing systems.



editor by CX 2023-10-07