Product Description
Symmetrical Half Coupling Guillemin Coupling Without Latch Female Thread BSP
The standard of Guillemin Coupling is EN14420-8 or NF E29572. Materials are mainly stainless steel, aluminum, polypropylene and brass. Guillemin hose couplings is connected with thread and locking ring (latch). It can be used with DIN2817 safety clamp. Working pressure is 10 bar. Guillemin coupling is widely used in industries of oil, chemical, fire protection, paper manufacture, construction and metallurgy.
 
Guillemin couplings, also referred to as French couplings are symmetrical couplings where to identical halves are assembled by joining the lugs and turning the locking ring to ensure a good connection.
Pros:
Simple and easy connection
Has a locking ring and soft seal
Large free flow area
Aluminum couplings are lighter in weight than stainless steel
Suitable for water, fluids, hydrocarbons, chemicals, and dry loose materials
 
| | |
| --- | --- |
|  Product Name: | Guillemin Camlock Coupling |
| Sizes: | 1" – 4" (DN25-DN100) |
| MOQ: | 50 pcs |
| Certificates: | CE, ISO9001:2015 |
|  Standard: | EN14420-8 /NF E29572  |
| Material: |  Stainless steel 316/ 304, Aluminum, PP |
| Working pressure: | 10 bar |
| Feature: | Light, flexible and interchangeable. To connect and disconnect without a tool. Economical |
| Application: | it is widely used in oil, chemical industry, fire fighting, paper manufacture, constructoin and metallurgy |
| HS code: | 7609000000 |
Our Advantage
We are experienced as we have been in this industry as a manufacturer for more than 10 years. Both of quality and service are highly guaranteed. Absolutely prompt delivery. We can produce according to specific drawings from customers. Welcome OEM/ODM project. Strict control on quality. High efficient and well trained sale service team.  ISO9001, CE and SGS certified.
FAQ
1.Q: Are you a producer or trading company?
   A: We are an experienced manufacturer. We own production line and kinds of machines.  
2.Q: Can you make our specific logo on the part?
    A: Yes please provide me your logo and we will make your logo on the part.
3.Q: Can you manufacture products according to my drawings?
   A: Yes we can manufacturer according to client's drawings if drawings or samples are available. We are experienced enough       to make new tools.
4. Q: Can I get some samples?
    A: We are honored to offer you our samples. Normally it is for free like 3-5 pcs. It is charged if the samples are more than 5        pcs. Clients bear the freight cost.
5. Q: How many days do you need to finish an order?
    A: Normally it takes about 30 days to finish the order. It takes more time around CZPT season, or if the order involves many        kinds of different products.  
6. Q: What kind of rubber washer do you apply to camlock couplings?
     A: Normally we use NBR gasket.
contact-info.html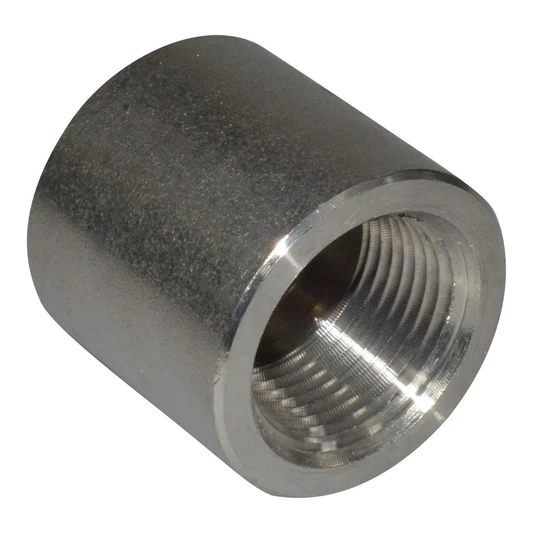 How do Temperature and Environmental Conditions Affect Half Coupling Performance?
The performance of half couplings can be significantly influenced by temperature and environmental conditions. These factors can affect the materials, integrity, and overall functionality of the coupling in various ways. Here's how temperature and environmental conditions impact half coupling performance:
Temperature: Extreme temperatures, whether high or low, can affect the properties of the coupling material. For instance, at high temperatures, certain materials may experience reduced strength and increased susceptibility to creep or deformation. On the other hand, low temperatures can make some materials brittle and prone to cracking. It is essential to select half couplings made from materials that can withstand the expected temperature range in the application.
Corrosive Environments: Half couplings used in corrosive environments are exposed to chemical agents that can cause material degradation. Corrosion can weaken the coupling's structure and lead to leaks. In such cases, using corrosion-resistant materials, coatings, or liners can be beneficial to maintain coupling performance and longevity.
Humidity and Moisture: Excessive humidity and moisture can accelerate corrosion and contribute to the deterioration of the coupling over time. Regular cleaning and protection against moisture ingress are necessary to ensure optimal performance in damp environments.
Abrasive Particles: In industrial settings with abrasive particles present in the fluid or environment, half couplings may experience wear and erosion. This can lead to surface damage and affect the coupling's sealing ability. Selecting materials with high wear resistance and using filters or strainers to remove abrasive particles can help mitigate these effects.
UV Radiation: In outdoor applications exposed to sunlight, UV radiation can degrade certain materials, particularly polymers and elastomers. Couplings made from UV-resistant materials or employing protective coatings can help counteract this effect.
Thermal Expansion: Temperature fluctuations cause thermal expansion and contraction of the pipes and the half couplings. In systems where thermal expansion is not adequately accommodated, stress on the couplings can lead to leaks or joint failure over time. Providing expansion joints or using materials with low thermal expansion coefficients can address this issue.
Altitude: At higher altitudes, air pressure is reduced, which can affect system performance, especially if the half couplings are not designed for such conditions. It is essential to consider altitude-related effects on pressure and temperature when selecting the appropriate coupling materials.
Weather and Climate: Half couplings installed outdoors are exposed to weather conditions like rain, snow, hail, and extreme temperatures. These factors can impact the coupling's integrity and performance. Regular maintenance and inspections become crucial to identify and address any weather-related damages.
To ensure optimal half coupling performance, it is essential to consider the specific temperature and environmental conditions of the application. Choosing suitable materials, applying protective coatings, and implementing proper maintenance practices are essential steps to enhance the longevity and reliability of half couplings in various operating environments.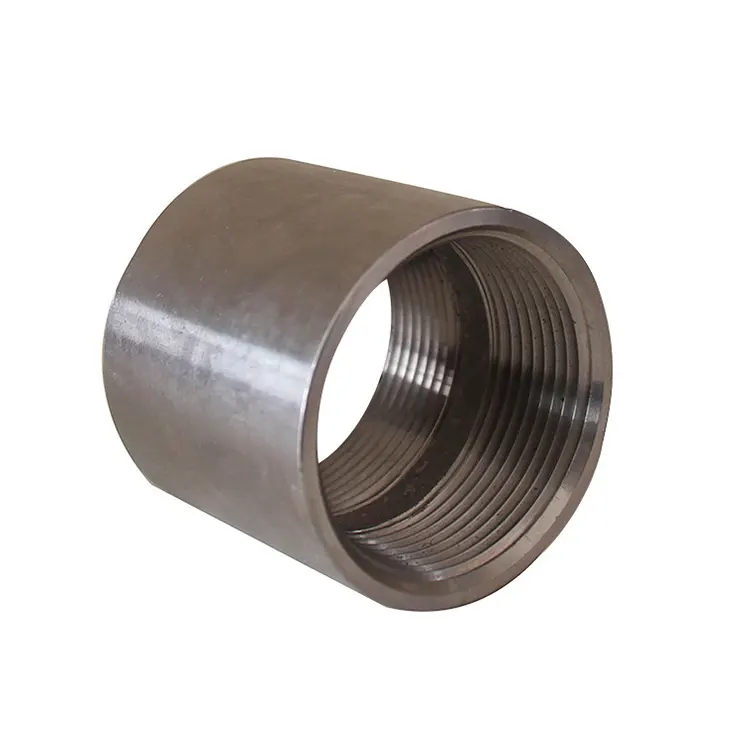 How do you Select the Right Half Coupling Material Based on the Fluid or Gas being Conveyed?
Choosing the appropriate material for half couplings is essential to ensure their compatibility with the fluid or gas being conveyed. The selection process involves considering several factors related to the nature of the conveyed substance and the specific operating conditions. Here's a step-by-step guide on how to select the right half coupling material:
Identify the Conveyed Fluid or Gas: Determine the type of fluid or gas that will flow through the piping system. Different materials may be required depending on whether the conveyed substance is water, oil, gas, chemicals, steam, or any other medium.
Consider the Chemical Compatibility: Evaluate the chemical properties of the conveyed substance. Some fluids or gases can be corrosive or reactive with certain materials. Look for half coupling materials that are chemically resistant to the specific medium to prevent degradation or premature failure.
Assess the Temperature and Pressure: Take into account the operating temperature and pressure of the system. High-temperature fluids or gases may require materials with excellent heat resistance, while high-pressure applications demand strong and durable coupling materials that can withstand the stress.
Check for Abrasion or Erosion: In systems where the conveyed substance contains solid particles or abrasive materials, consider half coupling materials with good wear resistance to prevent premature wear and damage to the coupling surface.
Verify Material Standards: Ensure that the selected half coupling material complies with relevant industry standards such as ASTM, ASME, API, or ISO. These standards define the material's properties and performance criteria, providing a reliable benchmark for quality and suitability.
Consider Environmental Conditions: Evaluate the environmental factors that can affect the coupling's performance, such as humidity, UV exposure, or exposure to harsh chemicals. Choose materials with appropriate coatings or properties to withstand the specific environmental conditions.
Factor in Cost and Availability: Balancing performance requirements with cost considerations is essential. Select a half coupling material that meets the necessary performance criteria while fitting within the project's budget. Additionally, ensure that the chosen material is readily available for procurement.
Common materials used for half couplings include carbon steel, stainless steel, alloy steel, brass, bronze, and various plastics such as PVC, CPVC, and PTFE. Each material has its advantages and limitations, making the selection process critical for a successful and reliable piping system.
By carefully considering the conveyed fluid or gas, chemical compatibility, temperature, pressure, abrasion resistance, and other relevant factors, you can make an informed decision and select the right half coupling material that will ensure a safe and efficient operation of the piping system.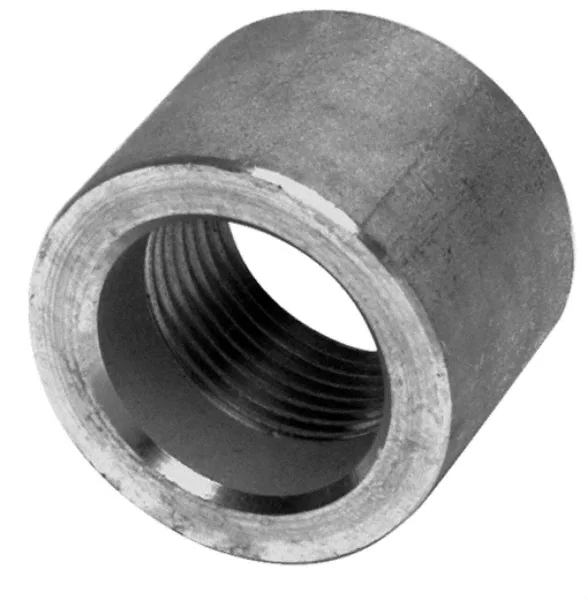 How does a Half Coupling Facilitate Pipe Connections and Disconnections?
A half coupling plays a crucial role in facilitating pipe connections and disconnections in piping and plumbing systems. It is a type of pipe fitting used to join two pipes of different sizes. Let's explore how a half coupling enables these connections and disconnections:
Connection Process: When two pipes of different sizes need to be connected, a half coupling is used to create a secure joint. The larger end of the half coupling is welded or screwed onto the larger pipe, providing a stable base for the connection. The internal threads on the larger end of the coupling allow for easy attachment of the smaller pipe. The smaller pipe is threaded or inserted into the smaller end of the half coupling, and the connection is tightened to ensure a snug fit. The use of thread sealant or Teflon tape helps prevent leaks at the joint.
Transitioning Pipe Sizes: One of the primary uses of a half coupling is to transition between pipes of different sizes. For example, when a pipeline needs to change from a larger diameter to a smaller diameter, a half coupling is employed to create a smooth and efficient transition. This allows for the proper flow of fluids or gases without causing abrupt changes that could lead to pressure losses or turbulence.
Repair and Maintenance: Half couplings are also useful during repair and maintenance operations. In case a section of the pipe is damaged or needs replacement, the damaged portion can be cut out, and a new pipe can be attached using a half coupling. This facilitates quicker and more cost-effective repairs, as it eliminates the need to replace the entire pipeline.
Connection Points: Half couplings are often used at connection points where other components, such as valves, instruments, or equipment, need to be attached to the pipeline. By providing a secure and leak-proof joint, half couplings ensure the integrity of the overall system.
Temporary Connections: In some situations, temporary pipe connections may be required. Half couplings are versatile enough to allow for temporary connections that can be easily disassembled when needed. This flexibility is beneficial in scenarios where pipelines need to be altered or reconfigured temporarily for maintenance or testing purposes.
In summary, a half coupling is a crucial pipe fitting that enables efficient and reliable connections between pipes of different sizes. Its versatility, ease of installation, and ability to transition between pipe sizes make it an essential component in various industrial, commercial, and residential applications. Moreover, its role in facilitating quick repairs and temporary connections further enhances its significance in piping and plumbing systems.



editor by CX 2023-09-01