Product Description
A182 304L 3000# Female Stainless Steel Pipe Fittings Full/half Coupling/socket
Product Description
Description
size
Remark
Elbow
45°/60°/90°/180°
1/2″-48″
Standard:  ANSI; BS; JIS; DIN; MSS; etc
Flanges
PL/SO/WN/SW/BL/IF
1/2″-48″
Material: Carbon steel; Stainless steel; Alloy steel;
Reducer
CON/ECC
1/2″-48″
Seamless reducer;ANSI B16.9
Tees
Equal/reducer
1/2″-48″
Surface Coating technique: Sand Blast; Lacquering;
Nipple
Threaded/Hex/ Round
1/2″-48″
Surface finishing: black, electro-galvanized, hot-galvanized
Union
Male/female
1/8″-6″
Pressure:3000#-9000#
Outlet
Weldolet/threadolet/socko let
1/8″-6″
Standard:MSS SP-97
Cap
BW CAP
1/2″-48″
Best price&high quality
Coupling 
 SW/Threaded
1/8″-6″
PLE;PSE;TLE,BSE;TOE
Plug
Square/hex/round
1/8″-4″
Large QTY&Lower price
Bushing
Round/Hex/Flush
1/8″-4″
Pressure:3000#-9000#
Swaged nipple
Threaded/Plain
1/8″-4″
SCH10S-SCH80
Place of origin
ZheJiang , China
Package
Plastic bag and Cartons then Pallet
 advantage
quick, safey and no need tools
Delivery
By sea, By air and By express
Lead time
withinn 35-45 days after confiming the normal order
 
Quality control
| | |
| --- | --- |
| 1. UT test |   |
| 2. PT test |   |
| 3. MT test |   |
| 4. Dimension test |   |
| Before delivery, our QC team will arrange NDT test and dimension inspection.  |   |
| Also accept TPI(third party inspection). |   |
Packaging & Shipping
Our Advantages
Production Period               
We have rich experience in organizing the production and logistic, which could help us to cut the production period and ensure the supplying, so that we could meet customers' urgent demand. Besides, our timely supplying can also help customer to reduce the planned stocks reserve.                                                                                                                      
Quality Control    
Quality control begins from selecting the qualified raw material supplier, then each lot of raw aterial must be re-tested at random when enter the aterial inventory.Then from the raw material cutting process, shaping, heat treatment, machining,surface treatment, packaging, all these process quality control is necessary.                                                         
Quickresponse in pre-sales and after-sales        
Exact and quick offer, professional technique support, all can help the contractor orsourcing people to get the priority and opportunity in current fierce competing market. And our complete and timely after-sales solution provides the effective protection for customer.
Company Profile
ZheJiang CHINAMFG PIPE-FITTINGS GROUP CO.,LTD.
ZheJiang CHINAMFG Pipe-Fittings Group Co., Ltd. was established in 1989. We are located in Xihu (West Lake) Dis. County in ZheJiang Province, covering an area of 100,000 square meters, with a workshop of 25,000 square CHINAMFG and registered capital of $27,500,000. We are capable of manufacturing various pipe fittings. Our main products are elbows, tees, bends, reducers, caps, flanges and sockets. We have been in this line for about 20 years. Our products are exported to many countries and regions in Southeast Asia, the Middle East, Europe and America.
FAQ
Q: Can you supply Form e, Certificate of origin? 
A: Yes, we can supply. 
Q: Can you supply invoice and CO with chamber of commerce? 
A: Yes, we can supply. 
Q: Can you accept L/C deferred 30, 60, 90days? 
A: We can. 
Q: Can you accept O/A payment? 
A: We can. 
Q: Can you supply samples? 
A: Yes, some samples are free.
Q: Can you supply the products which comply with NACE? 
A: Yes, we can.
Q: Can you visit your factory
A: Yes, sure. Welcome.
Q: Can you inspect the goods before delivery
A: Yes, sure. Welcome to our factory inspect the goods. Also accept third party inspection, such as SGS, TUV, BV etc.
Q: Can you supply MTC , EN15714 3.1/3.2 certificate?
A: Yes, sure. we can
Q: Do you have ISO
A: Yes, we have
Q: Can you accept OEM?
A: Yes, we can
Q: Can you accept marking our LOGO?
A: Yes, we can
Q: What is your MOQ?
A: 1pcs for standard fittings and flanges. 
Q: Can you support to design our piping system?
A: Yes, we would like to your partner and our engineer will help.
Q: Can you offer data sheet and drawing?
A: Yes, we can
Q: Can you ship by carrier or airline?
A: Yes, we can. And we also can ship by train
Q: Can you combine your order with other supplier?  Then ship together?
A: Yes, we can. We would like help you ship together to save your time and money
Q: Can you shorten delivery time?
A: If very very urgent, please confirm with sales. We would like arrange extra-working time for you.
Q: Can you marking on package as per IPPC?
A: Yes, we can
Q: Can you mark "MADE IN CHINA" on products and packing?
A: Yes, we can
Q: Can you supply semi-finished products? 
A: Yes, we can
Q: We need some test sample pieces for each heat number, Can you supply?
A: Yes, we can
Q: Can you supply heat treatment report?
A: Yes, we can
How do you Properly Install and Secure a Half Coupling to Ensure a Leak-Free Connection?
Properly installing and securing a half coupling is essential to ensure a leak-free and reliable connection in piping and plumbing systems. Follow these steps to achieve a secure joint:
Cut and Prepare the Pipe: Start by cutting the larger pipe to the desired length, ensuring a clean and even edge. Use a deburring tool or file to remove any sharp edges or burrs that could interfere with the coupling's sealing surface.
Check Threads and Fit: For threaded half couplings, inspect the internal threads of the coupling and the external threads of the pipe. Make sure they are clean and free from debris or damage. Ensure that the threads match and fit properly, as any misalignment can lead to leaks.
Apply Thread Sealant: Before attaching the half coupling, apply a suitable thread sealant, such as Teflon tape or pipe dope, to the male threads of the pipe. The sealant helps prevent leaks by filling any gaps or imperfections in the threads.
Attach the Half Coupling: Thread the half coupling onto the pipe's male threads carefully. Use a wrench to ensure a snug fit, but avoid over-tightening, as it may damage the threads or cause stress on the joint.
For Socket Weld or Butt Weld Couplings: For socket weld half couplings, insert the smaller pipe into the coupling's socket and align it properly. For butt weld half couplings, weld the coupling to the larger pipe's end with proper welding techniques and safety measures. Follow industry standards for welding procedures and ensure a smooth and consistent weld for a leak-free joint.
Check for Leaks: After installation, perform a leak test to ensure the joint is secure. Apply a pressure test or use a suitable leak-detection method to verify the connection's integrity. If any leaks are detected, disassemble the joint, inspect for issues, and reassemble following the proper steps.
Consider Thermal Expansion: In applications with temperature variations, consider the thermal expansion and contraction of the pipes. Provide sufficient flexibility in the system to accommodate these changes and prevent stress on the joints, which could lead to leaks over time.
Follow Manufacturer's Instructions: Always follow the manufacturer's instructions and recommendations for the specific type and material of the half coupling being used. Different couplings may have unique installation requirements and torque specifications.
Proper installation and securing of a half coupling are crucial for maintaining the integrity of the piping or plumbing system and ensuring a leak-free connection. Following these steps and adhering to industry standards will help achieve a reliable and durable joint.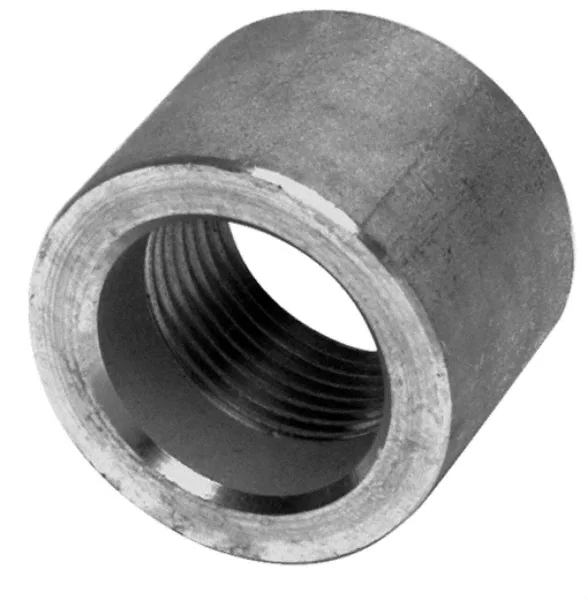 What are the Differences Between Half Couplings and Full Couplings in Pipe Fittings?
In pipe fittings, both half couplings and full couplings serve the purpose of joining two pipes together, but they differ in their design and applications. Here are the key differences between half couplings and full couplings:
Design: The main difference lies in their design. A half coupling has one end with internal threads or a socket, allowing it to be connected to a threaded pipe or inserted into the end of a pipe without threading. The other end of the half coupling is an open end, ready to be welded or threaded to another pipe. On the other hand, a full coupling has both ends with female threads, enabling it to connect two threaded pipes directly without the need for welding.
Function: Half couplings are commonly used to create a joint between a pipe and a component such as a valve, pump, or pressure gauge. The open end of the half coupling facilitates easy attachment to the component, while the threaded or socketed end connects to the pipe. On the other hand, full couplings are used when a direct, rigid connection between two pipes is needed, providing a continuous flow path without any interruptions.
Application: Half couplings are frequently used in situations where frequent disassembly or maintenance may be required. For example, in systems with valves that need periodic inspection or replacement, a half coupling allows for easy removal without disturbing the entire pipeline. Full couplings, on the other hand, are more suitable for applications where a permanent, leak-proof connection is needed, such as in pressurized systems or critical process pipelines.
Length: Full couplings are typically longer than half couplings because they need to accommodate two threaded ends, while half couplings have one threaded or socketed end and an open end, making them shorter in length.
Installation: The installation process differs for half and full couplings. Half couplings are welded or threaded onto one pipe end and then connected to another pipe or component using welding or threading, respectively. Full couplings, on the other hand, directly join two pipes with threaded ends, requiring no additional welding or threading.
Flexibility: Half couplings offer more flexibility due to their ability to connect to different types of components or pipes with varying end connections. Full couplings are less flexible in this regard, as they can only join two threaded pipes together.
Overall, the choice between half couplings and full couplings depends on the specific requirements of the piping system, including the need for temporary connections, the type of components being attached, the nature of the fluid being transported, and the desired level of joint permanence and flexibility.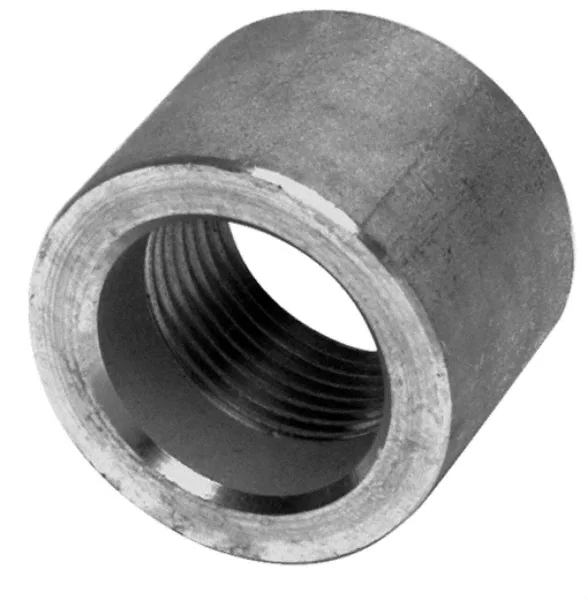 How does a Half Coupling Facilitate Pipe Connections and Disconnections?
A half coupling plays a crucial role in facilitating pipe connections and disconnections in piping and plumbing systems. It is a type of pipe fitting used to join two pipes of different sizes. Let's explore how a half coupling enables these connections and disconnections:
Connection Process: When two pipes of different sizes need to be connected, a half coupling is used to create a secure joint. The larger end of the half coupling is welded or screwed onto the larger pipe, providing a stable base for the connection. The internal threads on the larger end of the coupling allow for easy attachment of the smaller pipe. The smaller pipe is threaded or inserted into the smaller end of the half coupling, and the connection is tightened to ensure a snug fit. The use of thread sealant or Teflon tape helps prevent leaks at the joint.
Transitioning Pipe Sizes: One of the primary uses of a half coupling is to transition between pipes of different sizes. For example, when a pipeline needs to change from a larger diameter to a smaller diameter, a half coupling is employed to create a smooth and efficient transition. This allows for the proper flow of fluids or gases without causing abrupt changes that could lead to pressure losses or turbulence.
Repair and Maintenance: Half couplings are also useful during repair and maintenance operations. In case a section of the pipe is damaged or needs replacement, the damaged portion can be cut out, and a new pipe can be attached using a half coupling. This facilitates quicker and more cost-effective repairs, as it eliminates the need to replace the entire pipeline.
Connection Points: Half couplings are often used at connection points where other components, such as valves, instruments, or equipment, need to be attached to the pipeline. By providing a secure and leak-proof joint, half couplings ensure the integrity of the overall system.
Temporary Connections: In some situations, temporary pipe connections may be required. Half couplings are versatile enough to allow for temporary connections that can be easily disassembled when needed. This flexibility is beneficial in scenarios where pipelines need to be altered or reconfigured temporarily for maintenance or testing purposes.
In summary, a half coupling is a crucial pipe fitting that enables efficient and reliable connections between pipes of different sizes. Its versatility, ease of installation, and ability to transition between pipe sizes make it an essential component in various industrial, commercial, and residential applications. Moreover, its role in facilitating quick repairs and temporary connections further enhances its significance in piping and plumbing systems.



editor by CX 2023-09-27