Product Description
LZZ Type Elastic Coupling with Brake Wheel(GB/T 5015-2003)
♦Description
♦Basic Parameter and Main Dimension
Allowable Compensation for Elastic Pin & Bush Gear Couplings
Note:
N.m= Nominal Torque; r/min= Allowable speed of rotation; d1.d2= Diameter of shaft hole;
Y L= Length of shaft hole; kg.m²= Rotational inertia; kg= Mass
△Y= Radial; △X= Axial; △α= Angular
1. The measuring part of radial compensation is half of the maximum outer circle width of the half coupling.
2. The compensation quantity listed in the table refers to the relative offset of 2 axles caused by installation error, shock, vibration, deformation, temperature change and other factors. The installation error must be less than the value listed in the table.
♦Other Products List
Transmission Machinery 
Parts Name
Model
Universal Coupling
WS,WSD,WSP
Cardan Shaft
SWC,SWP,SWZ
Tooth Coupling
CL,CLZ,GCLD,GIICL,
GICL,NGCL,GGCL,GCLK
Disc Coupling
JMI,JMIJ,JMII,JMIIJ
High Flexible Coupling
LM
Chain Coupling
GL
Jaw Coupling
LT
Grid Coupling
JS
♦Our Company
HangZhou CZPT Machinery Manufacturing Co., Ltd. is a high-tech enterprise specializing in the design and manufacture of various types of coupling. There are 86 employees in our company, including 2 senior engineers and no fewer than 20 mechanical design and manufacture, heat treatment, welding, and other professionals.
Advanced and reasonable process, complete detection means. Our company actively introduces foreign advanced technology and equipment, on the basis of the condition, we make full use of the advantage and do more research and innovation. Strict to high quality and operate strictly in accordance with the ISO9000 quality certification system standard mode.
Our company supplies different kinds of products. High quality and reasonable price. We stick to the principle of "quality first, service first, continuous improvement and innovation to meet the customers" for the management and "zero defect, zero complaints" as the quality objective. 
♦Our Services
1.Design Services
Our design team has experience in cardan shaft relating to product design and development. If you have any needs for your new product or wish to make further improvements, we are here to offer our support.
2.Product Services
Raw materials → Cutting → Forging →Rough machining →Shot blasting →Heat treatment →Testing →Fashioning →Cleaning→ Assembly→ Packing→ Shipping
3.Samples Procedure
We could develop the sample according to your requirement and amend the sample constantly to meet your need.
4.Research & Development
We usually research the new needs of the market and develop the new model when there is new cars in the market.
5.Quality Control
Every step should be special test by Professional Staff according to the standard of ISO9001 and TS16949.
♦FAQ
Q 1: Are you trading company or manufacturer?
A: We are a professional manufacturer specializing in manufacturing various series of couplings.
Q 2: Can you do OEM?
Yes, we can. We can do OEM & ODM for all the customers with customized artworks of PDF or AI format.
Q 3: How long is your delivery time?
Generally it is 20-30 days if the goods are not in stock. It is according to quantity.
Q 4: Do you provide samples? Is it free or extra?
Yes, we could offer the sample but not for free. Actually we have a very good price principle, when you make the bulk order then cost of sample will be deducted.
Q 5: How long is your warranty?
A: Our Warranty is 12 months under normal circumstance.
Q 6: What is the MOQ?
A: Usually our MOQ is 1 pcs.
Q 7: Do you have inspection procedures for coupling?
A: 100% self-inspection before packing.
Q 8: Can I have a visit to your factory before the order?
A: Sure,welcome to visit our factory.
Q 9: What's your payment?
A: T/T. 
♦Contact Us
Web: huadingcoupling
Add: No.11 HangZhou Road,Chengnan park,HangZhou City,ZheJiang Province,China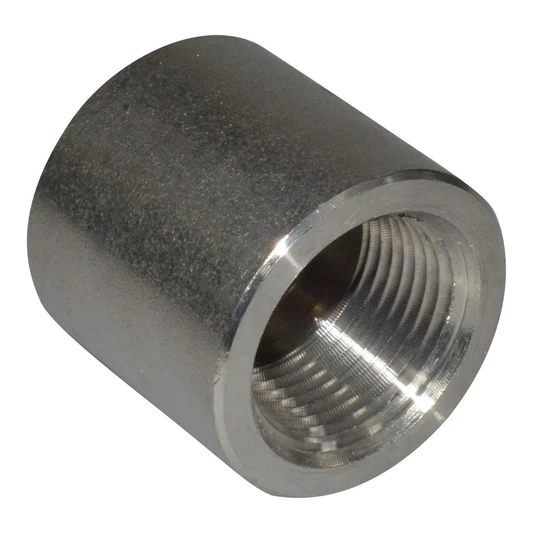 How do Temperature and Environmental Conditions Affect Half Coupling Performance?
The performance of half couplings can be significantly influenced by temperature and environmental conditions. These factors can affect the materials, integrity, and overall functionality of the coupling in various ways. Here's how temperature and environmental conditions impact half coupling performance:
Temperature: Extreme temperatures, whether high or low, can affect the properties of the coupling material. For instance, at high temperatures, certain materials may experience reduced strength and increased susceptibility to creep or deformation. On the other hand, low temperatures can make some materials brittle and prone to cracking. It is essential to select half couplings made from materials that can withstand the expected temperature range in the application.
Corrosive Environments: Half couplings used in corrosive environments are exposed to chemical agents that can cause material degradation. Corrosion can weaken the coupling's structure and lead to leaks. In such cases, using corrosion-resistant materials, coatings, or liners can be beneficial to maintain coupling performance and longevity.
Humidity and Moisture: Excessive humidity and moisture can accelerate corrosion and contribute to the deterioration of the coupling over time. Regular cleaning and protection against moisture ingress are necessary to ensure optimal performance in damp environments.
Abrasive Particles: In industrial settings with abrasive particles present in the fluid or environment, half couplings may experience wear and erosion. This can lead to surface damage and affect the coupling's sealing ability. Selecting materials with high wear resistance and using filters or strainers to remove abrasive particles can help mitigate these effects.
UV Radiation: In outdoor applications exposed to sunlight, UV radiation can degrade certain materials, particularly polymers and elastomers. Couplings made from UV-resistant materials or employing protective coatings can help counteract this effect.
Thermal Expansion: Temperature fluctuations cause thermal expansion and contraction of the pipes and the half couplings. In systems where thermal expansion is not adequately accommodated, stress on the couplings can lead to leaks or joint failure over time. Providing expansion joints or using materials with low thermal expansion coefficients can address this issue.
Altitude: At higher altitudes, air pressure is reduced, which can affect system performance, especially if the half couplings are not designed for such conditions. It is essential to consider altitude-related effects on pressure and temperature when selecting the appropriate coupling materials.
Weather and Climate: Half couplings installed outdoors are exposed to weather conditions like rain, snow, hail, and extreme temperatures. These factors can impact the coupling's integrity and performance. Regular maintenance and inspections become crucial to identify and address any weather-related damages.
To ensure optimal half coupling performance, it is essential to consider the specific temperature and environmental conditions of the application. Choosing suitable materials, applying protective coatings, and implementing proper maintenance practices are essential steps to enhance the longevity and reliability of half couplings in various operating environments.
Are there Special Half Couplings Designed for Specific Types of Pipes (e.g., Stainless Steel, PVC)?
Yes, there are special half couplings designed to be compatible with specific types of pipes, such as stainless steel, PVC, and other materials. The choice of half coupling material should be based on the properties of the pipe and the requirements of the application. Here are some examples of special half couplings designed for specific types of pipes:
Stainless Steel Half Couplings: These couplings are specifically designed to be used with stainless steel pipes. Stainless steel is known for its corrosion resistance and is commonly used in applications where the conveyed fluid or gas may be corrosive or require high hygiene standards. Stainless steel half couplings provide a reliable and durable connection in such environments, making them suitable for industries like food processing, pharmaceuticals, chemical processing, and marine applications.
PVC Half Couplings: PVC pipes are widely used for water supply, drainage, and irrigation systems due to their lightweight, corrosion resistance, and affordability. Special half couplings for PVC pipes are typically made of PVC material or other compatible plastics. These couplings ensure a secure and leak-free connection in PVC pipe systems, especially in residential and agricultural applications.
CPVC Half Couplings: CPVC (Chlorinated Polyvinyl Chloride) pipes are used in applications where higher temperature and pressure resistance are required compared to standard PVC pipes. CPVC half couplings are designed to be compatible with CPVC pipes, providing a reliable joint for hot water supply, industrial piping, and other high-temperature applications.
Copper Half Couplings: Copper pipes are commonly used for water supply lines and in refrigeration systems. Half couplings made from copper or brass are suitable for connecting copper pipes, ensuring a tight and durable connection in residential and commercial plumbing systems.
Galvanized Steel Half Couplings: Galvanized steel pipes are coated with a layer of zinc to enhance their corrosion resistance. Half couplings made from galvanized steel are used with galvanized pipes in outdoor applications or in areas prone to corrosion, such as in sprinkler systems and outdoor water distribution.
Alloy Steel Half Couplings: In high-pressure and high-temperature applications, where the properties of carbon steel are not sufficient, alloy steel half couplings are used. These couplings are designed to handle the demanding conditions of industries such as oil and gas, petrochemicals, and power generation.
It is essential to select the right half coupling material that matches the properties and requirements of the specific type of pipe in the system. Using a compatible half coupling ensures a reliable and leak-free connection, reduces the risk of corrosion or degradation, and contributes to the overall efficiency and longevity of the piping system.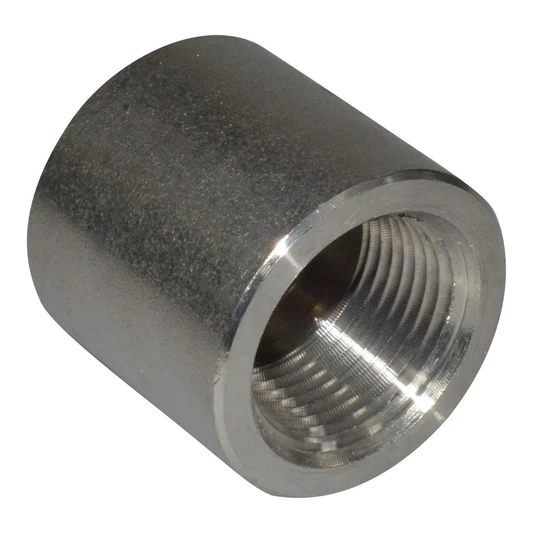 What is a Half Coupling and How is it Used in Piping and Plumbing Systems?
A half coupling is a type of pipe fitting used in piping and plumbing systems to connect two pipes of different sizes. It is a short, threaded piece with one end designed to be welded or screwed onto a larger pipe, and the other end allows for the attachment of a smaller pipe. The half coupling has internal threads on one end and a plain or beveled surface on the other end.
Half couplings are typically made from materials such as stainless steel, carbon steel, brass, or other suitable alloys, depending on the application and the medium being transported through the pipes.
In piping systems, half couplings are used for various purposes:
Reducing Pipe Size: One common use of half couplings is to reduce the pipe size at a specific point in the system. For example, when a large pipe needs to be connected to a smaller pipe, a half coupling can be employed to create a smooth transition.
Connection Points: Half couplings are often used at connection points where equipment, valves, or instruments are attached to the pipeline. They provide a secure and leak-proof joint.
Repair and Maintenance: In the event of a pipe section damage, a half coupling can be used to cut out the damaged portion and replace it with a new pipe, facilitating quick repairs without the need to replace the entire pipeline.
The installation of a half coupling involves a few simple steps:
Cutting and Preparing the Pipe: The larger pipe, to which the half coupling will be attached, is cut to the desired length, and the edge is cleaned and beveled to ensure a proper welding or threading joint.
Attaching the Half Coupling: The half coupling is then welded or screwed onto the larger pipe end. For welding, proper welding techniques and safety measures must be followed to achieve a strong, reliable joint.
Connecting the Smaller Pipe: The smaller pipe is threaded or inserted into the other end of the half coupling. The connection is tightened to ensure a secure fit, and sealing materials like Teflon tape or thread sealant may be used to prevent leaks.
In plumbing systems, half couplings serve similar functions, connecting different pipes or fixtures of various sizes. The installation process may vary slightly, depending on the type of plumbing materials and the specific application.
In summary, half couplings are essential components in piping and plumbing systems, enabling the connection of pipes with different diameters and facilitating repairs or adding connection points with ease and efficiency.



editor by CX 2023-08-08