Product Description
Manufacturer Forged High Pressure A105n NPT Threaded Pipe Fittings 3000# Forged Steel Half Coupling
Product Description
| | |
| --- | --- |
| Description | Customized Forged Threaded Full coupling pipe fitting pipe fittings stainless steel half coupling |
| Type  | Pipe fittings |
| Application | Valve Industrial |
| Material | Carbon Steel Alloy Steel Stainless Steel |
| Weight  | 10Kg |
| Quality Control | Material, Dimension,Performance,inside defects,Balance test |
| Standard | ASTM,DIN,JIS,ISO,GB standards  |
PIPE FITTINGS Coupling
Production Name
THREADED COUPLING
Size Range
DN6~DN100 NPS1/8″~4″
Schedule
SCH STD, XS, XXS, SCH 10 ~ SCH 160
Material Code:
CARBON STEEL
ASTM A105,20#,Q235,16Mn, ASTM A350 LF1,LF2 CL1/CL2,LF3 CL1/CL2,ASTM A694
F42,F46,F48,F50,F52,F56,F60,F65,F70;
Incoloy 800H, Incoloy 825, Hastelloy C276, Monel 400, Monel K500
WPS 31254 S32750, UNS S32760 
STHangZhouRDS
ANSI, ISO, JIS, DIN, BS,GB, SH, HG,QOST,ETC.
CE and certification:
ISO9001:2000 , API , BV , SGS, LOIYD
Applications range: 
Petroleum Chemical,Refinery, Pharmacy Industry, Food & Beverage Industry, Sea Water Desalination,Paper Making, Shipbuilding Industry, Electric power, Offshore & onshore oil&gas, Mining Industry, Water Treatment, Mechanical Making, Chemical fertilizer etc.
Packaging: 
seaworthy package,Plywood Cases or pallet or as per customers requirement
Quality
high lever
The third party inspection:
BV,SGS,LOIYD,TUV,and other party alloyed by clients.
Delivery Time:
At the earliest ,within the period required by customer.
Remark:
Also can supply IBR fittings and Specialized NACE & HIC Fittings.
| | | | | | | | |
| --- | --- | --- | --- | --- | --- | --- | --- |
| Grade | C ≤ | Si ≤ | Mn ≤ | P ≤ | S ≤ | Ni ≤ | Cr ≤ |
| 201 | 0.12 | 0.75 | 7.00 | 0.045 | 0.045 | 1.00-1.28 | 13.70-15.70 |
| 202 | 0.15 | 1.00 | 2.25 | 0.045 | 0.045 | 4.07-4.17 | 14.00-16.00 |
| 304 | 0.08 | 0.75 | 2.00 | 0.045 | 0.03 | 8.00-11.00 | 18.00-20.00 |
| 304L | 0.035 | 0.75 | 2.00 | 0.045 | 0.03 | 8.00-13.00 | 18.00-20.00 |
| 309 | 0.15 | 0.75 | 2.00 | 0.045 | 0.03 | 12.00-15.00 | 22.00-24.00 |
| 310S | 0.08 | 1.50 | 2.00 | 0.045 | 0.03 | 19.00-22.00 | 24.00-26.00 |
| 316 | 0.08 | 1.00 | 2.00 | 0.045 | 0.03 | 10.00-14.00 | 16.00-18.00 |
| 316L | 0.035 | 0.75 | 2.00 | 0.045 | 0.03 | 10.00-15.00 | 16.00-18.00 |
| 321 | 0.04-0.10 | 0.75 | 2.00 | 0.045 | 0.03 | 9.00-13.00 | 17.00-20.00 |
| 405 | 0.08 | 0.75 | 1.00 | 0.045 | 0.03 | 0.06 | 11.5-13.5 |
| 409 | 0.089 | 1.00 | 1.00 | 0.045 | 0.05 | 0.06 | 10.50-11.75 |
| 410 | 0.15 | 0.75 | 1.00 | 0.045 | 0.03 | 0.06 | 11.5-13.5 |
| 420 | 0.16-0.25 | 1.00 | 1.00 | 0.040 | 0.03 | 0.06 | 12.00-14.00 |
| 430 | 0.12 | 0.75 | 1.00 | 0.045 | 0.03 | 0.06 | 16.00-18.00 |
| 904L | 0.02 | 1.0 | 2.00 | 0.045 | 0.03 | 23.00-28.00 | 19.00-23.00 |
Detailed Photos
1.Material :Carbon steel ASTM A105, Stainless steel SS304/SS304L/SS316, Alloy
2. Standard: ASME, ANSI B16.11, MSS SP-79/83/95/97, JIS, B2316
3. Pressure: Rating Threaded Fitting: 2000LB/3000LB/6000LB(Sch40, Sch80, Sch160)
4. Socket Welding: 3000LB/ 6000LB/9000LB(Sch80, Sch160, xxs )
5.Type: Forged Threaded Pipe Fittings(NPT/BSPT/BSPP), Socket Welded
6 Specification:  Elbow, Tee, Cap , Flange, Pipe etc. 
7. Surface: Blasting oil, Black paint
8  Size :1/8″—4″
9. Connection: Thread , Socket welded
10. Shape : Equal, Reducing
11. Package: Carton, Wooden case or as Buyer's request
12. Applications : Petroleum, Electric Power, Chemical Industry, Light Industry, Metallurgy, The shipping, Urban construction and Other Professions
Packaging & Shipping
Package:
1. Packed by plywood case or plywood pallet 
2. we will put packing list on each package
3. we will put shipping markings on each package. Markings words are on your request.
4. All  wood package materials are fumigation free
Certifications
Company Profile
Established in 1989, ZheJiang CZPT Pipe Fitting Group Co.,Ltd covering an area of 100,000 square meters, with a workshop of 25,000 square CZPT and registered capital of $7,500,000.
Over 380 employees, including over 90 professionals and technicians,we are a strong team built up of heart
Main Products: elbows, tees, bends, reducers, caps exported to many countries and regions in Southeast Asia, the Middle East, Europe and America
With 30 years' experience, our products enjoy a good reputation in domestic and foreign markets. Every year, hundreds of foreign visitors and innumerable domestic visitors come here to visit.
Equipped with first-class inspection devices, perfect detecting means and well-trained specialists, stick to ISO9000 quality system and efficiently control procedure in production.
Competitive price, Best service to you to satisfy customers and help partners succeed.
Equipped with 8,000 tons of four-column press, 1600 tons of push-machine, 800 tons of large-scale pipe bending machine, 8 tons of forging hammer and other production equipment in total more than 120 sets.
All kinds of certificates to ensure a best quality and service for project for you.
Our Advantages
1. Dimension measurements, all within standard tolerance.
2. Thickness tolerance:+/-12.5% , or on your request
3. PMI
4. MT, UT,X-ray test
5. Accept Third party inspection
6. Supply MTC, EN15714 3.1/3.2 certificate
After Sales Service
Production Period
We have rich experience in organizing the production and logistic, which could help us to cut the production period and ensure the supplying, so that we could meet customers' urgent demand. Besides, our timely supplying can also help customer to reduce the planned stocks reserve.
 
Quality Control
Quality control begins from selecting the qualified raw material supplier, then each lot of raw material must be re-tested at random when enter the material inventory.Then from the raw material cutting process, shaping, heat treatment, machining,surface treatment, packaging, all these process quality control is necessary.
FAQ
Q: Can you supply Form e, Certificate of origin? 
A: Yes, we can supply. 
Q: Can you supply invoice and CO with chamber of commerce? 
A: Yes, we can supply. 
Q: Can you accept L/C deferred 30, 60, 90days? 
A: We can. 
Q: Can you accept O/A payment? 
A: We can. 
Q: Can you supply samples? 
A: Yes, some samples are free.
Q: Can you supply the products which comply with NACE? 
A: Yes, we can.
Q: Can you visit your factory
A: Yes, sure. Welcome.
Q: Can you inspect the goods before delivery
A: Yes, sure. Welcome to our factory inspect the goods. Also accept third party inspection, such as SGS, TUV, BV etc.
Q: Can you supply MTC , EN15714 3.1/3.2 certificate?
A: Yes, sure. we can
Q: Do you have ISO
A: Yes, we have
Q: Can you accept OEM?
A: Yes, we can
Q: Can you accept marking our LOGO?
A: Yes, we can
Q: What is your MOQ?
A: 1pcs for standard fittings and flanges. 
Q: Can you support to design our piping system?
A: Yes, we would like to your partner and our engineer will help.
Q: Can you offer data sheet and drawing?
A: Yes, we can
Q: Can you ship by carrier or airline?
A: Yes, we can. And we also can ship by train
Q: Can you combine your order with other supplier?  Then ship together?
A: Yes, we can. We would like help you ship together to save your time and money
Q: Can you shorten delivery time?
A: If very very urgent, please confirm with sales. We would like arrange extra-working time for you.
Q: Can you marking on package as per IPPC?
A: Yes, we can
Q: Can you mark "MADE IN CHINA" on products and packing?
A: Yes, we can
Q: Can you supply semi-finished products? 
A: Yes, we can
Q: We need some test sample pieces for each heat number, Can you supply?
A: Yes, we can
Q: Can you supply heat treatment report?
A: Yes, we can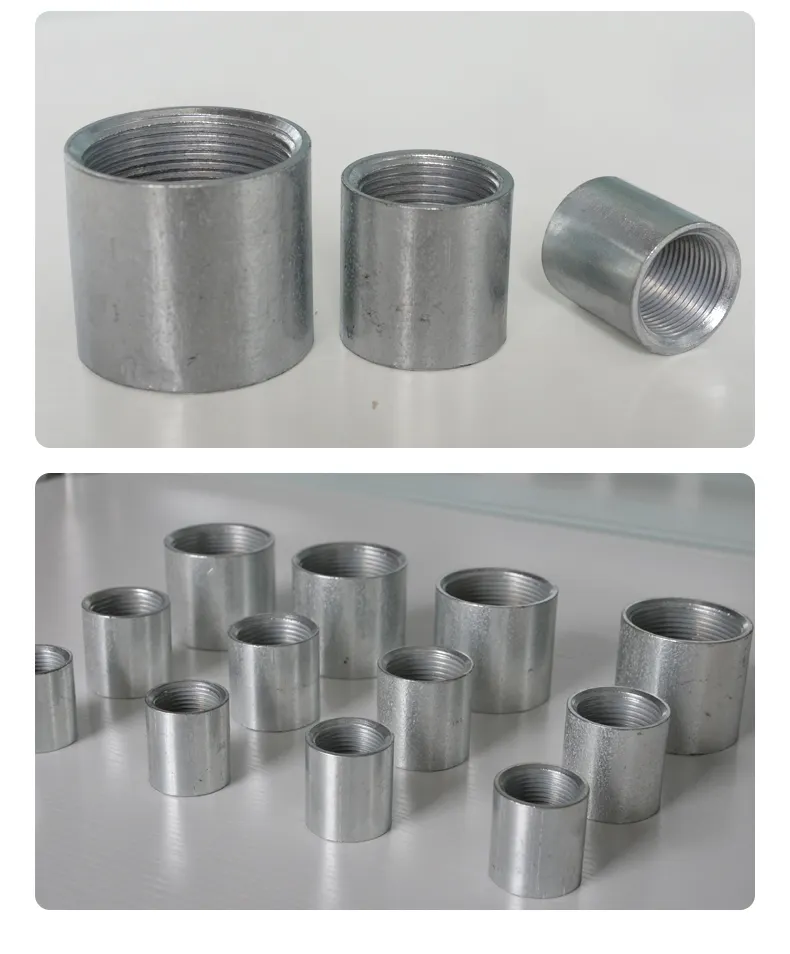 What are the Maintenance Requirements for Half Couplings to Ensure Their Longevity?
Proper maintenance is essential to ensure the longevity and reliable performance of half couplings in piping and plumbing systems. Regular maintenance helps prevent wear, corrosion, and other issues that could lead to leaks or failures. Here are the maintenance requirements for half couplings:
Inspection: Regularly inspect all half couplings in the system for signs of wear, corrosion, or damage. Check for visible leaks or indications of moisture around the joints. Perform visual inspections and, if necessary, use non-destructive testing methods to assess the integrity of the couplings.
Cleaning: Keep the half couplings clean and free from dirt, debris, or other contaminants. Clean the coupling surfaces and surrounding areas during maintenance to ensure a proper fit and prevent corrosion.
Lubrication: For threaded half couplings, apply a suitable lubricant or thread sealant when assembling the connection. This helps prevent galling and ensures a smooth and secure fit between the threads.
Protection from Corrosion: Take measures to protect the half couplings from corrosion, especially in environments where corrosion is likely. Consider using corrosion-resistant materials for the couplings or applying protective coatings to prevent rusting.
Temperature and Pressure Considerations: Ensure that the half couplings are suitable for the operating temperature and pressure of the system. High-temperature or high-pressure applications may require special materials or additional maintenance considerations.
Replacement of Worn or Damaged Couplings: If any half coupling shows signs of wear, damage, or reduced performance during inspections, promptly replace it with a new one. Avoid using couplings that do not meet the necessary standards or show signs of fatigue.
Proper Installation: During maintenance or replacement, ensure that the half couplings are correctly installed following the manufacturer's instructions and industry best practices. Proper installation is crucial for achieving a secure and leak-free connection.
Consider Thermal Expansion: Account for thermal expansion and contraction in the system to prevent stress on the half couplings and other components. Adequate flexibility and expansion joints can help accommodate temperature changes.
Regular System Checks: Perform regular system checks to monitor the overall health and performance of the piping or plumbing system. Address any issues detected during these checks promptly to prevent cascading problems.
Adhering to these maintenance requirements will help ensure the longevity and reliable operation of the half couplings, contributing to the overall efficiency and safety of the piping or plumbing system.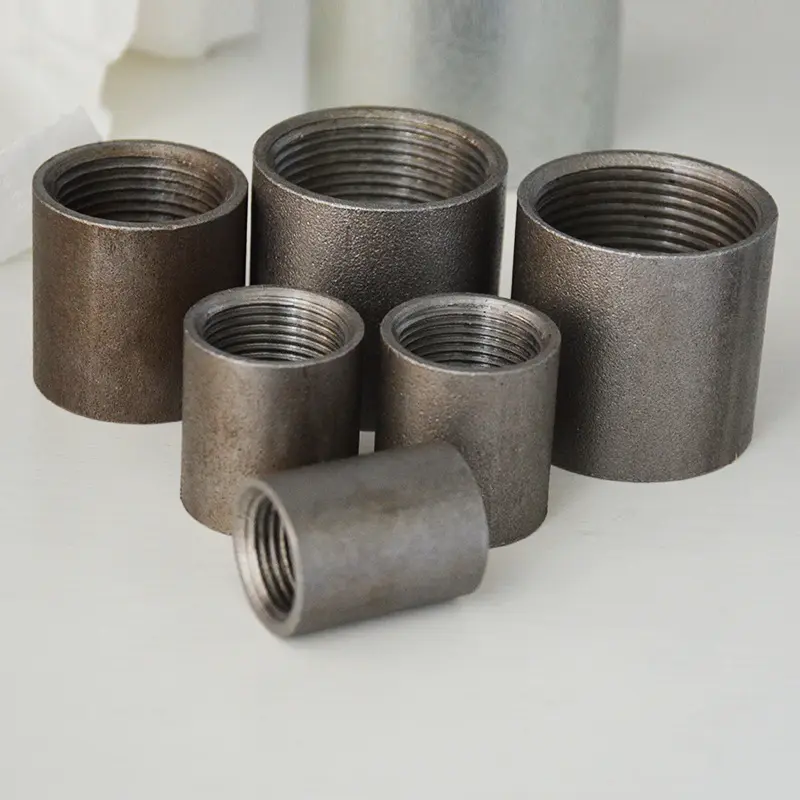 What are some Real-World Examples of Half Coupling Usage in Different Industries?
Half couplings are widely used in various industries to create reliable connections between pipes and components. Here are some real-world examples of half coupling usage in different industries:
Oil and Gas Industry: In the oil and gas sector, half couplings are commonly used in pipelines for crude oil, natural gas, and refined products transportation. They are also employed in offshore platforms, refineries, and petrochemical plants to connect pipes and fittings in high-pressure and corrosive environments.
Chemical Processing: The chemical industry utilizes half couplings to connect pipes carrying various chemicals and corrosive substances. The coupling's resistance to corrosion is vital to ensure the integrity of the piping system in these applications.
Power Generation: In power plants, half couplings are employed in steam and water pipelines, allowing efficient transfer of heat and fluids in boilers and condensers. They are also used in cooling water systems and various auxiliary processes.
Food and Beverage: In food processing facilities, stainless steel half couplings are widely used due to their hygienic properties. They help connect pipes in systems for handling water, beverages, dairy products, and other food items, ensuring sanitation and preventing contamination.
Marine Industry: Half couplings are used in shipbuilding and offshore structures to create connections in piping systems for various applications, including cooling, ballast, and fuel transfer.
Water and Wastewater Treatment: In municipal water supply and wastewater treatment plants, half couplings are employed to connect pipes and fittings in water distribution and treatment systems, as well as in sewer networks.
Agriculture: In agricultural settings, half couplings are used to connect pipes for irrigation systems, water supply, and chemical distribution in farming operations.
Manufacturing: The manufacturing industry utilizes half couplings in various fluid and gas transfer systems for machinery and equipment, as well as in compressed air lines.
Construction: In construction projects, half couplings are used to connect pipes for plumbing, HVAC systems, and other applications in buildings and infrastructure projects.
Fire Protection: In fire sprinkler systems, half couplings are employed to connect pipes carrying water or other fire suppressant agents, ensuring effective fire protection in commercial, industrial, and residential buildings.
These examples demonstrate the versatility and significance of half couplings in different industries, where they play a crucial role in creating leak-free and reliable connections in piping systems. The choice of the half coupling material, size, and specifications may vary depending on the specific application and the environmental conditions in which it operates.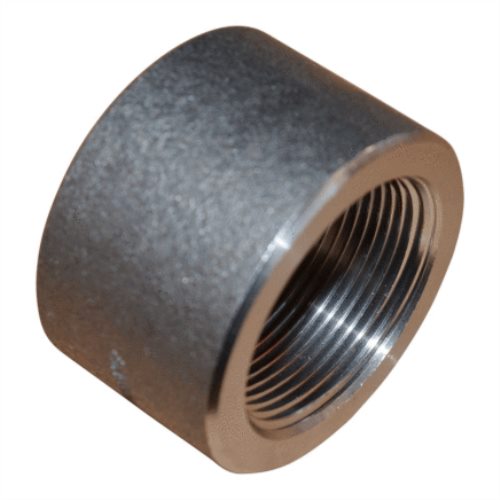 What are the Different Materials Commonly Used for Manufacturing Half Couplings?
Half couplings are pipe fittings used in piping and plumbing systems to connect two pipes of different sizes. They are available in various materials, each offering unique properties suitable for different applications. Some of the commonly used materials for manufacturing half couplings include:
Stainless Steel: Stainless steel half couplings are popular due to their excellent corrosion resistance, high strength, and durability. They are ideal for applications involving aggressive or corrosive media and are commonly used in industries such as chemical processing, oil and gas, and food processing.
Carbon Steel: Carbon steel half couplings are known for their high tensile strength and affordability. They are widely used in industrial applications where the fluid being transported is not corrosive. Carbon steel couplings are commonly used in water supply systems, heating, and ventilation systems.
Brass: Brass half couplings are valued for their resistance to dezincification and corrosion. They are often used in plumbing systems, particularly for connecting copper pipes. Brass couplings find applications in water supply lines, plumbing fixtures, and other potable water-related applications.
Copper: Copper half couplings are commonly used in plumbing systems and HVAC (heating, ventilation, and air conditioning) applications. Copper is known for its excellent thermal conductivity and antimicrobial properties, making it suitable for applications where heat transfer and cleanliness are crucial.
Aluminum: Aluminum half couplings are lightweight and corrosion-resistant, making them suitable for specific industrial and marine applications. They are often used in the transport of certain chemicals and in offshore installations.
Bronze: Bronze half couplings are known for their strength and resistance to corrosion and wear. They find applications in marine environments, particularly for seawater piping systems, as well as in some oil and gas applications.
The choice of material for half couplings depends on various factors such as the nature of the fluid being transported, the operating conditions, the required strength, and the budget constraints. Proper material selection is essential to ensure the longevity and efficiency of the piping or plumbing system.



editor by CX 2023-08-14