Product Description
Stainless Steel Threaded Fittings  Including Caps, Elbows 90°, Elbows 45°, Hex Nipples (equal and reducing), Plugs, Sockets (equal and reducing), Tees (equal and reducing), Bushes, Unions, Barrel Nipples and Hose nipple, With Method of Investment Casting, Widely used in  Petroleum, chemical, machinery, electric power, shipbuilding, Papermaking, construction etc
Product Details:
Type: Elbow 90° , Tee, Reducing Tee, Cross, Street Elbow 90° , Elbow 45° , Union, Plug, Bushing, Nipple, Cap, Socket, Coupling, Welding nipple, Barrel nipple and hose barrel nipple etc
Materials: Stainless steel 201, 304, 304L, 316, 316L
Standard: ANSI, API, DIN, BS, GB, JIS, ect.
Threaded: NPT, BSP, BSPT, DIN2999 ISO7/1, and threads with special requirements
Pressure Rating: 150 LBS
Connection: Male or Female
Size: 1/8″ ~ 4″, DN6 to DN100
Packaging: Polybag, carton, pallet or as customer requirment
Min Order Quantity: According to customer's requirement
Delivery Time: 30 days after order conformed
Payment: By T/T or L/C
Applications rang: Agriculture machine, Construction Machine, transportation equipment, Valve and Pump system,Water, oil, gas and every kind of corrosive suitable for stainless steel.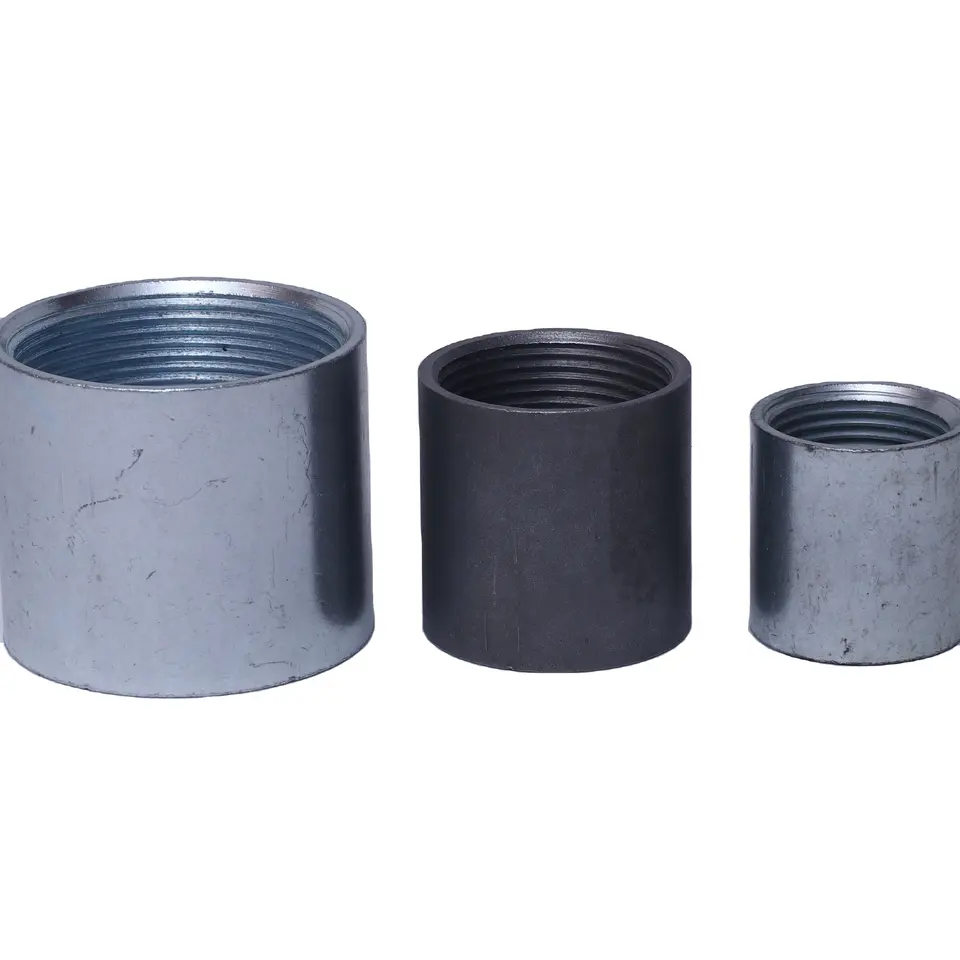 What are the Signs of Wear, Corrosion, or Damage in a Half Coupling?
A half coupling, like any other pipe fitting, can experience wear, corrosion, or damage over time due to various factors. Regular inspection is crucial to detect any issues early on and prevent potential leaks or failures in piping and plumbing systems. Here are some signs to look for to identify wear, corrosion, or damage in a half coupling:
Visible Corrosion: Check for any signs of rust or corrosion on the surface of the half coupling. Corrosion can weaken the material and lead to leaks or structural failure. Surface discoloration, rough patches, or flaking of the metal are all indicators of possible corrosion.
Thread Damage: For threaded half couplings, inspect the threads carefully. Look for signs of stripping, galling, or deformation. Damaged threads can compromise the integrity of the connection and may result in leaks.
Cracks or Fractures: Examine the half coupling for any cracks, fractures, or signs of deformation. Cracks can lead to leaks and should be addressed immediately to prevent further damage.
Worn Socket or Weld Seam: In the case of socket weld or butt weld half couplings, inspect the socket or weld seam for signs of wear or damage. A worn socket may not provide a secure fit for the smaller pipe, while defects in the weld can compromise the joint's strength and integrity.
Leaks: Any visible leaks or indications of moisture around the joint or coupling are clear signs of a problem. Leaks can be caused by damaged threads, corroded surfaces, or improper installation.
Reduced Performance: If the system's performance declines, such as a decrease in flow rate or pressure, it could be a sign of a partially obstructed or damaged coupling.
Age and Service Life: Consider the age and service life of the half coupling. Over time, even well-maintained couplings may show signs of wear and fatigue, warranting closer inspection.
If any of these signs are observed, it is essential to take prompt action to address the issues. Depending on the severity of the wear, corrosion, or damage, the appropriate steps may include repairing or replacing the half coupling. In some cases, it may be necessary to inspect adjacent pipes and components for possible effects of the compromised coupling.
Regular maintenance and inspection practices can help identify signs of wear, corrosion, or damage in a half coupling before they escalate into more significant problems. Following manufacturer's guidelines, adhering to industry standards, and using suitable materials for the application can contribute to the longevity and reliability of the half coupling and the entire piping or plumbing system.
Are there Special Half Couplings Designed for Specific Types of Pipes (e.g., Stainless Steel, PVC)?
Yes, there are special half couplings designed to be compatible with specific types of pipes, such as stainless steel, PVC, and other materials. The choice of half coupling material should be based on the properties of the pipe and the requirements of the application. Here are some examples of special half couplings designed for specific types of pipes:
Stainless Steel Half Couplings: These couplings are specifically designed to be used with stainless steel pipes. Stainless steel is known for its corrosion resistance and is commonly used in applications where the conveyed fluid or gas may be corrosive or require high hygiene standards. Stainless steel half couplings provide a reliable and durable connection in such environments, making them suitable for industries like food processing, pharmaceuticals, chemical processing, and marine applications.
PVC Half Couplings: PVC pipes are widely used for water supply, drainage, and irrigation systems due to their lightweight, corrosion resistance, and affordability. Special half couplings for PVC pipes are typically made of PVC material or other compatible plastics. These couplings ensure a secure and leak-free connection in PVC pipe systems, especially in residential and agricultural applications.
CPVC Half Couplings: CPVC (Chlorinated Polyvinyl Chloride) pipes are used in applications where higher temperature and pressure resistance are required compared to standard PVC pipes. CPVC half couplings are designed to be compatible with CPVC pipes, providing a reliable joint for hot water supply, industrial piping, and other high-temperature applications.
Copper Half Couplings: Copper pipes are commonly used for water supply lines and in refrigeration systems. Half couplings made from copper or brass are suitable for connecting copper pipes, ensuring a tight and durable connection in residential and commercial plumbing systems.
Galvanized Steel Half Couplings: Galvanized steel pipes are coated with a layer of zinc to enhance their corrosion resistance. Half couplings made from galvanized steel are used with galvanized pipes in outdoor applications or in areas prone to corrosion, such as in sprinkler systems and outdoor water distribution.
Alloy Steel Half Couplings: In high-pressure and high-temperature applications, where the properties of carbon steel are not sufficient, alloy steel half couplings are used. These couplings are designed to handle the demanding conditions of industries such as oil and gas, petrochemicals, and power generation.
It is essential to select the right half coupling material that matches the properties and requirements of the specific type of pipe in the system. Using a compatible half coupling ensures a reliable and leak-free connection, reduces the risk of corrosion or degradation, and contributes to the overall efficiency and longevity of the piping system.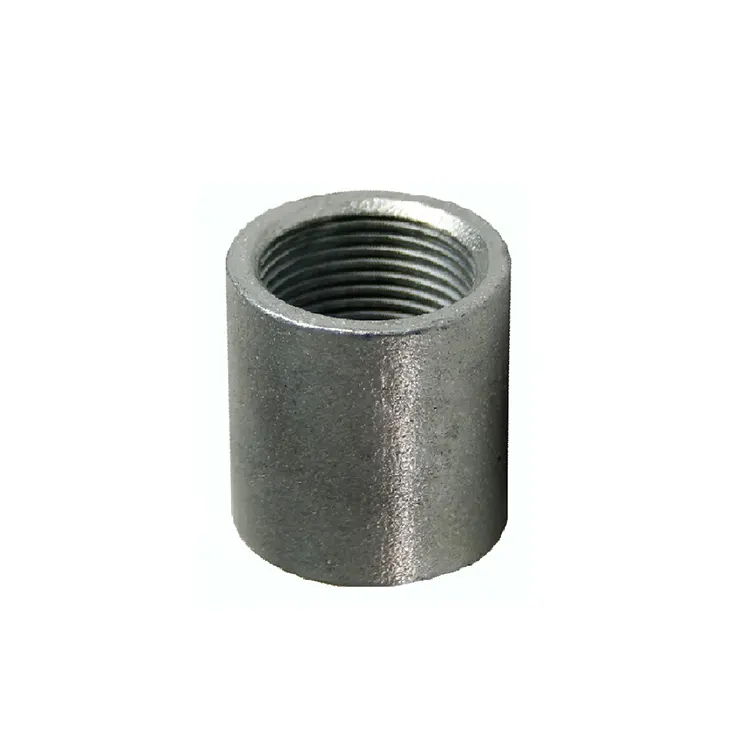 What are the Standard Sizes and Dimensions Available for Half Couplings?
Half couplings, as pipe fittings used in piping and plumbing systems, are available in various standard sizes and dimensions to accommodate different pipe sizes and applications. The sizes and dimensions of half couplings depend on the pipe's nominal diameter and the specifications set by industry standards organizations. Some common standard sizes and dimensions for half couplings are as follows:
Thread Sizes: Half couplings come with different thread sizes to match the corresponding pipe threads. Common thread sizes for half couplings include 1/8″, 1/4″, 3/8″, 1/2″, 3/4″, 1″, 1-1/4″, 1-1/2″, 2″, 2-1/2″, 3″, 4″, 5″, 6″, and larger.
Length: The length of a half coupling refers to the distance from one end to the other. It is typically a few inches, depending on the pipe size and application requirements. Lengths for half couplings can range from around 1 inch to 12 inches or more.
Outer Diameter (OD): The outer diameter of a half coupling refers to the measurement across the widest point of the coupling's external surface. It corresponds to the pipe's outer diameter it is intended to connect to. Common OD sizes for half couplings include 1.05″, 1.32″, 1.66″, 1.90″, 2.38″, 2.88″, 3.50″, 4.50″, 5.56″, 6.63″, 8.63″, and others.
Materials: Half couplings are available in various materials, as mentioned in the previous answer. The material selection depends on factors such as the type of fluid being transported, the temperature, the pressure, and the corrosion resistance requirements.
It is essential to refer to industry standards, such as ANSI (American National Standards Institute), ASME (American Society of Mechanical Engineers), or ASTM (American Society for Testing and Materials), to ensure that the half couplings meet the specific dimensional and material requirements of the application.
When selecting a half coupling, it is crucial to consider the following factors:
Pipe Size Compatibility: Ensure that the half coupling's thread size matches the pipe's thread size to create a secure and leak-proof connection.
Application Requirements: Consider the operating conditions, including pressure, temperature, and the nature of the fluid being transported, to choose the appropriate material and dimensions for the half coupling.
Standards Compliance: Select half couplings that meet industry standards to ensure safety and compatibility with other components in the system.
In summary, half couplings are available in various standard sizes and dimensions, with different thread sizes and materials to accommodate diverse pipe sizes and applications. Proper selection based on the specific requirements of the piping or plumbing system is essential for ensuring a reliable and efficient connection between pipes.



editor by CX 2023-08-10