Product Description
About our company:
  HangZhou Liangte Steel Industry Co., LTD lies in a beautiful city-HangZhou.We focus on the production of stainless steel pipes,pipe fitting,flanges. And every month we export to the whole world market .
  The modern equipment installed at our production sites allows us to produce the products in accordance with various standards, such as Russian GOST 9941-81, GOST 9940-81, American and European (ASTM A312, ASTM A269, ASTM A213, ASTM A511, EN 15716 , JISG 3463, JISG 3446, JISG 3448, JISG 3459, DIN 17456, DIN 17458, DIN 2462).
  The main grades are: 08X18H10T (321), 12X18H10T (321H), 10X17H13M2T (316Ti), 06XН28МДТ (904L), 03X17H13M2 (316L), 08X18H10 (304), 10X23H18 (310S), 20X23H18 (310), etc.Available external diameters are 6-630 mm, wall thickness 0.5-40 mm, length – up to 18 meters.Our company is developing dynamically and at the moment our production facilities allow us to produce up to 15,000 tons of high-quality seamless pipe per year. In addition, we have our own workshop for the production of pipe and fittings for oil and gas field .
  The company has been operating on the market for about 15 years and currently about 70-90% of our products are monthly exported to countries such as Turkey, Russia, the CIS, Singapore,South Korea, ZheJiang , India, Indonesia, the United States, the United Arab Emirates, South Africa, Iran and many others. The high quality of our products at an competive price also gave us the opportunity to successfully participate in a number of tenders both domestically and internationally.
  Over the years since its foundation, Liangte has come a long way, gaining a high reputation as a reliable supplier and reputable partner.
  With the rich experience, the good traditions of reliability, trust and honesty, the desire to develop and improve, Liangte Company thanks all its partners who have made the right choice of supplier in favor of the Iceberg Company, and also invites everyone to join the company of professionals and open for new opportunities for successful work.
 
 
About our products:
  Our company mainly provide pipe,pipe fitting,high pressure pipe fitting,flange these products.
  Stainless steel,carbon steel,alloy steel and duplex steel (304 , 304L, 304H, 304N, 316, 316L, 316Ti, 317L, 310S, 321, 321H, 347H, S31803, S32750, 347, 330, 825, 904L, 12X18H9, 08X18H10, 03X18H11, 08X18H10T, 20X25H20C2, 08X17H13M2T, 08X18H12E, 1.4301, 1.4306, 1.4401, 1.4404, 1.4435, 1.4541, 1.4571, 1.4563, 1.4462, 1.4845, SUS304, SUS304L, SUS316, SUS316L, SUS321, SUS310S etc) are mainly used.
  Our products can be with ASTMA213, ASTMA312, ASTM A269, ASTMA511, ASTM A789, ASTM A790, GOST 9941, GOST 9940, DIN17456, DIN17458, EN15716-5, EN17440, JISG3459, JIS3463, GB/T13296, GB/T14976, GB/T14975, GB9948, GB5310 and etc manufacturer standard.
  Our products all have good quality and low factory price.
 
About this product:
| | |
| --- | --- |
| material | stainless steel/carbon steel/alloy steel |
| OD | OD6-OD1800 |
| size | DN15-DN1000 |
| thickness | 1-60mm |
| length | as customer requirement |
| standard | ASME B36.10 |
| made in | China HangZhou |
About our certificate:
 
You may ask these questions:
1.What is your advantage?
A: Honest business with competitive price and professional service on export process.
2.How I believe you?
A : We consider honest as the life of our company, we can tell you the contact information of our some other clients for you to check our credit. 
3.Can you give warranty of your products?
A: Yes, we extend a 100% satisfaction guarantee on all items. Please feel free to feedback immediately if you are not pleased with our quality or service.
4.Where are you? Can I visit you?
A: Sure,welcome to you visit our factory at any time.
5.How about the delivery time?
A: Within 15-35 days after we confirm you requirement.
6.what kind of payment do your company support?
A: T/T,  L/C , Cash, Western Union are all accepted,if you have other payment,please contact me.
steel pipe export to the Southeast Asia.
If you have any question,
please contact me as soon as possible,
we are your best choice!!!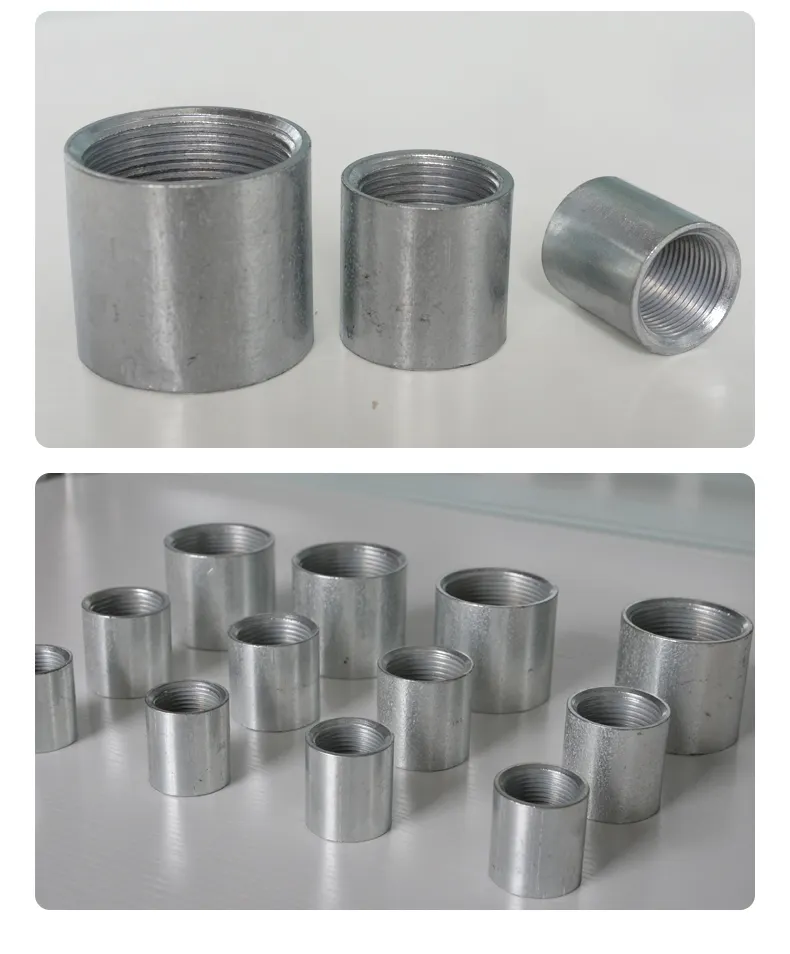 What are the Maintenance Requirements for Half Couplings to Ensure Their Longevity?
Proper maintenance is essential to ensure the longevity and reliable performance of half couplings in piping and plumbing systems. Regular maintenance helps prevent wear, corrosion, and other issues that could lead to leaks or failures. Here are the maintenance requirements for half couplings:
Inspection: Regularly inspect all half couplings in the system for signs of wear, corrosion, or damage. Check for visible leaks or indications of moisture around the joints. Perform visual inspections and, if necessary, use non-destructive testing methods to assess the integrity of the couplings.
Cleaning: Keep the half couplings clean and free from dirt, debris, or other contaminants. Clean the coupling surfaces and surrounding areas during maintenance to ensure a proper fit and prevent corrosion.
Lubrication: For threaded half couplings, apply a suitable lubricant or thread sealant when assembling the connection. This helps prevent galling and ensures a smooth and secure fit between the threads.
Protection from Corrosion: Take measures to protect the half couplings from corrosion, especially in environments where corrosion is likely. Consider using corrosion-resistant materials for the couplings or applying protective coatings to prevent rusting.
Temperature and Pressure Considerations: Ensure that the half couplings are suitable for the operating temperature and pressure of the system. High-temperature or high-pressure applications may require special materials or additional maintenance considerations.
Replacement of Worn or Damaged Couplings: If any half coupling shows signs of wear, damage, or reduced performance during inspections, promptly replace it with a new one. Avoid using couplings that do not meet the necessary standards or show signs of fatigue.
Proper Installation: During maintenance or replacement, ensure that the half couplings are correctly installed following the manufacturer's instructions and industry best practices. Proper installation is crucial for achieving a secure and leak-free connection.
Consider Thermal Expansion: Account for thermal expansion and contraction in the system to prevent stress on the half couplings and other components. Adequate flexibility and expansion joints can help accommodate temperature changes.
Regular System Checks: Perform regular system checks to monitor the overall health and performance of the piping or plumbing system. Address any issues detected during these checks promptly to prevent cascading problems.
Adhering to these maintenance requirements will help ensure the longevity and reliable operation of the half couplings, contributing to the overall efficiency and safety of the piping or plumbing system.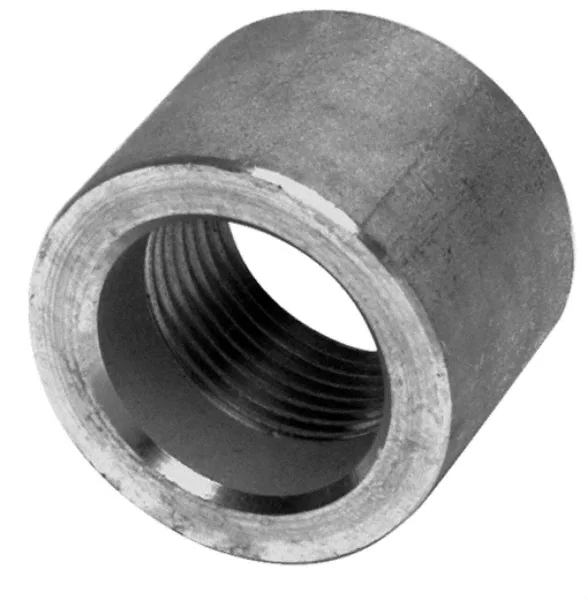 What are the Differences Between Half Couplings and Full Couplings in Pipe Fittings?
In pipe fittings, both half couplings and full couplings serve the purpose of joining two pipes together, but they differ in their design and applications. Here are the key differences between half couplings and full couplings:
Design: The main difference lies in their design. A half coupling has one end with internal threads or a socket, allowing it to be connected to a threaded pipe or inserted into the end of a pipe without threading. The other end of the half coupling is an open end, ready to be welded or threaded to another pipe. On the other hand, a full coupling has both ends with female threads, enabling it to connect two threaded pipes directly without the need for welding.
Function: Half couplings are commonly used to create a joint between a pipe and a component such as a valve, pump, or pressure gauge. The open end of the half coupling facilitates easy attachment to the component, while the threaded or socketed end connects to the pipe. On the other hand, full couplings are used when a direct, rigid connection between two pipes is needed, providing a continuous flow path without any interruptions.
Application: Half couplings are frequently used in situations where frequent disassembly or maintenance may be required. For example, in systems with valves that need periodic inspection or replacement, a half coupling allows for easy removal without disturbing the entire pipeline. Full couplings, on the other hand, are more suitable for applications where a permanent, leak-proof connection is needed, such as in pressurized systems or critical process pipelines.
Length: Full couplings are typically longer than half couplings because they need to accommodate two threaded ends, while half couplings have one threaded or socketed end and an open end, making them shorter in length.
Installation: The installation process differs for half and full couplings. Half couplings are welded or threaded onto one pipe end and then connected to another pipe or component using welding or threading, respectively. Full couplings, on the other hand, directly join two pipes with threaded ends, requiring no additional welding or threading.
Flexibility: Half couplings offer more flexibility due to their ability to connect to different types of components or pipes with varying end connections. Full couplings are less flexible in this regard, as they can only join two threaded pipes together.
Overall, the choice between half couplings and full couplings depends on the specific requirements of the piping system, including the need for temporary connections, the type of components being attached, the nature of the fluid being transported, and the desired level of joint permanence and flexibility.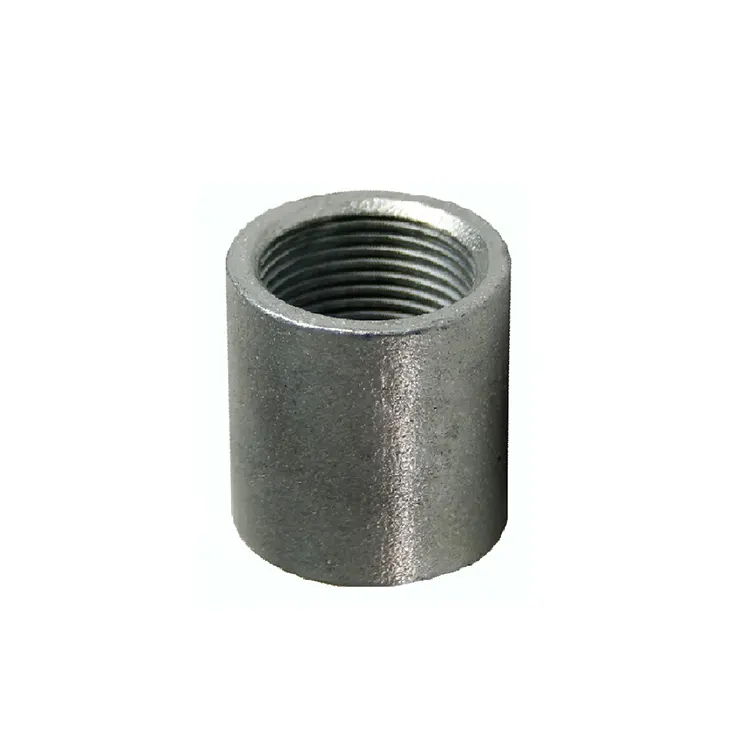 What are the Standard Sizes and Dimensions Available for Half Couplings?
Half couplings, as pipe fittings used in piping and plumbing systems, are available in various standard sizes and dimensions to accommodate different pipe sizes and applications. The sizes and dimensions of half couplings depend on the pipe's nominal diameter and the specifications set by industry standards organizations. Some common standard sizes and dimensions for half couplings are as follows:
Thread Sizes: Half couplings come with different thread sizes to match the corresponding pipe threads. Common thread sizes for half couplings include 1/8″, 1/4″, 3/8″, 1/2″, 3/4″, 1″, 1-1/4″, 1-1/2″, 2″, 2-1/2″, 3″, 4″, 5″, 6″, and larger.
Length: The length of a half coupling refers to the distance from one end to the other. It is typically a few inches, depending on the pipe size and application requirements. Lengths for half couplings can range from around 1 inch to 12 inches or more.
Outer Diameter (OD): The outer diameter of a half coupling refers to the measurement across the widest point of the coupling's external surface. It corresponds to the pipe's outer diameter it is intended to connect to. Common OD sizes for half couplings include 1.05″, 1.32″, 1.66″, 1.90″, 2.38″, 2.88″, 3.50″, 4.50″, 5.56″, 6.63″, 8.63″, and others.
Materials: Half couplings are available in various materials, as mentioned in the previous answer. The material selection depends on factors such as the type of fluid being transported, the temperature, the pressure, and the corrosion resistance requirements.
It is essential to refer to industry standards, such as ANSI (American National Standards Institute), ASME (American Society of Mechanical Engineers), or ASTM (American Society for Testing and Materials), to ensure that the half couplings meet the specific dimensional and material requirements of the application.
When selecting a half coupling, it is crucial to consider the following factors:
Pipe Size Compatibility: Ensure that the half coupling's thread size matches the pipe's thread size to create a secure and leak-proof connection.
Application Requirements: Consider the operating conditions, including pressure, temperature, and the nature of the fluid being transported, to choose the appropriate material and dimensions for the half coupling.
Standards Compliance: Select half couplings that meet industry standards to ensure safety and compatibility with other components in the system.
In summary, half couplings are available in various standard sizes and dimensions, with different thread sizes and materials to accommodate diverse pipe sizes and applications. Proper selection based on the specific requirements of the piping or plumbing system is essential for ensuring a reliable and efficient connection between pipes.



editor by CX 2023-08-16