Product Description
We work on this product for more than 10 years and could supply 1 stop solution on the hose coupling and pipe fittings. We mainly supply these couplings to our customer. Such as Camlock coupling, Air hose coupling, Bauer coupling, fire fighting couplings ( Stroz coupling, Guillenmin couplings, John Morris couplings, Machino coupling, Barcelona coupling, Forest couplings, fire nozzles), pipe fittings(stainless steel pipe fittings, malleable iron pipe fittings, flanges, sanitary pipe fittings) and valves ( ball valve, gate valve, sanitary butterfly valve ) and so on.
Adavantage of 3000 lbs high Pressure Stainless Steel Pipe Fittings:
Good abrasion resistant, light weight, economical cost;
Save time compared with flanged or threaded fittings;
No tools needed and make the job easy;
Safety sealing for fluids, powders and pellets,Light weight and durable; 
Could keep the transfers safe without any damage or any risks.
Detailed description:
| | |
| --- | --- |
| product |  High pressre thread/ socket weld forged pipe fittings |
| Material | ASTM A105, ASTM A182( F304/304L, F316/316L) |
| Range |  ELBOW, TEE, COUPLING, HALF COUPLING, CAP, PLUG, BUSHING, UNION, OUT-LET, SWAGE NIPPLE, BULL PLUG, REDUCER, INSERT AND HEX NIPPLE, STREET ELBOW, BOSS, ETC. |
| Contact type |  Socket-weld, Screwed ( NPT/ BSP), Butt weld |
| Dimension spec | ASME B 16.11-2009, MSS-SP-79, 83, 95, 97, BS 3799-1974 |
| Pressure | Screwed end:2000lb/3000lb/6000lb; Socket weld end:3000lb/6000lb/9000lb;  |
| Butt weld end | SCH40/SCH80/SCH160/XXS |
| Place of origin | ZheJiang , China |
| Package | Plastic bag and Cartons then Pallet |
|  advantage | quick, safey and no need tools |
| Delivery | By sea, By air and By express |
| Lead time | withinn 35-45 days after confiming the normal order |
Company Information:
Our customers:
Certification:
Main Products:

When you choose the camlock couplings, please confirm the details such as:
1, Types and Size
2, Material
3, Thread
4, Seals
5, Presuure and Tempreture
OUR SERVIC
Pre-sale service
1.We have stock and could deliver goods within short time.
2.OEM order are accepted, logo printing are available.
3.Good Quality + Factory Price + Quick Response + Reliable Service, is what we are trying best to offer you.
4.All of our products are produced by our professional workman and we have our high-work-effect foreign trade team, you can totally believe our service.   
After you choose:
1. We will check cheapest shipping cost and make invoice to you at once.
2. Check quality and package again, then send out to seaport at 1-2 weekdays after your payment
3. Email you the tracking no., and help to CHINAMFG the parcels until you signed them and update you the situation. 
After-sale service
1.We are very glad that customers give us some suggestion for price and products.
2.If you have any question,please contact us freely by E-mail or Telephone or Whatsapp or Skpye.
 
FAQ
Q: Do you provide samples ? is it free or extra ?
A: Yes, we could offer the sample for free charge and need your side pay the cost of freight.
Q: How long is your delivery time?
A: Generally it is 5-10 days if the goods are in stock. Or it is 25-35 days if the goods are not in stock, it is according to quantity.
Q. what is your payment term? 
A: T/T 30% payment in advance, balance to be paid before shipment. or L/C. Or West Union, Paypal and Money Gram if little value.
Q: what is your main market?
A: North America, South America, Eastern Europe, Southeast Asia, Africa, Oceania, Mid East, Eastern Asia, Western Europe. 
Q: Can I have my own customized product?
A: Yes, we can supply logo Print and package desiged based in our MOQ.
Contact us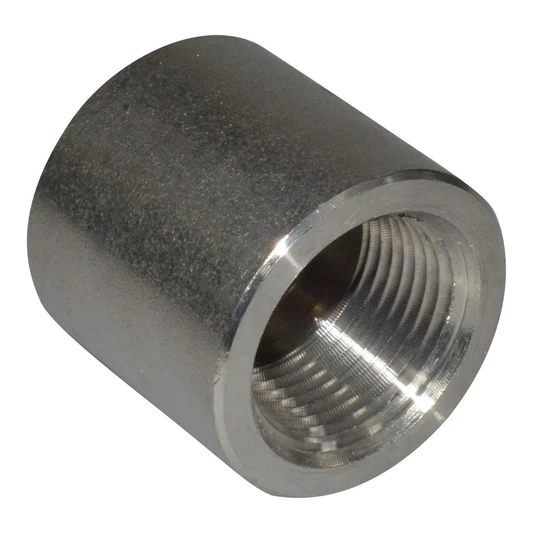 How do Temperature and Environmental Conditions Affect Half Coupling Performance?
The performance of half couplings can be significantly influenced by temperature and environmental conditions. These factors can affect the materials, integrity, and overall functionality of the coupling in various ways. Here's how temperature and environmental conditions impact half coupling performance:
Temperature: Extreme temperatures, whether high or low, can affect the properties of the coupling material. For instance, at high temperatures, certain materials may experience reduced strength and increased susceptibility to creep or deformation. On the other hand, low temperatures can make some materials brittle and prone to cracking. It is essential to select half couplings made from materials that can withstand the expected temperature range in the application.
Corrosive Environments: Half couplings used in corrosive environments are exposed to chemical agents that can cause material degradation. Corrosion can weaken the coupling's structure and lead to leaks. In such cases, using corrosion-resistant materials, coatings, or liners can be beneficial to maintain coupling performance and longevity.
Humidity and Moisture: Excessive humidity and moisture can accelerate corrosion and contribute to the deterioration of the coupling over time. Regular cleaning and protection against moisture ingress are necessary to ensure optimal performance in damp environments.
Abrasive Particles: In industrial settings with abrasive particles present in the fluid or environment, half couplings may experience wear and erosion. This can lead to surface damage and affect the coupling's sealing ability. Selecting materials with high wear resistance and using filters or strainers to remove abrasive particles can help mitigate these effects.
UV Radiation: In outdoor applications exposed to sunlight, UV radiation can degrade certain materials, particularly polymers and elastomers. Couplings made from UV-resistant materials or employing protective coatings can help counteract this effect.
Thermal Expansion: Temperature fluctuations cause thermal expansion and contraction of the pipes and the half couplings. In systems where thermal expansion is not adequately accommodated, stress on the couplings can lead to leaks or joint failure over time. Providing expansion joints or using materials with low thermal expansion coefficients can address this issue.
Altitude: At higher altitudes, air pressure is reduced, which can affect system performance, especially if the half couplings are not designed for such conditions. It is essential to consider altitude-related effects on pressure and temperature when selecting the appropriate coupling materials.
Weather and Climate: Half couplings installed outdoors are exposed to weather conditions like rain, snow, hail, and extreme temperatures. These factors can impact the coupling's integrity and performance. Regular maintenance and inspections become crucial to identify and address any weather-related damages.
To ensure optimal half coupling performance, it is essential to consider the specific temperature and environmental conditions of the application. Choosing suitable materials, applying protective coatings, and implementing proper maintenance practices are essential steps to enhance the longevity and reliability of half couplings in various operating environments.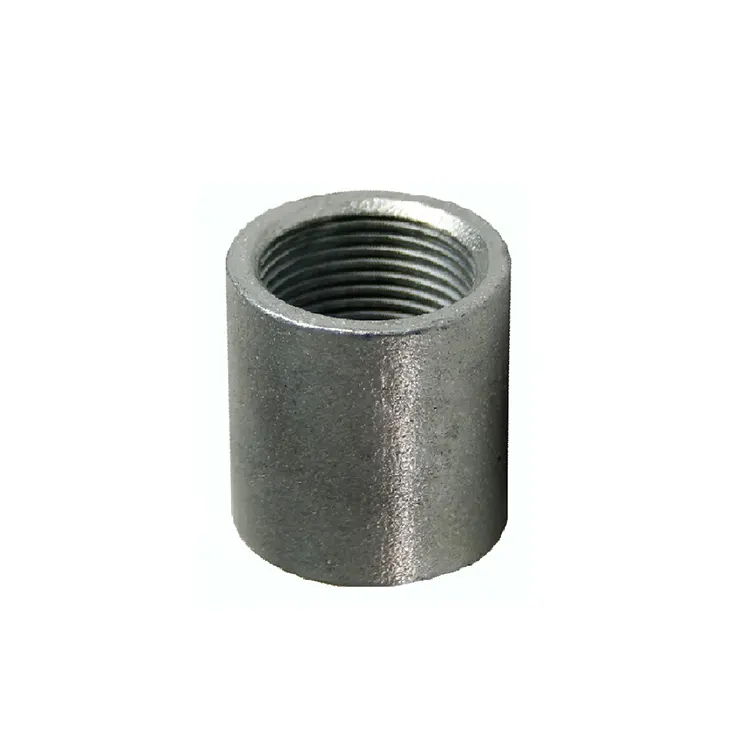 Are there Industry Standards or Certifications for Half Couplings?
Yes, there are industry standards and certifications for half couplings to ensure their quality, performance, and safety. These standards are established by various organizations to provide guidelines for manufacturers, distributors, and users of half couplings. Compliance with these standards helps maintain consistency, reliability, and compatibility within the industry. Some of the prominent standards and certifications related to half couplings include:
ASME B16.11: The American Society of Mechanical Engineers (ASME) sets the ASME B16.11 standard for forged fittings, including socket weld and threaded half couplings. This standard covers the requirements for materials, dimensions, ratings, testing, and marking of forged fittings used in high-pressure applications.
ASTM A105 / ASTM A182: ASTM International establishes standards for materials used in various industries. ASTM A105 covers forged carbon steel piping components, including couplings, for ambient and higher-temperature service. ASTM A182 includes specifications for forged or rolled alloy-steel pipe flanges, forged fittings, and valves and is commonly referenced for high-temperature or corrosive applications involving half couplings made from alloy steels.
API 5CT / API 5L: The American Petroleum Institute (API) develops standards for the oil and gas industry. API 5CT specifies requirements for casing and tubing, and API 5L covers seamless and welded steel line pipe. In oil and gas applications, half couplings used for connecting casing and tubing components are expected to meet the API standards.
ISO 9001: The International Organization for Standardization (ISO) sets the ISO 9001 standard for quality management systems. Manufacturers of half couplings can obtain ISO 9001 certification to demonstrate their commitment to consistent quality and continuous improvement in their processes and products.
UL Listing: Underwriters Laboratories (UL) offers product testing and certification services. Half couplings used in fire protection systems or other safety-critical applications may undergo testing and receive UL listing to ensure compliance with fire safety and performance standards.
Pressure Equipment Directive (PED): In the European Union, the Pressure Equipment Directive sets requirements for the design, manufacture, and conformity assessment of pressure equipment, including half couplings used in pressurized systems. Compliance with PED is mandatory for certain pressure equipment intended for use in the EU market.
It is essential for users and buyers of half couplings to verify that the products they purchase meet the relevant industry standards and certifications. Ensuring compliance with these standards helps assure the performance, safety, and reliability of half couplings in various applications and industries.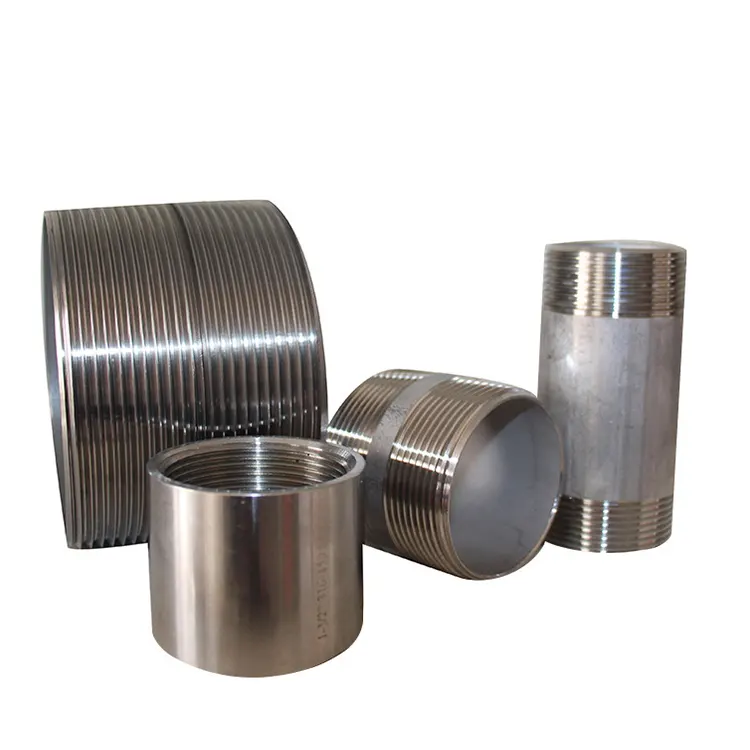 Can a Half Coupling be Used to Join Pipes of Different Diameters?
Yes, a half coupling can be used to join pipes of different diameters in piping and plumbing systems. Half couplings are specifically designed to connect two pipes of different sizes, making them ideal for creating transitions or connections between pipes with varying diameters. The larger end of the half coupling is welded or screwed onto the larger diameter pipe, providing a stable base for the connection. The smaller pipe, which has a different diameter, is then threaded or inserted into the smaller end of the half coupling.
The ability to join pipes of different diameters is one of the main advantages of using half couplings. This feature allows for efficient and smooth transitions between pipe sizes, which is crucial in maintaining proper fluid flow, reducing pressure losses, and preventing turbulence within the system.
Here are some common scenarios where half couplings are used to join pipes of different diameters:
Reducing Pipe Size: When a pipeline needs to change from a larger diameter to a smaller diameter, a half coupling can be employed to create a smooth transition. For example, if a process requires a reduction in flow rate, a smaller pipe can be connected to the main pipeline using a half coupling.
Connecting Equipment or Valves: In many industrial applications, equipment, valves, or instruments are connected to the main pipeline using half couplings. Often, these components have different pipe sizes than the main pipeline, and a half coupling provides a secure and leak-proof joint.
Repair and Maintenance: During repair or maintenance operations, a damaged section of the pipeline can be cut out, and a new pipe of a different diameter can be connected using a half coupling. This allows for quick repairs without having to replace the entire pipeline.
When using a half coupling to join pipes of different diameters, it is essential to ensure that the threads and dimensions of the coupling match the pipes being connected. Proper sealing techniques, such as using thread sealant or Teflon tape, should also be applied to prevent leaks and ensure a reliable connection.
In conclusion, half couplings are versatile pipe fittings that enable the joining of pipes with different diameters. Their ability to facilitate smooth transitions and secure connections makes them invaluable in various industrial, commercial, and residential applications.



editor by CX 2023-09-27