Product Description
Dimension
1/2″ to 4″(DN15~DN100)
Range(Wall Thickness):
3000LB to 9000LB
XS, Sch80, Sch160, XXS.
Standard                           
ASME/ANSI B16.11
MSS SP-79, MSS SP-83, MSS SP-114  
JIS B2316, JIS B2302 etc.
Material:
General Stainless steel, Super Stainless Steel, Duplex Stainless Steel (Ferritic-Austenitic Stainless Steel), Austenitic Stainless Steel, Martensitic Stainless Steel, Ferritic Stainless Steel. etc.
 
Material Grade(Only lists part):
 
TYPE
ASTM
EN/DIN
JIS
General Stainless Steel
A182:
F304, F304L, F304H, F304N, F304LN
F310, F310H, F310MoLN
F316, F316L, F316H, F316N, F316LN, F316Ti
F317, F317L
F321, F321H
F347, F347H, F347LN
F304/F304L, F316/F316L,
F317/F317L, F321/F321H.
F6a, F6b, F429, F430
S31727, S32053
F20, F44, F45, F46
F47, F48, F49, F56
F58, F62, F63, F64, F70
1.4301(X5CrNi1810)
1.4306(X2CrNi1911)
1.4301H(X5CrNBi1810H)
1.4311(X2CrNiN1810)
1.4845(X12CrNi2521)
1.4401(X5CrNiMo17122)
1.4404(X2CrNiMo171321)
1.4919(X6CrNiMo1713)
1.4406(X2CrNiMoN17122)
1.4571(X6CrNiMoTi17122)
1.4438(X2CrNIMo18164)
1.4449(X5CrNiMo1713)
1.4541(X6CrNiTi1810)
1.4541H(X6CrNiTi1810H)
1.4550(X6CrNiNb1810)
SUS304
SUS304H
SUS304L
SUS310
SUS310S
SUS316
SUS316H
SUS316L
SUS316Ti
SUS317
SUS317L
SUS321
SUS321H
SUS347
SUS347H
Duplex Steel
A182:
F51(UNS S31803)
F53(UNS S32750)
F55(UNS S32760)
F60(UNS S32205)
F50, F52, F54, F57
F59, F61, F65, F66
F67, F68, F69, F71
 
1.4462(X2CrNiMoN22-5-3),
1.4410(X2CrNiMoN25-7-4)
1.4501(X2CrNiMoCuWN25-7-4)
SUS329J3L
SUS329J3LTB
SUS329J3LTP
Super Stainless Steel
A182:
F904L(UNS N5714)
F44(UNS S31254 or 254SMO)
 
1.4539(X2NiCrMoCu25-20-5),
1.4547(X2NiCrMoCu20-18-7)
 
SUS890L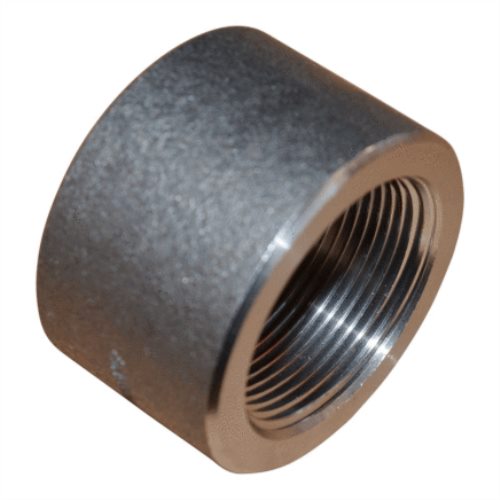 Can a Half Coupling be Used for Both Temporary and Permanent Pipe Connections?
Yes, a half coupling can be used for both temporary and permanent pipe connections, depending on the specific requirements of the application and the type of half coupling used.
Temporary Pipe Connections: Threaded half couplings are commonly used for temporary pipe connections. They allow for easy assembly and disassembly of the pipes without the need for welding. Threaded couplings offer quick installation and are ideal for situations where frequent changes or maintenance are necessary. For example, during construction or testing phases, temporary pipe connections may be required before the final system configuration is established.
Permanent Pipe Connections: Socket weld and butt weld half couplings are primarily used for permanent pipe connections. Once these couplings are welded to the pipes, the joint becomes integral, robust, and permanent. Socket weld couplings are commonly used in smaller diameter pipes, while butt weld couplings are more prevalent in larger diameter pipes and high-pressure applications. These types of couplings are well-suited for applications where a secure and leak-proof connection is essential for the long-term operation of the system.
It is essential to choose the appropriate type of half coupling based on the specific needs of the application. Consider factors such as the system's operating conditions, pressure requirements, maintenance frequency, and future changes or expansions. Temporary connections using threaded half couplings provide flexibility and ease of maintenance but may not be suitable for high-pressure or critical systems. On the other hand, permanent connections using socket weld or butt weld half couplings offer maximum strength and reliability, but they require careful planning and welding expertise.
In some cases, half couplings may be used temporarily during system assembly or testing and later replaced with socket weld or butt weld couplings for permanent operation. This allows for easier adjustments during the initial setup while ensuring a durable connection in the long run.
Ultimately, the choice between temporary and permanent pipe connections using half couplings depends on the specific requirements of the project and the balance between flexibility and long-term reliability.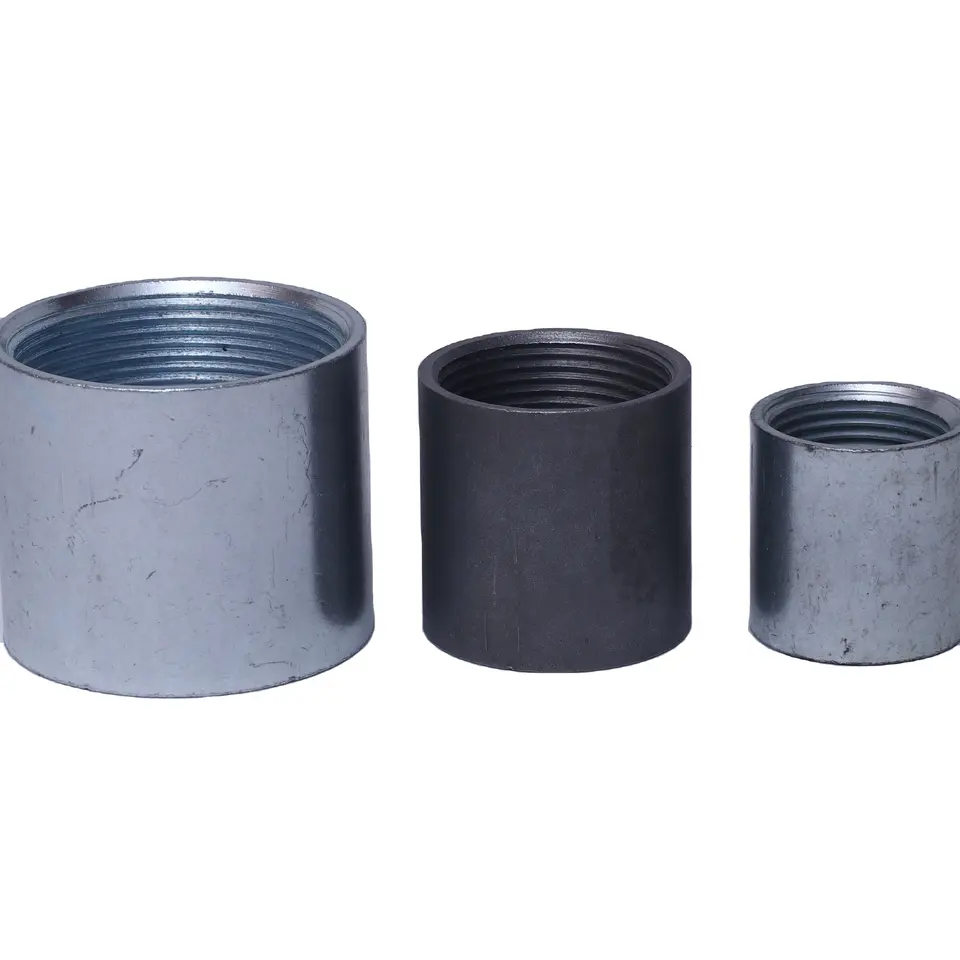 How do you Calculate the Required Size and Specifications for a Half Coupling?
Calculating the required size and specifications for a half coupling involves considering several factors related to the piping system and the intended application. Here's a step-by-step guide on how to calculate the size and specifications:
Identify the Pipe Size: Determine the size of the pipe to which the half coupling will be connected. The pipe size is usually specified in inches and represents the nominal diameter of the pipe.
Consider the Pipe Material: Know the material of the pipe, such as carbon steel, stainless steel, PVC, copper, or others. The half coupling material should be compatible with the pipe material to avoid any galvanic corrosion or other issues.
Assess the Operating Pressure: Determine the maximum operating pressure of the system in which the half coupling will be used. The half coupling should have a pressure rating that exceeds the maximum operating pressure to ensure safety and reliability.
Calculate the Torque Requirements: For threaded half couplings, calculate the required torque for proper thread engagement. The torque calculation involves considering the thread pitch, thread diameter, and the material of the pipe and coupling.
Check the Temperature Range: Evaluate the temperature range in which the half coupling will be operating. Ensure that the material chosen can withstand the maximum and minimum temperatures of the system without any adverse effects.
Account for Environmental Factors: Consider any environmental factors that may affect the half coupling's performance, such as exposure to chemicals, UV radiation, or extreme weather conditions. Select a material and coating, if necessary, to protect the coupling from environmental degradation.
Verify Compliance with Standards: Ensure that the selected half coupling meets relevant industry standards and specifications, such as ASME, ASTM, API, or ISO, to guarantee its quality and performance.
Factor in the Application: Consider the specific application of the half coupling, such as its use in a water supply system, chemical process, high-pressure pipeline, or industrial equipment. The application requirements will influence the material selection, pressure rating, and other specifications.
Consult with Experts: If unsure about the calculations or specifications, consult with piping system experts or engineers who can provide guidance and ensure the proper selection of the half coupling based on the system's requirements.
By following these steps and carefully considering the pipe size, material, pressure, torque, temperature, environmental conditions, compliance with standards, application, and seeking expert advice when needed, you can accurately calculate the required size and specifications for a half coupling that will perform optimally in the piping system.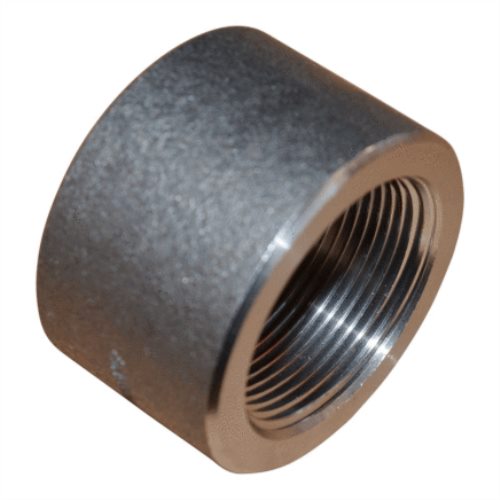 What are the Different Materials Commonly Used for Manufacturing Half Couplings?
Half couplings are pipe fittings used in piping and plumbing systems to connect two pipes of different sizes. They are available in various materials, each offering unique properties suitable for different applications. Some of the commonly used materials for manufacturing half couplings include:
Stainless Steel: Stainless steel half couplings are popular due to their excellent corrosion resistance, high strength, and durability. They are ideal for applications involving aggressive or corrosive media and are commonly used in industries such as chemical processing, oil and gas, and food processing.
Carbon Steel: Carbon steel half couplings are known for their high tensile strength and affordability. They are widely used in industrial applications where the fluid being transported is not corrosive. Carbon steel couplings are commonly used in water supply systems, heating, and ventilation systems.
Brass: Brass half couplings are valued for their resistance to dezincification and corrosion. They are often used in plumbing systems, particularly for connecting copper pipes. Brass couplings find applications in water supply lines, plumbing fixtures, and other potable water-related applications.
Copper: Copper half couplings are commonly used in plumbing systems and HVAC (heating, ventilation, and air conditioning) applications. Copper is known for its excellent thermal conductivity and antimicrobial properties, making it suitable for applications where heat transfer and cleanliness are crucial.
Aluminum: Aluminum half couplings are lightweight and corrosion-resistant, making them suitable for specific industrial and marine applications. They are often used in the transport of certain chemicals and in offshore installations.
Bronze: Bronze half couplings are known for their strength and resistance to corrosion and wear. They find applications in marine environments, particularly for seawater piping systems, as well as in some oil and gas applications.
The choice of material for half couplings depends on various factors such as the nature of the fluid being transported, the operating conditions, the required strength, and the budget constraints. Proper material selection is essential to ensure the longevity and efficiency of the piping or plumbing system.



editor by CX 2023-09-21