Product Description
About our company:
  HangZhou Liangte Steel Industry Co., LTD lies in a beautiful city-HangZhou.We focus on the production of stainless steel pipes,pipe fitting,flanges. And every month we export to the whole world market .
  The modern equipment installed at our production sites allows us to produce the products in accordance with various standards, such as Russian GOST 9941-81, GOST 9940-81, American and European (ASTM A312, ASTM A269, ASTM A213, ASTM A511, EN 15716 , JISG 3463, JISG 3446, JISG 3448, JISG 3459, DIN 17456, DIN 17458, DIN 2462).
  The main grades are: 08X18H10T (321), 12X18H10T (321H), 10X17H13M2T (316Ti), 06XН28МДТ (904L), 03X17H13M2 (316L), 08X18H10 (304), 10X23H18 (310S), 20X23H18 (310), etc.Available external diameters are 6-630 mm, wall thickness 0.5-40 mm, length – up to 18 meters.Our company is developing dynamically and at the moment our production facilities allow us to produce up to 15,000 tons of high-quality seamless pipe per year. In addition, we have our own workshop for the production of pipe and fittings for oil and gas field .
  The company has been operating on the market for about 15 years and currently about 70-90% of our products are monthly exported to countries such as Turkey, Russia, the CIS, Singapore,South Korea, ZheJiang , India, Indonesia, the United States, the United Arab Emirates, South Africa, Iran and many others. The high quality of our products at an competive price also gave us the opportunity to successfully participate in a number of tenders both domestically and internationally.
  Over the years since its foundation, Liangte has come a long way, gaining a high reputation as a reliable supplier and reputable partner.
  With the rich experience, the good traditions of reliability, trust and honesty, the desire to develop and improve, Liangte Company thanks all its partners who have made the right choice of supplier in favor of the Iceberg Company, and also invites everyone to join the company of professionals and open for new opportunities for successful work.
 
 
About our products:
  Our company mainly provide pipe,pipe fitting,high pressure pipe fitting,flange these products.
  Stainless steel,carbon steel,alloy steel and duplex steel (304 , 304L, 304H, 304N, 316, 316L, 316Ti, 317L, 310S, 321, 321H, 347H, S31803, S32750, 347, 330, 825, 904L, 12X18H9, 08X18H10, 03X18H11, 08X18H10T, 20X25H20C2, 08X17H13M2T, 08X18H12E, 1.4301, 1.4306, 1.4401, 1.4404, 1.4435, 1.4541, 1.4571, 1.4563, 1.4462, 1.4845, SUS304, SUS304L, SUS316, SUS316L, SUS321, SUS310S etc) are mainly used.
  Our products can be with ASTMA213, ASTMA312, ASTM A269, ASTMA511, ASTM A789, ASTM A790, GOST 9941, GOST 9940, DIN17456, DIN17458, EN15716-5, EN17440, JISG3459, JIS3463, GB/T13296, GB/T14976, GB/T14975, GB9948, GB5310 and etc manufacturer standard.
  Our products all have good quality and low factory price.
 
About this product:
| | |
| --- | --- |
| material | stainless steel/carbon steel/alloy steel |
| OD | OD6-OD1800 |
| size | DN15-DN1000 |
| thickness | 1-60mm |
| length | as customer requirement |
| standard | ASME B36.10 |
| made in | China HangZhou |
About our certificate:
 
You may ask these questions:
1.What is your advantage?
A: Honest business with competitive price and professional service on export process.
2.How I believe you?
A : We consider honest as the life of our company, we can tell you the contact information of our some other clients for you to check our credit. 
3.Can you give warranty of your products?
A: Yes, we extend a 100% satisfaction guarantee on all items. Please feel free to feedback immediately if you are not pleased with our quality or service.
4.Where are you? Can I visit you?
A: Sure,welcome to you visit our factory at any time.
5.How about the delivery time?
A: Within 15-35 days after we confirm you requirement.
6.what kind of payment do your company support?
A: T/T,  L/C , Cash, Western Union are all accepted,if you have other payment,please contact me.
steel pipe export to the Southeast Asia.
If you have any question,
please contact me as soon as possible,
we are your best choice!!!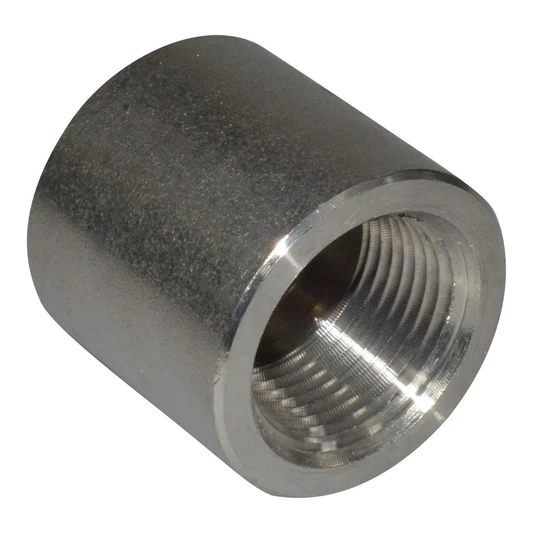 How do Temperature and Environmental Conditions Affect Half Coupling Performance?
The performance of half couplings can be significantly influenced by temperature and environmental conditions. These factors can affect the materials, integrity, and overall functionality of the coupling in various ways. Here's how temperature and environmental conditions impact half coupling performance:
Temperature: Extreme temperatures, whether high or low, can affect the properties of the coupling material. For instance, at high temperatures, certain materials may experience reduced strength and increased susceptibility to creep or deformation. On the other hand, low temperatures can make some materials brittle and prone to cracking. It is essential to select half couplings made from materials that can withstand the expected temperature range in the application.
Corrosive Environments: Half couplings used in corrosive environments are exposed to chemical agents that can cause material degradation. Corrosion can weaken the coupling's structure and lead to leaks. In such cases, using corrosion-resistant materials, coatings, or liners can be beneficial to maintain coupling performance and longevity.
Humidity and Moisture: Excessive humidity and moisture can accelerate corrosion and contribute to the deterioration of the coupling over time. Regular cleaning and protection against moisture ingress are necessary to ensure optimal performance in damp environments.
Abrasive Particles: In industrial settings with abrasive particles present in the fluid or environment, half couplings may experience wear and erosion. This can lead to surface damage and affect the coupling's sealing ability. Selecting materials with high wear resistance and using filters or strainers to remove abrasive particles can help mitigate these effects.
UV Radiation: In outdoor applications exposed to sunlight, UV radiation can degrade certain materials, particularly polymers and elastomers. Couplings made from UV-resistant materials or employing protective coatings can help counteract this effect.
Thermal Expansion: Temperature fluctuations cause thermal expansion and contraction of the pipes and the half couplings. In systems where thermal expansion is not adequately accommodated, stress on the couplings can lead to leaks or joint failure over time. Providing expansion joints or using materials with low thermal expansion coefficients can address this issue.
Altitude: At higher altitudes, air pressure is reduced, which can affect system performance, especially if the half couplings are not designed for such conditions. It is essential to consider altitude-related effects on pressure and temperature when selecting the appropriate coupling materials.
Weather and Climate: Half couplings installed outdoors are exposed to weather conditions like rain, snow, hail, and extreme temperatures. These factors can impact the coupling's integrity and performance. Regular maintenance and inspections become crucial to identify and address any weather-related damages.
To ensure optimal half coupling performance, it is essential to consider the specific temperature and environmental conditions of the application. Choosing suitable materials, applying protective coatings, and implementing proper maintenance practices are essential steps to enhance the longevity and reliability of half couplings in various operating environments.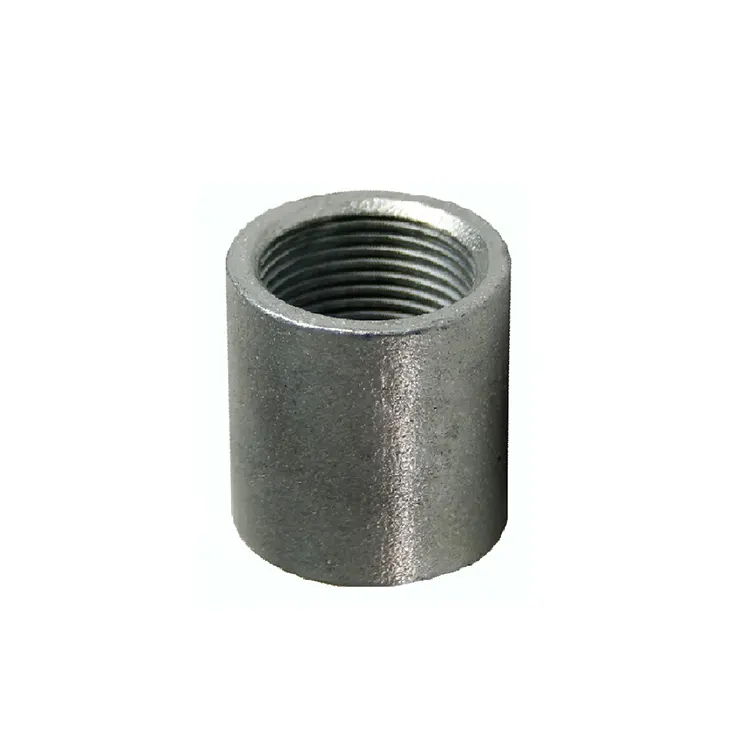 Are there Industry Standards or Certifications for Half Couplings?
Yes, there are industry standards and certifications for half couplings to ensure their quality, performance, and safety. These standards are established by various organizations to provide guidelines for manufacturers, distributors, and users of half couplings. Compliance with these standards helps maintain consistency, reliability, and compatibility within the industry. Some of the prominent standards and certifications related to half couplings include:
ASME B16.11: The American Society of Mechanical Engineers (ASME) sets the ASME B16.11 standard for forged fittings, including socket weld and threaded half couplings. This standard covers the requirements for materials, dimensions, ratings, testing, and marking of forged fittings used in high-pressure applications.
ASTM A105 / ASTM A182: ASTM International establishes standards for materials used in various industries. ASTM A105 covers forged carbon steel piping components, including couplings, for ambient and higher-temperature service. ASTM A182 includes specifications for forged or rolled alloy-steel pipe flanges, forged fittings, and valves and is commonly referenced for high-temperature or corrosive applications involving half couplings made from alloy steels.
API 5CT / API 5L: The American Petroleum Institute (API) develops standards for the oil and gas industry. API 5CT specifies requirements for casing and tubing, and API 5L covers seamless and welded steel line pipe. In oil and gas applications, half couplings used for connecting casing and tubing components are expected to meet the API standards.
ISO 9001: The International Organization for Standardization (ISO) sets the ISO 9001 standard for quality management systems. Manufacturers of half couplings can obtain ISO 9001 certification to demonstrate their commitment to consistent quality and continuous improvement in their processes and products.
UL Listing: Underwriters Laboratories (UL) offers product testing and certification services. Half couplings used in fire protection systems or other safety-critical applications may undergo testing and receive UL listing to ensure compliance with fire safety and performance standards.
Pressure Equipment Directive (PED): In the European Union, the Pressure Equipment Directive sets requirements for the design, manufacture, and conformity assessment of pressure equipment, including half couplings used in pressurized systems. Compliance with PED is mandatory for certain pressure equipment intended for use in the EU market.
It is essential for users and buyers of half couplings to verify that the products they purchase meet the relevant industry standards and certifications. Ensuring compliance with these standards helps assure the performance, safety, and reliability of half couplings in various applications and industries.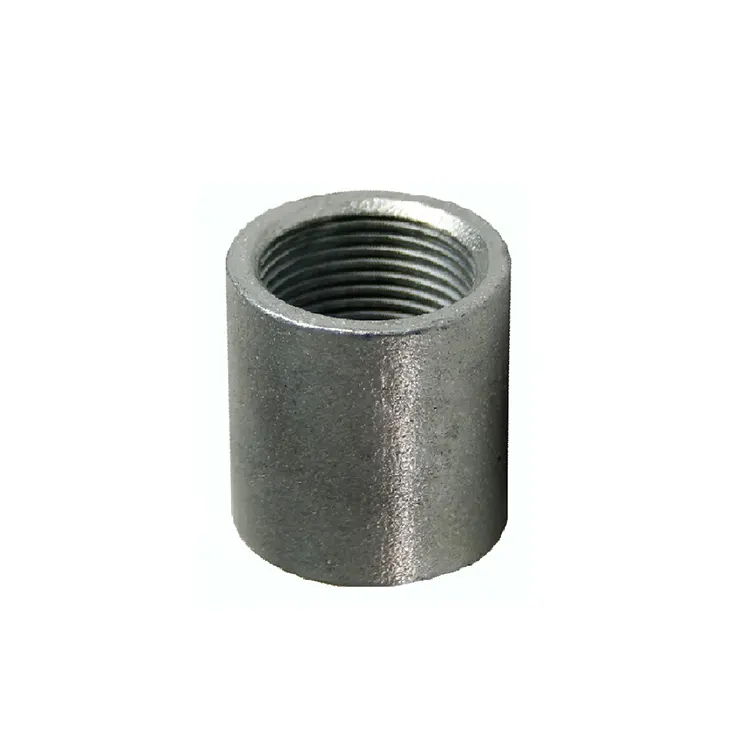 What are the Standard Sizes and Dimensions Available for Half Couplings?
Half couplings, as pipe fittings used in piping and plumbing systems, are available in various standard sizes and dimensions to accommodate different pipe sizes and applications. The sizes and dimensions of half couplings depend on the pipe's nominal diameter and the specifications set by industry standards organizations. Some common standard sizes and dimensions for half couplings are as follows:
Thread Sizes: Half couplings come with different thread sizes to match the corresponding pipe threads. Common thread sizes for half couplings include 1/8″, 1/4″, 3/8″, 1/2″, 3/4″, 1″, 1-1/4″, 1-1/2″, 2″, 2-1/2″, 3″, 4″, 5″, 6″, and larger.
Length: The length of a half coupling refers to the distance from one end to the other. It is typically a few inches, depending on the pipe size and application requirements. Lengths for half couplings can range from around 1 inch to 12 inches or more.
Outer Diameter (OD): The outer diameter of a half coupling refers to the measurement across the widest point of the coupling's external surface. It corresponds to the pipe's outer diameter it is intended to connect to. Common OD sizes for half couplings include 1.05″, 1.32″, 1.66″, 1.90″, 2.38″, 2.88″, 3.50″, 4.50″, 5.56″, 6.63″, 8.63″, and others.
Materials: Half couplings are available in various materials, as mentioned in the previous answer. The material selection depends on factors such as the type of fluid being transported, the temperature, the pressure, and the corrosion resistance requirements.
It is essential to refer to industry standards, such as ANSI (American National Standards Institute), ASME (American Society of Mechanical Engineers), or ASTM (American Society for Testing and Materials), to ensure that the half couplings meet the specific dimensional and material requirements of the application.
When selecting a half coupling, it is crucial to consider the following factors:
Pipe Size Compatibility: Ensure that the half coupling's thread size matches the pipe's thread size to create a secure and leak-proof connection.
Application Requirements: Consider the operating conditions, including pressure, temperature, and the nature of the fluid being transported, to choose the appropriate material and dimensions for the half coupling.
Standards Compliance: Select half couplings that meet industry standards to ensure safety and compatibility with other components in the system.
In summary, half couplings are available in various standard sizes and dimensions, with different thread sizes and materials to accommodate diverse pipe sizes and applications. Proper selection based on the specific requirements of the piping or plumbing system is essential for ensuring a reliable and efficient connection between pipes.



editor by CX 2023-08-15