Product Description
Product Description
Feature:
Material: SS201, SS304/CF8, SS316/CF8M
Thread Ending: NPT, DIN, BSP, BSPP, BSPT etc.
Size: 1/4″-4″ As Customers' Requirement
Application: Applied to stainless steel pipeline system.
| | |
| --- | --- |
| ELBOW | 45 ELBOW |
|   | 90 ELBOW |
|   | STREET ELBOW |
| TEE | EUQAL TEE |
|   | REDCUING TEE |
| UINON | UNION CONICAL FF |
|   | UNION CONE FF |
| PLUG | HEX PLUG |
|   | SQUARE PLUG |
| NIPPLE | HEX NIPPLE |
|   | REDUCING NIPPLE |
|   | STRAIGHT  NIPPLE |
|   | REDUCING OUTLET  NIPPLE |
| COUPLING | COUPLING |
|   | HALF COUPLING |
| CAPS | ROUND CAPS |
|   | HEX CAP |
| OUTLET | BUTT-WELDING OUTLET |
|   | SOCKET WELDING OUTLET |
|   | THREAD OUTLET |
FAQ
1 Are you a factory or trading company?
We are a factory specialized in manufacturing valves and fitting over 10 years.
And we have got the verification of compliance for ball valve from ECM and ISO9001 certificate of manufacturing and processing of valves and fittings.
 
2 Where are the main markets for your products?
We hope to make business with companies from all over the world. And for now, our valves and fittings have been exported to especially in North America, South America, South Asia, Europe and Middle East. 
 
3 Do you have a minimum quantity of the products?
No, we will build business with you with even 1pc. We believe this cooperation will be a long-term relationship for our high quality, competitive price and good after-sale service.
 
4 Are samples available to be sent with free?
It depends on what product you need. There are hundreds of products we sell. You can contact us for particular answer.
 
5 Can you print our Logo on the valves?
Yes, we can totally produce products according to your this kind special request, even manufacture it based on your drawing. 
 
6 What is your lead time?
It's around 30 days normally. If we have the products in stock, it will be about 15days
 
7 How can I check your factory situation while it's difficult for me to come to China?
We have photos and videos on our website and face book, It shows every step of the manufacturing. 
We also have a showroom in CA, USA. If you have time, you can take a look.
 
8 How can you guarantee the quality of products?
First of all, we have the numerical control device to manufacture products accurately. Then our quality inspectors will test products one by one to make sure every valve or fitting we sell is qualified.
 
9 How long is the quality guarantee period?
We supply 6 to 12 months for quality guarantee according to customers' using frequency.
 
10 How do you pack?
  Plastic bags——-Paper boxes——-Cartons——-Plywood cases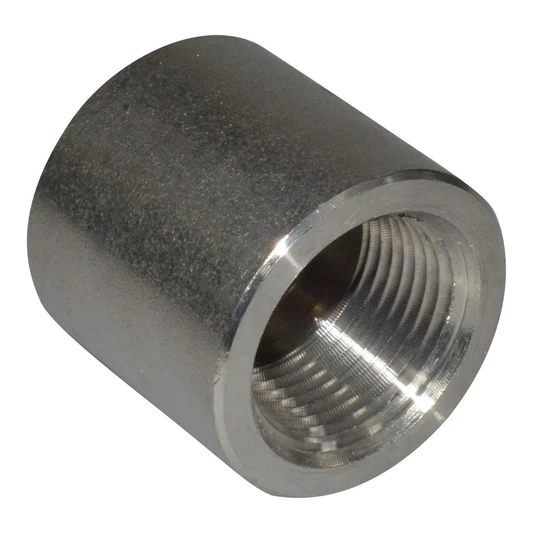 How do Temperature and Environmental Conditions Affect Half Coupling Performance?
The performance of half couplings can be significantly influenced by temperature and environmental conditions. These factors can affect the materials, integrity, and overall functionality of the coupling in various ways. Here's how temperature and environmental conditions impact half coupling performance:
Temperature: Extreme temperatures, whether high or low, can affect the properties of the coupling material. For instance, at high temperatures, certain materials may experience reduced strength and increased susceptibility to creep or deformation. On the other hand, low temperatures can make some materials brittle and prone to cracking. It is essential to select half couplings made from materials that can withstand the expected temperature range in the application.
Corrosive Environments: Half couplings used in corrosive environments are exposed to chemical agents that can cause material degradation. Corrosion can weaken the coupling's structure and lead to leaks. In such cases, using corrosion-resistant materials, coatings, or liners can be beneficial to maintain coupling performance and longevity.
Humidity and Moisture: Excessive humidity and moisture can accelerate corrosion and contribute to the deterioration of the coupling over time. Regular cleaning and protection against moisture ingress are necessary to ensure optimal performance in damp environments.
Abrasive Particles: In industrial settings with abrasive particles present in the fluid or environment, half couplings may experience wear and erosion. This can lead to surface damage and affect the coupling's sealing ability. Selecting materials with high wear resistance and using filters or strainers to remove abrasive particles can help mitigate these effects.
UV Radiation: In outdoor applications exposed to sunlight, UV radiation can degrade certain materials, particularly polymers and elastomers. Couplings made from UV-resistant materials or employing protective coatings can help counteract this effect.
Thermal Expansion: Temperature fluctuations cause thermal expansion and contraction of the pipes and the half couplings. In systems where thermal expansion is not adequately accommodated, stress on the couplings can lead to leaks or joint failure over time. Providing expansion joints or using materials with low thermal expansion coefficients can address this issue.
Altitude: At higher altitudes, air pressure is reduced, which can affect system performance, especially if the half couplings are not designed for such conditions. It is essential to consider altitude-related effects on pressure and temperature when selecting the appropriate coupling materials.
Weather and Climate: Half couplings installed outdoors are exposed to weather conditions like rain, snow, hail, and extreme temperatures. These factors can impact the coupling's integrity and performance. Regular maintenance and inspections become crucial to identify and address any weather-related damages.
To ensure optimal half coupling performance, it is essential to consider the specific temperature and environmental conditions of the application. Choosing suitable materials, applying protective coatings, and implementing proper maintenance practices are essential steps to enhance the longevity and reliability of half couplings in various operating environments.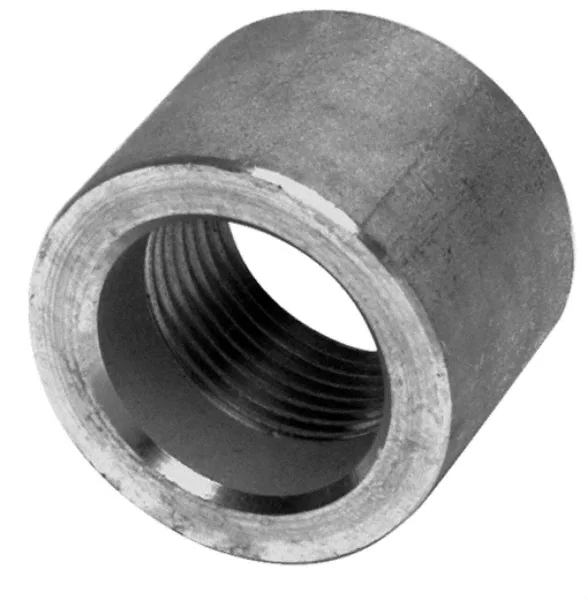 What are the Differences Between Half Couplings and Full Couplings in Pipe Fittings?
In pipe fittings, both half couplings and full couplings serve the purpose of joining two pipes together, but they differ in their design and applications. Here are the key differences between half couplings and full couplings:
Design: The main difference lies in their design. A half coupling has one end with internal threads or a socket, allowing it to be connected to a threaded pipe or inserted into the end of a pipe without threading. The other end of the half coupling is an open end, ready to be welded or threaded to another pipe. On the other hand, a full coupling has both ends with female threads, enabling it to connect two threaded pipes directly without the need for welding.
Function: Half couplings are commonly used to create a joint between a pipe and a component such as a valve, pump, or pressure gauge. The open end of the half coupling facilitates easy attachment to the component, while the threaded or socketed end connects to the pipe. On the other hand, full couplings are used when a direct, rigid connection between two pipes is needed, providing a continuous flow path without any interruptions.
Application: Half couplings are frequently used in situations where frequent disassembly or maintenance may be required. For example, in systems with valves that need periodic inspection or replacement, a half coupling allows for easy removal without disturbing the entire pipeline. Full couplings, on the other hand, are more suitable for applications where a permanent, leak-proof connection is needed, such as in pressurized systems or critical process pipelines.
Length: Full couplings are typically longer than half couplings because they need to accommodate two threaded ends, while half couplings have one threaded or socketed end and an open end, making them shorter in length.
Installation: The installation process differs for half and full couplings. Half couplings are welded or threaded onto one pipe end and then connected to another pipe or component using welding or threading, respectively. Full couplings, on the other hand, directly join two pipes with threaded ends, requiring no additional welding or threading.
Flexibility: Half couplings offer more flexibility due to their ability to connect to different types of components or pipes with varying end connections. Full couplings are less flexible in this regard, as they can only join two threaded pipes together.
Overall, the choice between half couplings and full couplings depends on the specific requirements of the piping system, including the need for temporary connections, the type of components being attached, the nature of the fluid being transported, and the desired level of joint permanence and flexibility.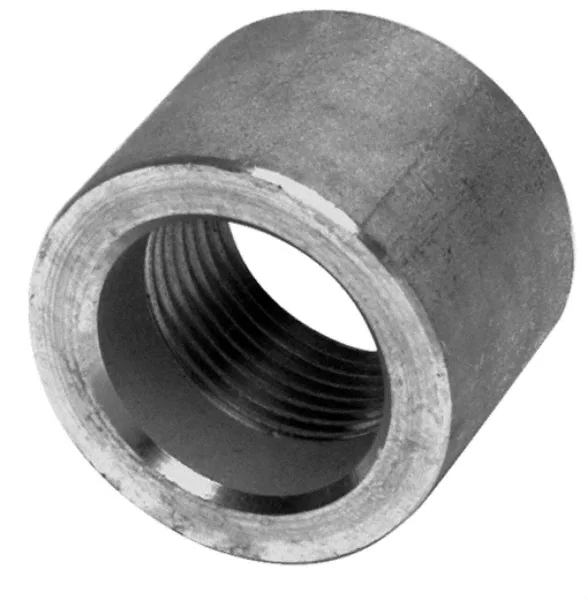 How does a Half Coupling Facilitate Pipe Connections and Disconnections?
A half coupling plays a crucial role in facilitating pipe connections and disconnections in piping and plumbing systems. It is a type of pipe fitting used to join two pipes of different sizes. Let's explore how a half coupling enables these connections and disconnections:
Connection Process: When two pipes of different sizes need to be connected, a half coupling is used to create a secure joint. The larger end of the half coupling is welded or screwed onto the larger pipe, providing a stable base for the connection. The internal threads on the larger end of the coupling allow for easy attachment of the smaller pipe. The smaller pipe is threaded or inserted into the smaller end of the half coupling, and the connection is tightened to ensure a snug fit. The use of thread sealant or Teflon tape helps prevent leaks at the joint.
Transitioning Pipe Sizes: One of the primary uses of a half coupling is to transition between pipes of different sizes. For example, when a pipeline needs to change from a larger diameter to a smaller diameter, a half coupling is employed to create a smooth and efficient transition. This allows for the proper flow of fluids or gases without causing abrupt changes that could lead to pressure losses or turbulence.
Repair and Maintenance: Half couplings are also useful during repair and maintenance operations. In case a section of the pipe is damaged or needs replacement, the damaged portion can be cut out, and a new pipe can be attached using a half coupling. This facilitates quicker and more cost-effective repairs, as it eliminates the need to replace the entire pipeline.
Connection Points: Half couplings are often used at connection points where other components, such as valves, instruments, or equipment, need to be attached to the pipeline. By providing a secure and leak-proof joint, half couplings ensure the integrity of the overall system.
Temporary Connections: In some situations, temporary pipe connections may be required. Half couplings are versatile enough to allow for temporary connections that can be easily disassembled when needed. This flexibility is beneficial in scenarios where pipelines need to be altered or reconfigured temporarily for maintenance or testing purposes.
In summary, a half coupling is a crucial pipe fitting that enables efficient and reliable connections between pipes of different sizes. Its versatility, ease of installation, and ability to transition between pipe sizes make it an essential component in various industrial, commercial, and residential applications. Moreover, its role in facilitating quick repairs and temporary connections further enhances its significance in piping and plumbing systems.



editor by CX 2023-08-04